Boots of all kinds are so on trend right now, from funky ankle boots to thigh-high engineer boots to lace-up grannie boots. I love them all, but I'm especially fond of lace-ups… they look great with everything from skinny jeans to long skirts to patterned tights and minis. I've been searching out the hottest lace-up boots, and am delighted to share them with you… here are 7 gorgeous pairs of lace-up boots!
---
1

Lady of the Estate Boot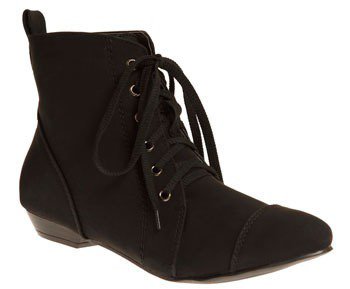 Price: $49.99 at modcloth.com
Jane Austen would certainly have approved of these modest boots, especially their sensible heel, perky capped toe, curvaceous shape, and flirty but smart lace-up fronts. I'd wear these with a ruffled blouse, waist-nipping vest, and a long skirt.
---
2

Prospectress Boot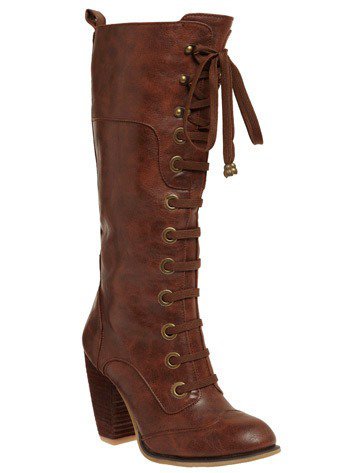 Price: $69.99 at modcloth.com
Whatever it is you're searching for (a date for Friday night, a rare book at the used book store, an envious glare from the girl in the next cube), you'll find it, for certain, in these boots. They're a gorgeous sienna color with a stacked heel and bronzed grommets and other detailing.
3

Un-teal Next Time Boot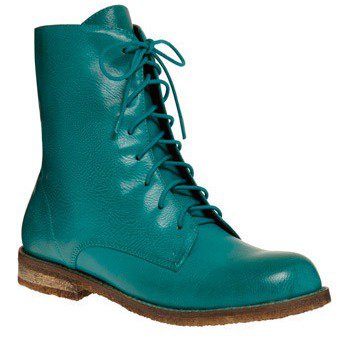 Price: $97.99 at modcloth.com
Back in the early 1990's, I fairly lived in my Doc Martens, so comfortable and stylish, especially with my Courtney Love-inspired babydoll dresses. I especially loved the Docs in odd colors, and these teal lace-ups remind me so much of the ones I used to covet.
---
4

Over the Embroider-line Boot
Price: $159.99 at modcloth.com
Are these cowboy-inspired, or Victorian-inspired, or Boho? Maybe a bit of all three, but does it matter? They're gorgeous and versatile and are sure to match anything you care to wear this fall.
---
5

Check out Those Moves Boot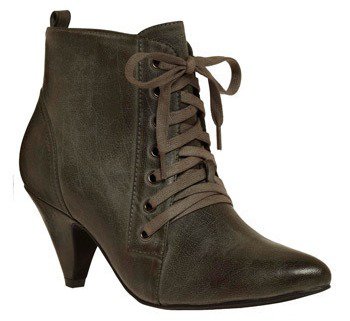 Price: $59.99 at modcloth.com
I love these boots, and I can't even say why… is it because of the chic color, the curvy shape, the obvious versatility… I'd wear these with patterned tights, a short skirt, and a slouchy top.
---
6

Autumn Awakening Boot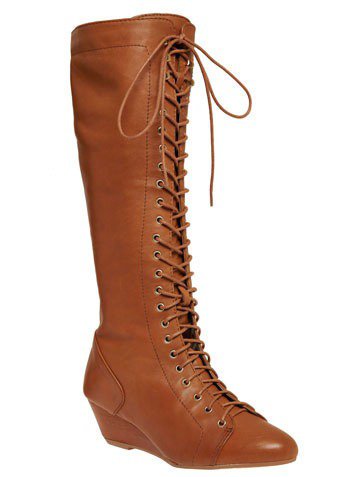 Price: $261.99 at modcloth.com
These boots are tall, statuesque, stately, and just plain fun. I'd wear these with opaque tights, a denim or corduroy romper, with little lace socks peeping out at the top… maybe a long-line vest to tie the outfit together…
---
7

Tallest Tale Boot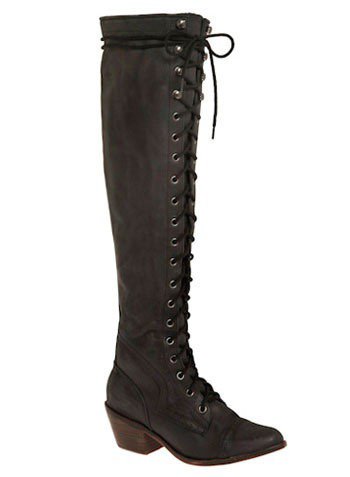 Price: $289.99 at modcloth.com
These boots are so gorgeous, so classic, and so on-trend, you need to buy them now. Right now. Yesterday. What couldn't you wear these with? Skinny jeans? Yes! Tights and a skirt? Yes. Tunics? Oh, yes! I'd wear minimal jewelry to let the shoes do the talking… but be sure to carry a wonderful bag to match!
There are so many gorgeous pairs of lace-up boots at all of my favorite shops, I'll never be able to choose just one… but I've narrowed it down to these seven, and now I'm stuck… I'm leaning towards the grey ankle boots… or maybe the tall black ones… help! Which of these do you like best, and what would you wear them with? Please share!
---
Comments
Popular
Related
Recent