I indulge regularly in my vices: beer, cheese and anything containing pumpkin. But no addiction is even close to my obsession with shoes. There should be a club for this, right? Oh, there is. Much like the beer of the month and cheese of the month clubs (that I write in to my Christmas list every year), shoes are the new monthly membership you need to include in your budget. These are all items that I will spend my money on anyways, so why not join in – with like-minded peeps – for great deals and exclusive access to your wants and needs. Here are the 7 best online shoe clubs...
---
1

EShoeClub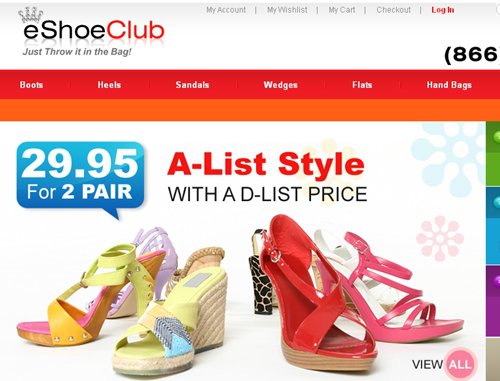 Price: $29.95 per month for two pairs, with free shipping eshoeclub.com
The new kid on the block, eShoeClub, has some work to do to keep in line with its competitors. So they offer TWO pairs for a regular monthly fee – that is a ten-dollar savings, compared to similar clubs. With a great selection of boots, sandals and heels, you won't be caught empty… footed.
---
2

Shoe Dazzle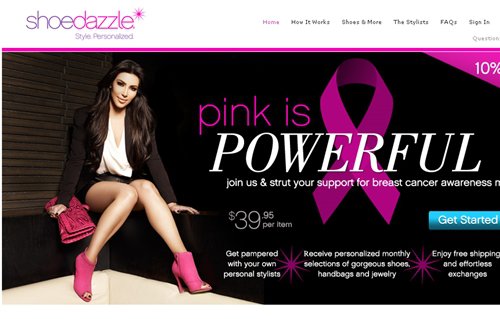 Price: $39.95 per month, free shipping shoedazzle.com
You may have heard of Kim Kardashian? Well, she heads up (or is it, butts in?) the celebrity voice for Shoe Dazzle. Your selection of shoes every month is based on an independent style questionnaire that you take during the sign-up process. Once presented with your five pairs, there is no obligation to purchase – only a requirement to deny the shoes by the 5th of each month. What I like best is there are also a few suggestions that didn't quite make your top 5, but are available for purchase under the same deal.
---
3

JustFabulous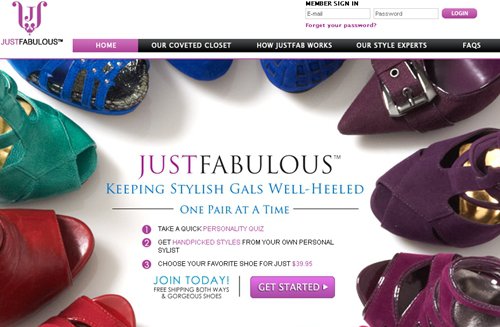 Price: $39.95 per month, free shipping justfab.com
In what appears to be quite similar to Kardashian's special shoe club, style experts Katherine Power and Hillary Kerr are at the ready with the promise of heels and handbags you covet for your closet. Similarly, there is no obligation to buy from JustFab – and exchanges are hassle-free. The ladies might be right – their closet is pretty spectacular.
---
4

Urban Outfitters Shoe Club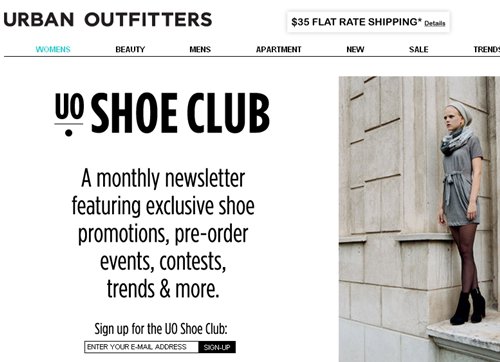 Pay-As-You-Buy at urbanoutfitters.com
While not necessarily paid membership type of club, a regular email newsletter sent to you contains a closet full of shoe info, exclusive promotions, trends, contests and events, exclusive to UrbanOutfitters.com. With nothing required to pay up front or to purchase, you can simply revel in the shared love of footwear.
---
5

J.Crew Shoe of the Month Club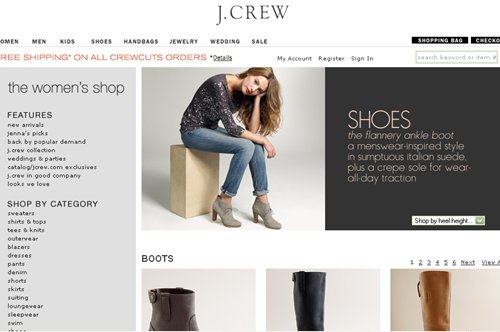 Price: $1,800 at jcrew.com
For only the truly shoe OBSESSED. Introduced in its 2007 winter gift catalog, this exclusive (and kind of unadvertised) gift idea is available by contacting J.Crew's personal shoppers directly at (866) 739-5944 (talk about exclusivity!). For 12 months, you receive a pair of shoes, valued at approximately $180 (which amounts to around $150 per pair – yay, savings!). The gift package (to yourself, of course), designated by flats, heels or a combination of both, can only be exchanged for sizes – which is a minor annoyance, save for if you trust their designers. But if you know you already LOVE everything contained within a J.Crew catalog, you will enjoy the luxurious spoil.
---
6

Town Shoes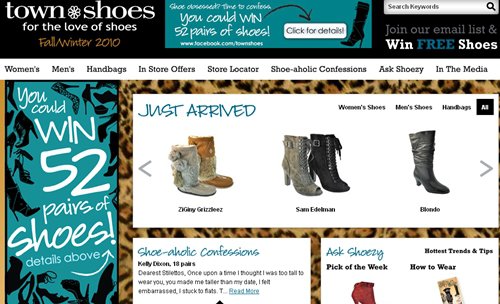 FREE! (Pay Only What You Purchase)
For the Love of Shoes! Town Shoes, the Canadian shoe retailer only requests your name and email address on the home page to join its Shoe-aholic Club (it's absolutely free!). And since the club costs nothing, you can purchase more of the shoes that YOU love. The newsletter includes certain member benefits, such as: monthly shoe-aholic alerts, gifts with purchase offers, pre-sale invites, free shipping and the chance to win free shoes (they draw a name each month)! Also, if you "like" their FB page, you have the chance to win 52 pairs of shoes. Doing this at NO cost to me? It's easy and it's my kind of commitment. Falling in love with shoes, through Internet "window" shopping.
---
7

Hello Stiletto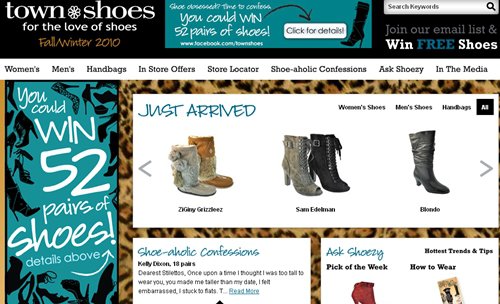 FREE! at shoeclub.us
There ain't no party, like a stiletto party! Shoe lovers unite at Hello Stiletto events – a perfect excuse to wear those shoes that you "will never wear." While the original club began in Boston, this social networking site connects shoe lovers to events, parties and promotions in her own city – with several new chapters being established across the country. Again, it is completely free to join – and while events are free to attend, there are typically cash bars for food and drink at these meeting locations. And a little, well-heeled bird told me that sometimes the sponsors provide the libations or delicious nosh at fabulous boutiques.
I find it hard to pass on a good deal – especially when it comes to my shoes. And online shoe clubs have certainly made my shopping experience easier (but let's be frank, not-so-much on the credit card). How have you justified your shoe addiction… ahem, shopping today? Or do you belong to another marvelous shoe club I ought to know about?
More
---
Comments
Popular
Recent