Who could get through the summer without a pair (or several) of flip-flops? They are just the best thing to wear on your feet when it's hot. Great for indoors, the garden, the beach … Here's some fab pairs I've picked out.
---
1

Star Sequins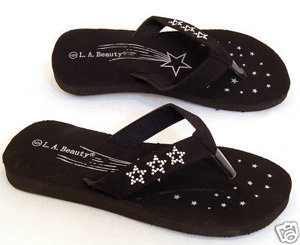 Price: $3.99 at cgi.ebay.com
Nothing like a touch of glitter, eh girls? Even the humble flip-flop can be dazzling if you wear this starry pair. I love the contrast of the silver stars against the black background.
---
2

Diamante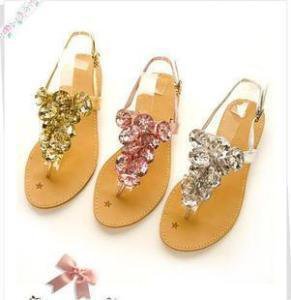 Price: $26.99 at cgi.ebay.com
Now here's some real bling! I wouldn't describe these as true flip-flops, since they have a ankle strap, but they are just so dazzling I had to include them. Be the glammest bunny on the beach – or save them for nights out.
---
3

Foldable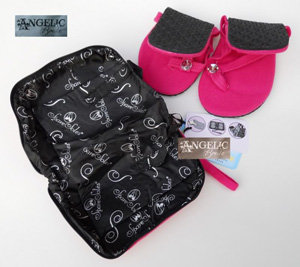 Price: $14,36 at cgi.ebay.com
Well I never! Who'd imagine such a thing. Yes, now you can buy foldable flip-fops that come with their own cute little bag. They are even washable. Go for the hot pink colour to stand out.
---
4

Zebra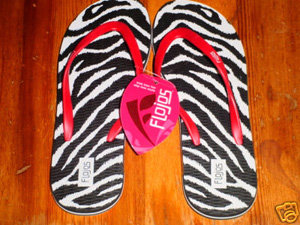 Price: $14.99 at cgi.ebay.com
Ooh, zebra print! Love it, love it, love it. A nice touch with these is that the upper is in a contrasting red.
---
5

Fabric Print

Price: $18.99 at cgi.ebay.com
If you don't like plastic shoes, then here's the pair for you. The uppers are made from a lovely fabric print, which would match a summer dress beautifully. See, flip-flops can be smart!
---
6

Ed Hardy

Price: $29.99 at cgi.ebay.com
Are you an Ed Hardy fan? Now your feet can wear the brand. These colourful flip-flops seem almost too good to cover with your feet. Perhaps they should be hung on the wall when not in use?
7

Hot Pink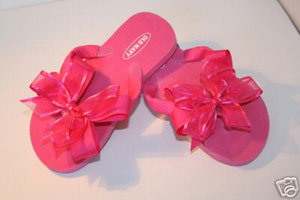 Price: $10.50 at cgi.ebay.com
More hot pink! This is such a summery colour – make the most of the sun, and slip on these gorgeous shoes. The lovely ribbon trim would look gorgeous against tanned skin.
---
8

Havaianas Butterfly
Price: $25 at cgi.ebay.com
If you believe that you get what you pay for, and you wear flip-flops a lot, then it's worth spending more on a decent brand like Havaianas. Isn't this butterfly pattern just adorable? It would make a lovely bag …
So, do you spend the summer in flip-flops, like I do? Do you prefer to buy cheap pairs and throw them away, or do you spend more on a durable pair?
---
Comments
Popular
Related
Recent