It's raining, it's pouring – yet you still have to get up and walk the city today. Your style and outfit matters, in spite of the inclement weather (and the time slaving away in your closet deciding WHAT WILL I WEAR?!). When you leave the house – with the clouds holding anything resembling water – keep up in appearance by investing in a trendy pair of wellies, rubbers, galoshes, rain boots… top siders – whatever you call them on your side of the pond – for those days you feel like you actually live in London.
---
1

Sperry Sausalito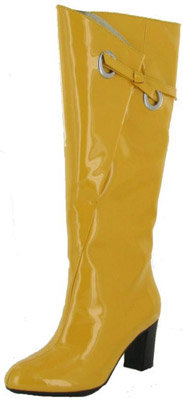 Price: $39.99 at streetmoda.com
Who says rain boots need to be boring – or FLAT? These boots from Sperry scream, "I'm not afraid of you, rain!" while providing a friendly height. Cheered up yet? Now, let's get do some puddle stomping with style.
---
2

SEE by Chloe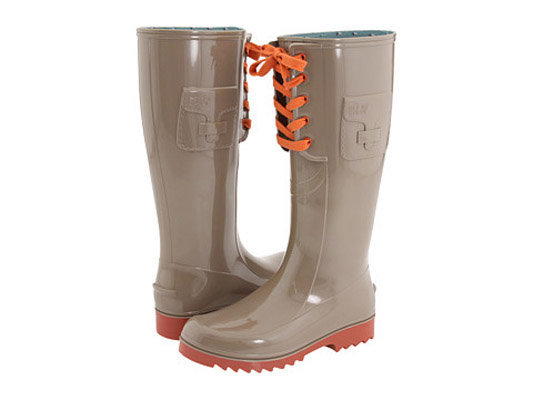 Price: $219.00 at zappos.com
Construction cone-orange says more than just "Caution!" – it's a promise that these lace-up rain boots will watch out for your feet in the rain and snow. Chloe concocted the perfect tie-in to crappy weather, by brightening it up the gray base of the day with a pop of color. Look! You can almost see the sun breaking through the clouds!
3

Target Retro Birdie Rain Boots

Price: $24.99 at target.com
Hell or high water won't keep me from running my errands today. These retro-inspired birdie boots from Target will fit right in with the cats-and-dogs AND my fall and winter wardrobe. But might make my kitty a bit defensive, so we'll keep 'em in the closet. The boots. Not the cat. Hopefully they don't chirp.
---
4

DKNY Niagara Rain Boots
Price: $99.00 at bloomingdales.com
Mimic this stylish lady and her metropolitan fun in the UN-sun in various colors (Bloomingdales sells the gray and yellow versions), regardless of your rainy zip code. Hey, is that Niagara moniker just a coincidence? In any event, you might want to grab your umbrella too.
---
5

Chooka Classy Strip Rain Boots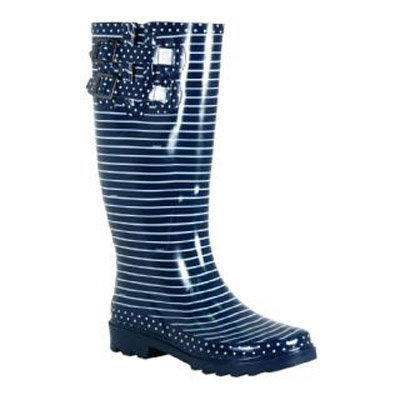 Price: $59.95 at altrec.com
Behold, my blue shoe fetish! Those stripes set with polka dots make the matchy of the matchiest girls swoon. And adorned by the simplest, cutest double buckles at the calf, I'm certain these rain boots could replace half of my shoe collection every day of winter. So long as they don't mind getting a little wet.
---
6

Kate Spade Randi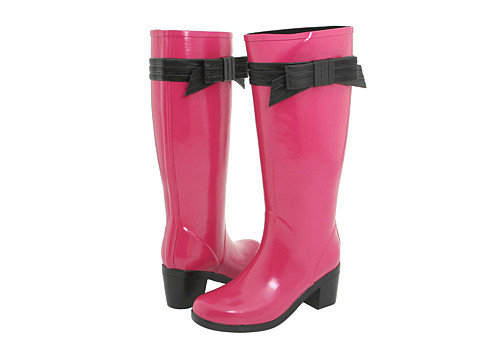 Price: $125.00 at zappos.com
Kate, Kate, you know JUST the way to make a girl melt in a mud puddle. In "lipstick pink rubber" no less. Two cute black ribbons tie in a bow at the calf for the hottest in cold-weather style. You will certainly stand out in the snow piles. Make 'em melt, honey!
---
7

BOGS Becca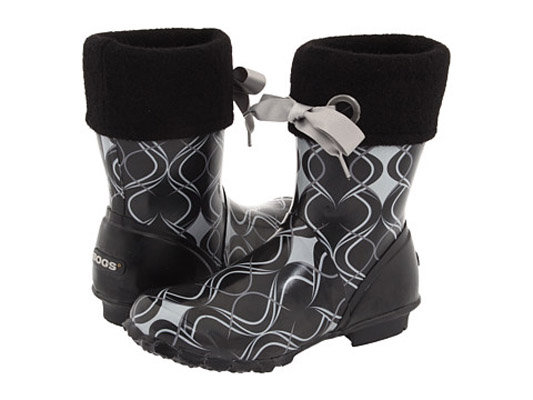 Price: $110.00 at zappos.com
Every short boot has its purpose – to slip on quick to jaunt to the mail box or make a quick run to the liquor store (it's cooling off, Hot Toddies are a mere necessity in this weather!) or to (ugh) take out the trash – and all in this never-ending rain season. These BOGS will be making friendly with the neighbors in no time. So, maybe Mr. Six Pack Abs next door will remember you on Garbage Day.
I don't know about you, but I'm almost WISHING for un-cute weather to wear a pair of these awesome rain boots (but then the other side of my brain remembers peep toe season and silently weeps). So I best not see you in your grandma's galoshes this year! How do you stay stylish in the freezing fall and wet winter seasons?
---
Comments
Popular
Related
Recent