Who says you have to bask under the sun on a yacht in Belize to look like an heiress? Whether you're sailing in the Carribean **or sunbathing at the shore in **Rhode Island, be the ultimate beach bum of the year in style.
So scope out my beachy trends checklist for 2008. Don't let this summer pass you by without it!
---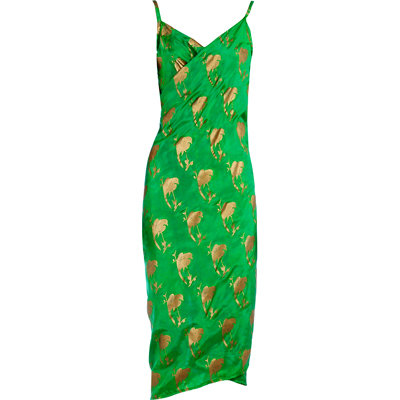 Wear this cute number over your swimsuit as you window-shop on the boardwalk. Its fun shade of bright green **with **gold parrots **printed on it makes this cover-up the perfect dressier beach wear. Tone it down with casual **flip flops **(or 'thongs' as we call them here in Australia), or take it up a knotch with a sexy pair of **gold sandals.
---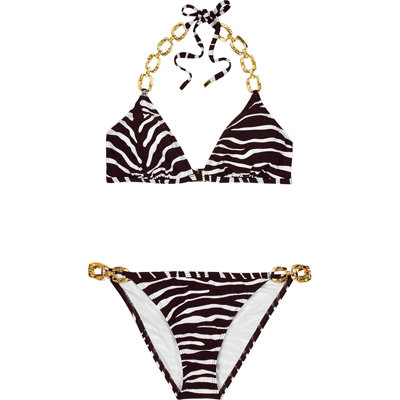 If you're wild about anything animal print, then crank up the heat **in this **zebra print bikini. It's embellished with gold chain detailing to add an extra kick of **foxiness **to your beach attire.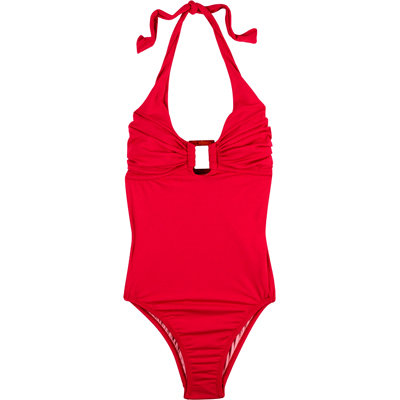 Say adios to Granny bathing suits, and wave hola to this hot scarlet one-piece. If you're still not convinced that one pieces aren't frumpy, well you can never go wrong with resembling a Baywatch babe, can ya?
---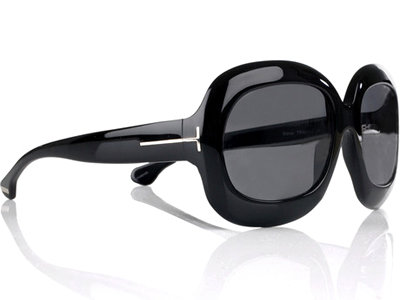 While everyone else is sporting the cliche oversized sunglasses, protect your precious eyes from the rays with a simple yet sophisticated pair of oval framed black shades by Tom Ford.
---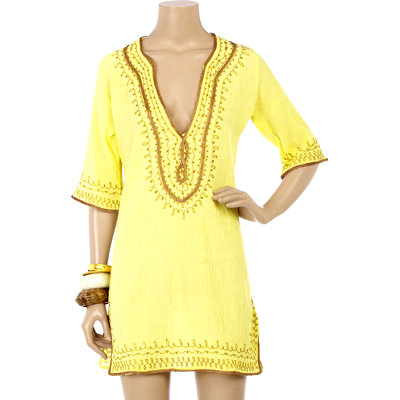 Light up the beach even more with this crisp yellow tunic**** **by **Melissa Odabash. The detailing on this ensemble adds a classy touch- perfect to wear on your next holiday. Pair it with brown, gold or matching yellow sandals **and an **oversized tote and sunglasses, and you'll be crowned the queen of beach bums... or rather, beach babes.
---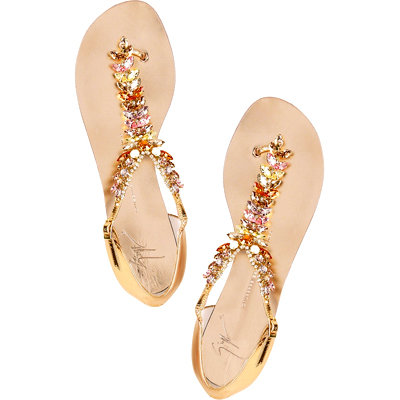 Strut on that boardwalk like it's the catwalk **with these **dazzling sandals. Switch from your Old Navy flip flops to this pair when you step off the sand- and flash your fashionable feet as they glisten in the sun. Wear them with a frilly floral dress****, tunic or sarong and halter top. The possibilites are endless with charming shoes like these.
---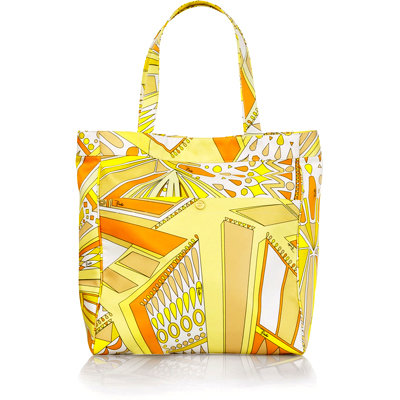 Orange, yellow, tan and white- with these colors, you can't get much beachier **than that. So throw your **sunscreen, lip balm and whatever summer survival necessity you have in this cool, structured beach tote. And no, don't even think about letting your bff borrow it.
Regardless of your favorite beach function - whether it's surfing, a game of volleyball or browning your skin, why not do it... fashionably? With these 7 trendy beach inspired items, you'll catch those waves like a starlet.
More
---
Comments
Popular
Recent