Choosing only 7 of the best craft blogs is one tough thing to do. You see, I am a follower of the DIY revolution and I happen to love MANY craft blogs. And I think that all craft blogs I follow are the best out there. But I narrowed down 7 for you to get to know and fall in love with. Enjoy!
---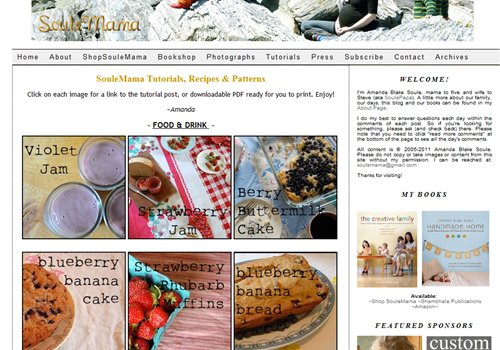 SouleMama is the beautiful Amanda Blake Soule. Isn't her name lovely? Her name sings! And her creative spirit does, too. Hers is one of the best craft blogs out there that will inspire you to be a better homemaker (or person in general). She has released two books on crafting and raising a creative family. Both have been well-received and you will be doing yourself a favor by getting your own copies.
---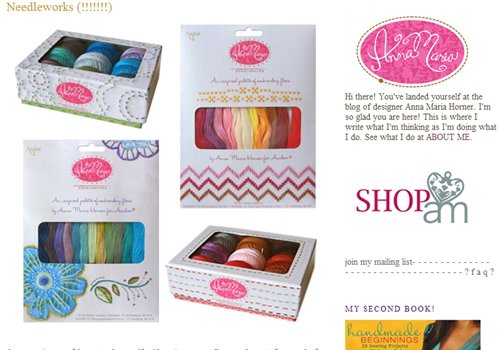 Another crafter who has had books published is the always-inspiring Anna Maria. Hers is a blog that will drown you in colors, adorable kids, and fantastic projects. She posts recipes, quilting and sewing projects, needlework goodies, and a whole lot more. Seriously, there are just so many things to love about this wonderful lady.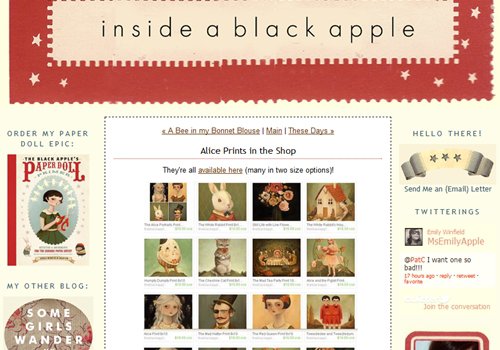 Emily's blog is certainly one of my favorites. If you follow DIY-ers who also blog, I am willing to bet that hers is one of the best craft blogs that you can think of. What I love about Emily and the things she makes is the element of whimsy and magic. Her illustrations are adorable; her products, must-haves.
---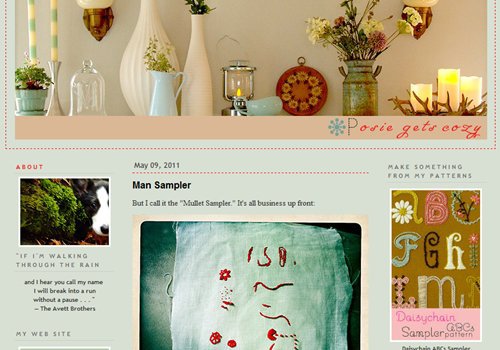 The lady behind Posie Gets Cozy is the incredibly creative Alicia Paulson. Her blog is a treasure trove of home design inspiration and DIY projects. She does fantastic needlework and she knits, too. And yes, if you want to enjoy her work without looking at a computer screen, you can always buy her books. She has written two and the projects she featured are simply bursting with cuteness.
---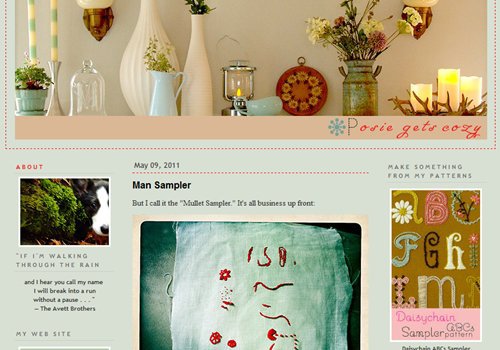 Another old favorite is Angry Chicken by Amy Karol. Not only is she wonderful behind a sewing machine, she is also quite a cook and baker. Parts of her blog that I really love are the projects that she makes with her kids and of course, the tutorials. I adore the wonderful glimpses she gives us into their family life. And if you happen to love sewing aprons, Amy's blog is definitely for you. Give her a visit to know what I'm talking about.
---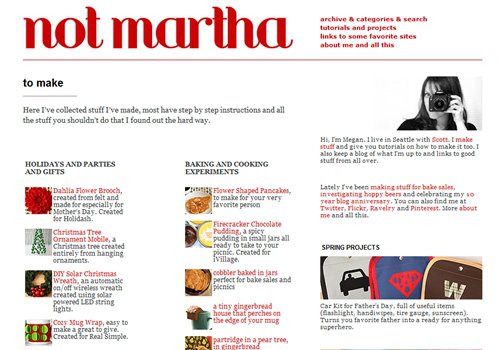 As in NOT MARTHA STEWART. Cheeky, right? The lady behind Not Martha is the beautiful Megan. She covers all kinds of crafts and some kitchen projects, too. Since her blog has been live for 10 years (!!!) now, you will find all sorts of DIY goodies on her corner of the world wide web. I can only dream to have half the number of her tutorials when I reach year 10 of my blogging life.
---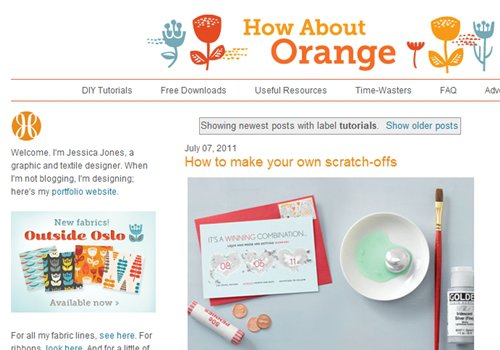 This is one of the best craft blogs out there that will motivate you to get crafting. The projects that Jessica features are quite easy to do and the results are always cute and lovely. What I love about this lady is that she plays with colors oh-so-wonderfully. Whenever I'm stumped when it comes to color combos, I find myself visiting her blog and checking out her projects.
I know, I know, there are many more awesome craft blogs out there. But these 7 are what I consider the best craft blogs today. I did not include the group types or the ones that focus on DIY fashion; I figure that I will reserve those for another list.
So tell me, what is your favorite craft blog?
---
Comments
Popular
Related
Recent