Movie Blogs...Who doesn't love them? Any self-respecting film buff probably visits the top movie blogs I have listed here. For those who have never heard of these top movie blogs, you're in for a sweet ride. I'm pretty sure you will find the following full of juicy info and movie tidbits. From casting to scripts to release dates to reviews, these blogs are your top guides.
---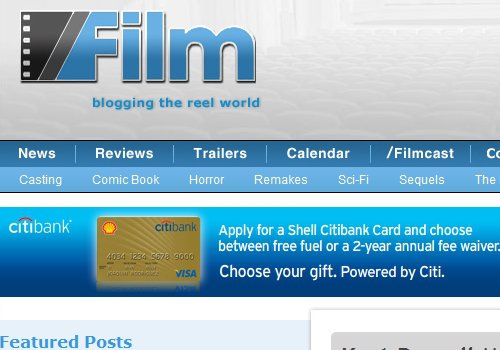 Slash Film is most definitely one of the top movie blogs we have today. For news on upcoming films, casting changes, and everything in between, Slash Film is there for you. One great thing about this blog is that it has an active readership. Readers of this blog share their opinions and in return, you get to learn more about movies from fellow fans.
---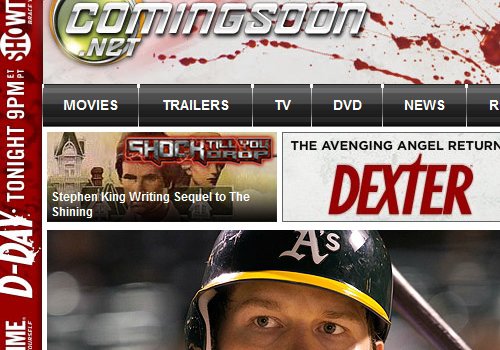 This blog focuses on more than just films but it's still one of the top movie blogs we have today. On this blog, you will find delightful reviews, interviews, and general film news. Whether you love the huge Hollywood productions or you favor indie releases, this blog will offer you fantastic info to chew on. They have great posts on TV shows, too.
---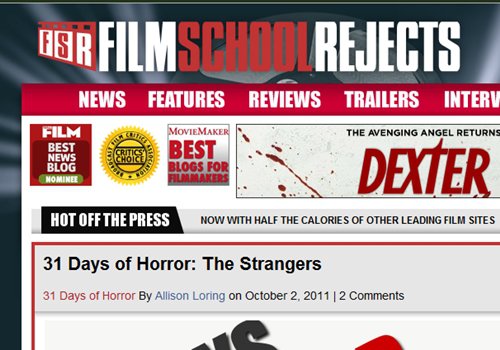 From the blog: FSR combines the freshest voices on the web and a swagger all its own to provide the best reviews, interviews and industry news coverage to millions of unique visitors from around the world every month. There are many things to like about this top movie blog. They have funny posts and you can tell that their writers are film buffs. Archive gold are on vintage trailers and features on short films.
---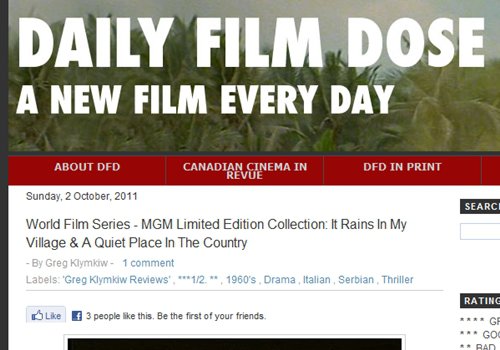 With the tagline "a new film every day," this blog, according to its owner, is a "film appreciation website." The great thing about this blog is that you get to learn about more than just the huge Hollywood releases. The wonderful people behind this blog cover old and new movies. They also review mainstream and experimental films. From the blog: ...like shuffle in your I-POD, anything goes.
---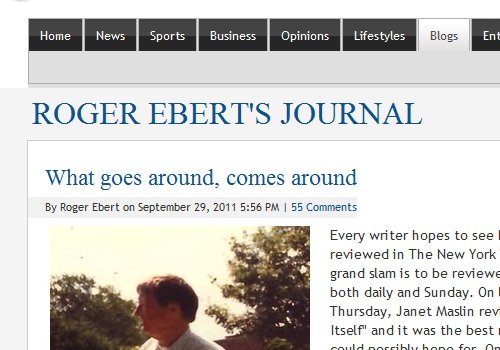 Of course Roger Ebert's Journal is one of the top movie blogs we have today. If you love movies, then I'm pretty sure you know who this person is. As far as movie critics go, Mr. Ebert is one of the most respected. Not only does he write wonderfully, he covers the films that you most definitely should watch. Or add to your must-watch list, as in my case.
---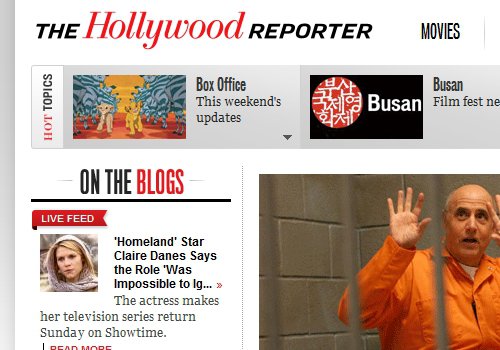 For news about movies, TV shows, actors, and film productions, The Hollywood Reporter is your guide. Aside from the acting industry, this blog also covers news on music and style. If there is one movie blog that covers just about everything when it comes to film news, it has to be The Hollywood Reporter. Bookmarking this site will do you a world of good.
---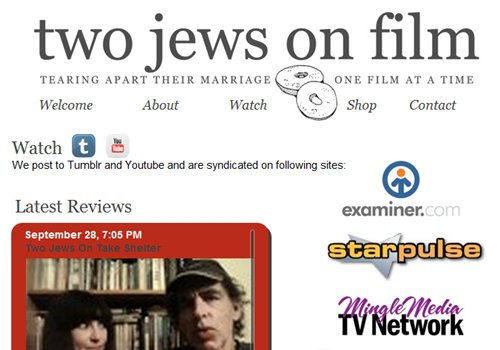 This is more of a video blog but you will definitely love it. The critics hosting this blog are Joan and John Schwartz. He is a screenwriter and she is an actress. Together, they give us funny and fantastic reviews of films they have seen.
So those are some of the top movie blogs that you should bookmark. If you're only after reviews, these top movie blogs got you covered. And if you want the latest news on just about anything Hollywood, these blogs are your reliable resources.
Which of these top movie blogs do you read regularly?
More
---
Popular
Recent