Ah, True Blood... Always entertaining, always hot. If, like me, you are a fan who wants to do more than just wait every Sunday for the show to air, then you will love these top True Blood blogs. (Disclaimer: fan site = blog. Only for list-making purposes, okay?)
---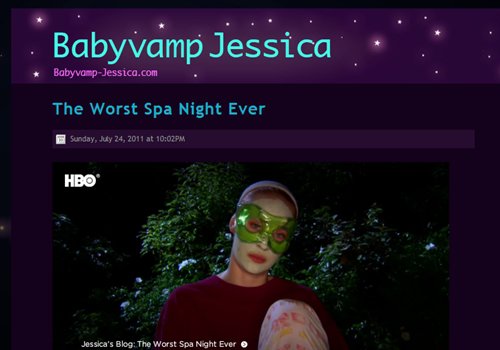 Yes, vampire Jessica has a blog. And it's loads of fun! I mean, I could have placed the official HBO True Blood blog as number 1 here but Jessica's blog is just so much better. I consider this one of the top True Blood blogs because, come on, it's written by one of the characters! IN CHARACTER. Hilarious. The highlights of the blogs are the videos; Jessica is drop-dead gorgeous and her Southern drawl is simply adorable.
---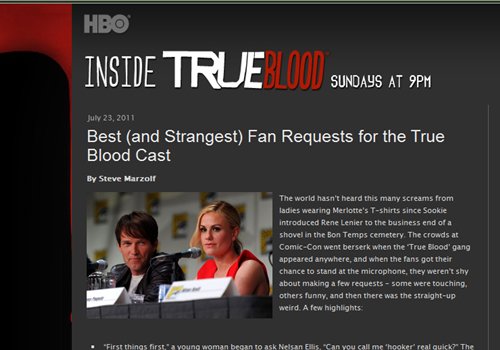 I have to include this in the top True Blood blogs because it's by HBO. And you know, they air the show. But really, this blog is full of fantastic True Blood info. From episode reviews to news on the show to other tidbits that you'd love to get your fang on (HA!), this blog is a great source. I am loving the latest Comic Con posts, I tell you.
---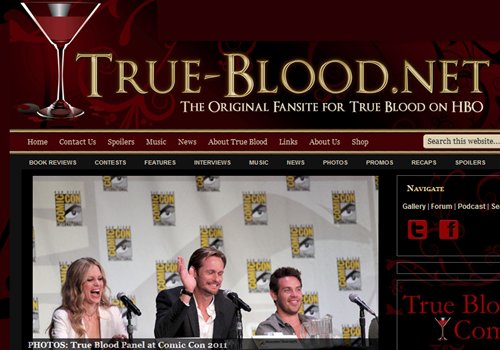 I find this one of the most comprehensive and therefore, top, True Blood Blogs out there. You can tell that behind this fan site are dedicated fans who want nothing more but to spread True Blood love. This fang-tastic (oh my, I should stop with these bad puns) site has all sorts of goodies for anyone interested in the show. You have news about the show and cast, spoilers, and lots of videos. The parts I love are the cast interviews and the fashion Q&As. Yep, you can ask them where to find this certain dress or top that this certain character wore and they'll help you.
---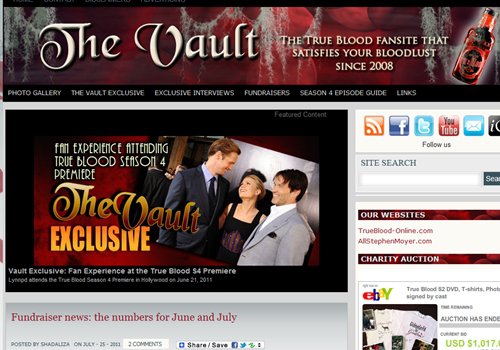 This is one of the top True Blood blogs today that any decent fan should bookmark. On this site, you get the usual fansite goodies: news, spoilers, episode guide, and cast interviews. You need to bookmark this blog for those reasons and of course, for the exclusive content.
---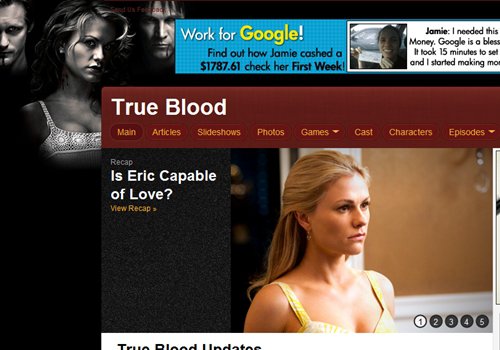 This is another True Blood website that you will want to visit often for news on the show and actors. Highlights are the episode guides, previews, and the gallery. The latter is chock-full of images of the cast members during events and even while out on the streets.
---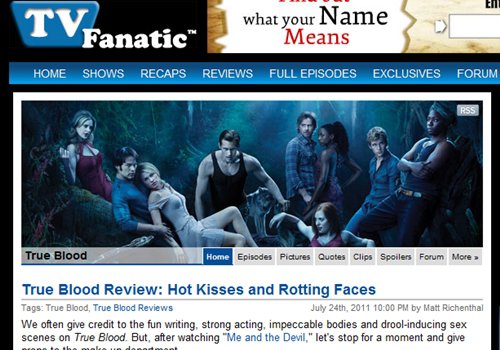 This is one of the top True Blood blogs today because the posts are witty. Just like the show, this part of the world wide web will make you smile, laugh, and sometimes, giggle. Highlights are previews and news about the show. Then you have the spoilers. Sometimes, I check them out; other times, I choose to live in True Blood limbo. For a week until the next episode, at least.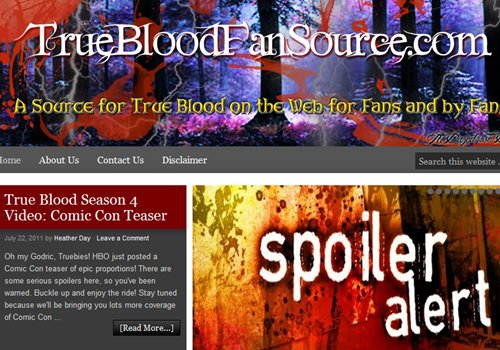 This is another fan blog that I highly recommend. If you like reading about what the actors are up to, what we can expect from the show, and what the next season will bring, True Blood Fan Source is the place to be.
So do you follow some of these top True Blood blogs? If you write a blog dedicated to the show, we'd love to hear about it!
---
Comments
Popular
Related
Recent