Monday was the first day of the Press Preview (journalists only!) at the 2010 North American International Auto Show, and I just had to be there! This year's NAIAS is fantastic. Don't believe the nay-sayers who gloomily predict the demise of the American auto industry based on what they see as a less-than-stellar show floor. They're Scrooges, the lot of them. The show is great. And here are the coolest cars I saw while I was there, in my super-girlie, completely biased opinion...
---
1

Daimler/Smart City2Go
Photo Credit: JennKstep
Imagine this: you're visiting Austin, Texas or Ulm, Germany, and you need a car. Why bother with a rental or a taxi, when you can swipe a membership card and drive off in a Smart Car? Simply unlock the doors by placing your member ID card on a spot on the windshield, hop in, and drive away. Return the car to any available hot-spot when you're done and pay a nominal mileage fee of only 35 cents per mile. That includes everything, of course. You don't need to re-fuel or wash the car or anything. More cities will launch later this year or early next year. What a great idea! I think more celebrities should drive around in these cars. It would be inspirational don't you think?
2

2011 Ford Mustang GT 5.0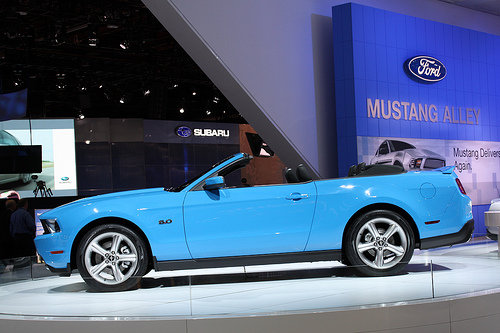 Photo Credit: JennKstep
If you're into muscle cars, you're probably already drooling over the new Mustang GT 5.0. It's HOT HOT HOT, even in this icy blue. I love the lines of it, how muscular and taut it is… It's been ages since Mustang offered the 5.0 V-8 option, and it seems to have been worth the wait! I can't decide if I'd rather have one of these, or the new Chevrolet Camaro. God show me a sign that I need a new carplease?
---
3

Slot Cars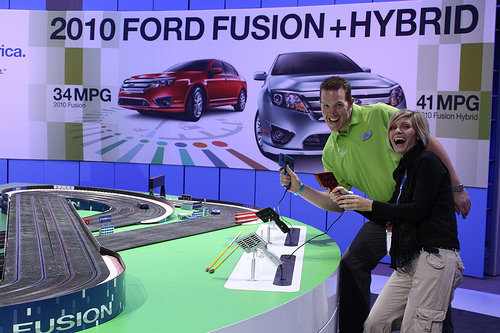 Photo Credit: JennKstep
I've always been a total sucker for cool toys, and who doesn't love slot cars? I'm not saying I'm good at slot car racing. In fact, I suck. Everyone beat me. But it's FUN! I know a few male friends who would enjoy this as a gift. And what a great way for Ford to draw attention to their North American Car of the Year Award-winning vehicle, the 2010 Ford Fusion Hybrid. So much fun!
---
4

EcoXperience, Sponsored by the Michigan Economic Development Corp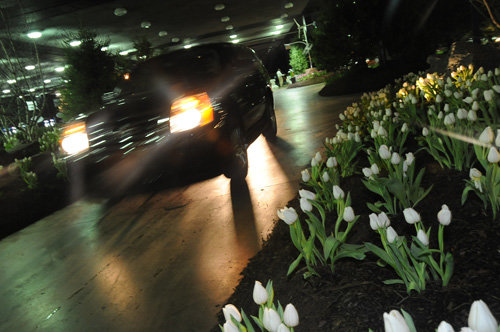 Photo Credit: filecache.drivetheweb.com
Ever wondered what it would be like to drive one of those high-tech, niche, one-off electric vehicles? If you're a journalist, then you can! Sign a waiver, puff into a Breathalyzer, and you can drive around a gorgeous, carefully rendered version of the Michigan countryside right in the basement of the auto show site, Cobo Hall. There are lots of vehicles to choose from, all of them zero-emissions, all of them incredibly cool!
---
5

2011 Ford Fiesta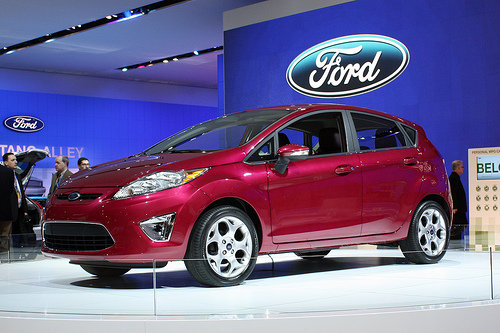 Photo Credit: JennKstep
Remember the Ford Fiesta your aunt drove in the 1980's? It was hilarious, a tin can on wheels, under-powered and tiny. Definitely one of the funniest looking cars back then. Well, not anymore! The Fiesta is back, and it's actually kind of… hot! It's sleek, sporty, and fun! I can't wait to test drive one of these!
---
6

Toyota FT-EV II Concept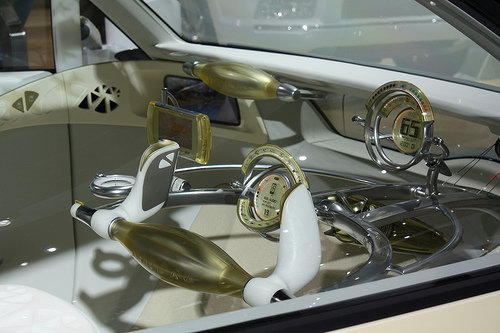 Photo Credit: JennKstep
You may already know Toyota's gas-electric hybrid, the best-selling hybrid in America, the Prius. But check this out! It's a concept, which means we won't be seeing it on the streets anytime soon, probably not ever. But it's really interesting!
---
7

Lexus LF-Ch Premium Compact Hybrid Concept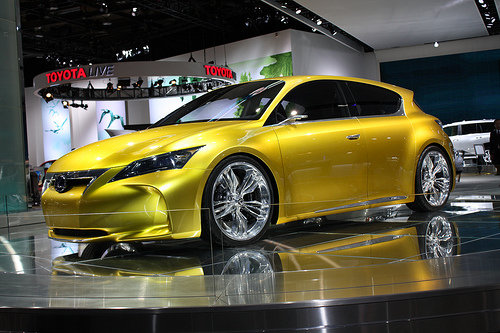 Photo Credit: JennKstep
I want one of these! It's a Lexus, so you know it's going to be plush and luxurious, but it's also incredibly streamlined and sporty! It looks like it wants to race! But it's also a hybrid, which means it can race to the finish while spewing a lot less emissions into the air. If you are considering a hybrid,hereare some facts v/s fiction you might want to consider.
---
8

Tango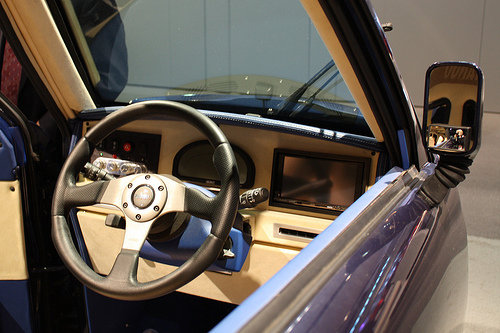 Photo Credit: JennKstep
This is far and away the funniest looking vehicle I saw at the show this year. It's totally electric, and seats two people, one in front and one in back. It really is this narrow, just wide enough for ONE PERSON. So tiny! In Europe, Asia, and California, it's legal to drive in between lanes when there's a traffic jam. I test drove it, and it's a lot of fun! It's priced at $108,000 since they're all still hand-made, and it's FAST… its top speed is 130 MPH!
If any of these things has piqued your interest, you ought to go to the auto show! Tickets are cheap, and there's not much else to do in Michigan right now! Don't forget to tell me which your favorite car is. For more information on the 2010 NAIAS, visit naias.com Or read my reviews at allcarslectric.com Check out the slot cars and the 2010 Ford Fusion Hybrid while you're there!
---
Comments
Popular
Related
Recent