Jeans have long been a staple for women. And colored denim is slowly making a comeback. So, of course NOW I feel guilty about donating those gold, snakeskin printed jeans that I held on to for years past their prime.
The following eight pairs of bottoms will put a little spring in your "the warm weather is here" step:
---
1

Meet Me at the Mulberry Jeans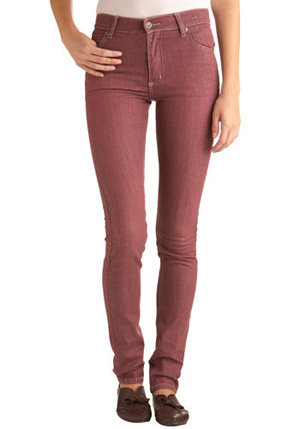 Price: $64.99 modcloth.com
Regardless of the location of your next meet-up, these mulberry-shaded jeans by Cheap Monday will keep you looking chic – and dateable – throughout the spring. There's even a slim pocket for your mints (nobody likes bad breath on a girl). Hopefully your relationship lasts twice as long as the colored denim trend.
---
2

Tripp NYC Printed Skinny Jean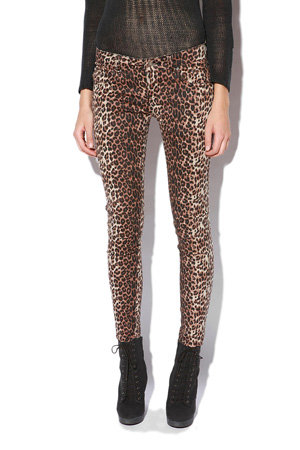 Price: $69.00 urbanoutfitters.com
Plain jeans? Eat your heart out! It's a jungle (fashion world) out there and somebody's got to wear these low-rise, skinny bottoms from Tripp NYC. They have a grrrrrreat(!) leopard print, perfect for the rebirth of warm weather – and your wild spring days.
Trendinig Stories
More Stories ...
3

BDG Ankle Cigarette Jean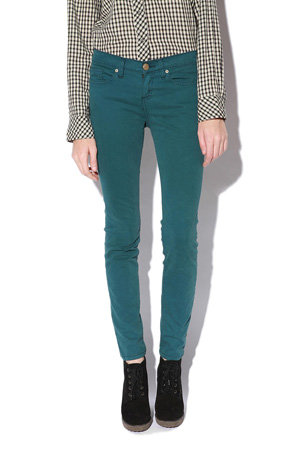 Price: $54.00 urbanoutfitters.com
Cigarettes are no longer a fad. But these teal, skinny jeans will always be cutting edge. Ankle length is a popular length for spring days, when boots go back to the back of the closet and ballet flats return for city struts. And you can go back to crushing on bad boys.
---
4

Coolest Girl in School Jeans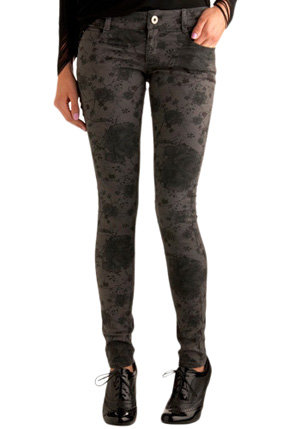 Price: $64.99 modcloth.com
I may not have been the most popular girl in school, but I dressed to the beat of my own drum (you don't get voted "biggest individual" senior year for nothing). These faded gray, floral print jeans take me back to being part of the cool crowd – at least the ones who dressed as such. C'mon, all the REAL trendy girls are doin' it.
---
5

Floral Capri Jeans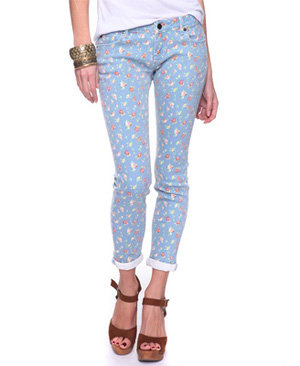 Price: $22.80 forever21.com
I'm not sure if I can pull these floral-printed capri jeans off at my age, what with their cutesy hue of blue and princess-like pink flowers. Or the sewn down, skinny cuffs. Alas, I'm going to pretend I'm 10 years younger with a pin-straight bod to pull off that "I'm totally on Spring Break" look. And then go drown my (old-age-and-curvy) sorrows in a Mai Tai.
---
6

Skinny Bleach Washed Jeans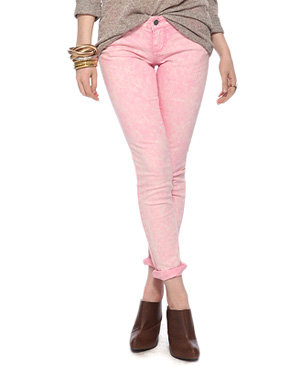 Price: $22.80 forever21.com
These bring back one of those "remember when" moments: pouring straight cleaning products into the bathtub when mom wasn't looking to bleach wash our favorite jeans. Seeing as how the 90s grunge trend is lingering, these skinny denim pants (apparently pink and baby blue are totally scene) come pre-bleached. With no spills and stains on the bathroom carpet.
---
7

BDG Hi-rise Cigarette Jean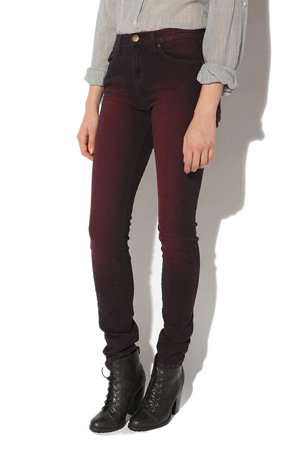 Price: $58.00 urbanoutfitters.com
If you have moved on from the grunge resurgence, then you should adopt this spring's new retro-forward decade – the 70s. While hi-rise waistbands are decidedly in vogue for the season, ditch the mom jeans for these cigarette skinnies from BDG. With a plum tinted fade from waist to ankle, their natural-wear brightened wash on the front and back of the legs might make your teenage daughters fashionably jealous.
---
8

Rich & Skinny Glory Jeans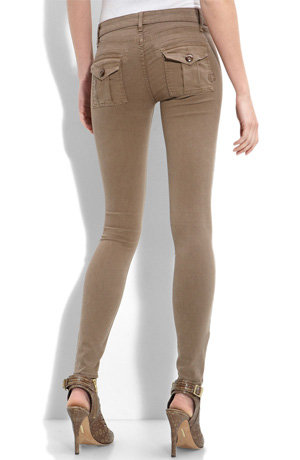 Price: $99.90 shop.nordstrom.com
I declare natural-hued jeans the "must have" trend for spring. And when the colored denim trend first resurfaced, beige jeans were first on the runway. These super skin-tight Rich & Skinny Glory are the trendier side of those unattractive and boxy cargo pants, with back flap pockets that adorn a perfect fit bottom.
Since I don't have a dress code or required uniform for work, I wear a LOT of denim (when I do decide to change out of my pajama pants). But wearing the same rotating collection of jeans every week can get boring. That's why I love the colored jeans trend for spring, which will help brighten up my mood AND my wardrobe.
Which pair would you wear?
---
Comments
Popular
Related
Recent