Easter only comes once a year, so it's the perfect time to show your family and friends how much you care, as well as getting some amazing chocolate! Avoid supermarket eggs, though, there are some really special eggs around this year! Here's my pick of the top eight, perfect for impressing your family and friends...
---
1

Easter Eggies – Sticky Toffee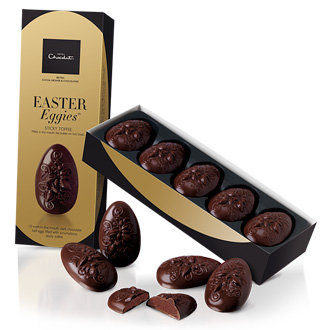 Price: $15 at hotelchocolat.com
Perfect for anyone on a diet, these eggs are small enough to indulge in and really healthy too! 70% dark cocoa, and filled with soft sticky toffee, they taste divine and have a pretty Easter pattern too. They are also good for sending through the post!
---
2

Dark Scrambled Egg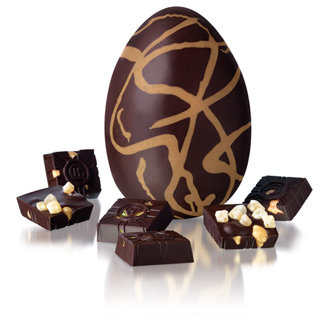 Price: $35 at hotelchocolat.com
This is a beautiful egg, and it tastes fantastic too! Containing 70% dark cocoa, and covered in hazelnut piping, its served with a selection of chocolate favourites, such as zesty orange, almonds, pistachios, spicy ginger and hazelnuts... it comes in a super cute box, too!
---
3

Rocky Road to Caramel Extra Thick Egg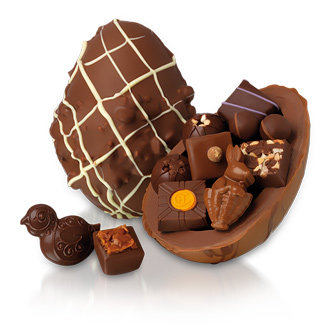 Price: $50 at hotelchocolat.com
This egg is sure to impress! The outside is textured, and the shell is so thick that it'll last forever! It's full of divine chocolates, too, including pralines in caramel, pecans, macadamia and coconut, and a super cute Easter bunny and chick! 420g of delicious chocolate...
---
4

Eggsibitionist Extra Thick Egg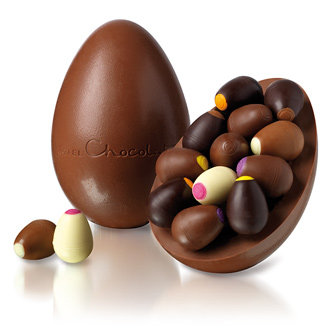 Price: $50 at hotelchocolat.com
This 14cm tall egg is made of gorgeous milk chocolate, and is filled with tiny Easter eggs, in a variety of flavours. From zesty orange, to textured praline and caramel, there is sure to be a selection to please every taste bud, and the sticky toffee ones are the nicest thing I have ever eaten.
---
5

Easter Hamper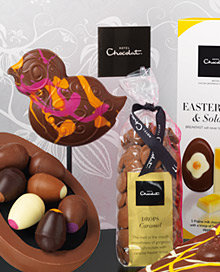 Price: $100 at hotelchocolat.com
If you want to seriously impress, this hamper is the thing to buy. Containing two Extra Thick Easter Eggs filled with chocolates, Caramel drops, Eggs and Soldiers, Easter Eggies, an Easter Slab and a Punky Chick chocolate, your whole family will be impressed, and it's amazing value too. This is sure to be a winner!
---
6

Milk Ostrich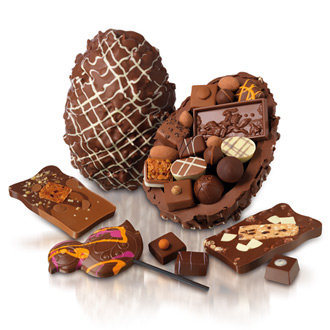 Price: $140 at hotelchocolat.com
This huge egg weighs 1.2kg, and the super thick shell mixes divine milk chocolate with cookie pieces, crispies and chocolate chunks to give it a delicious texture. Inside it's stuffed with chocolate slabs, pralines, and chocolate lollipops. It comes in a huge box, too!
7

Lavender Easter Egg Basket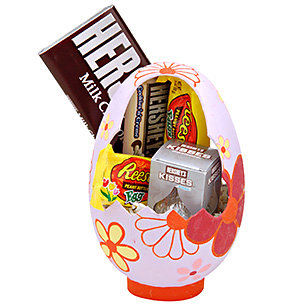 Price: $19.95 at hersheysstore.com
This gorgeous coloured egg basket includes a 4.4oz Hershey's chocolate bar, a King sized cookie and cream bar, Hershey's Kisses and 2 peanut butter eggs... it'll be the favourite gift of whoever you give it too! I love Hershey's Kisses...
---
8

Hershey's Medium Yellow Easter Egg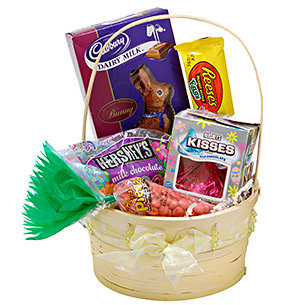 Price: $36.95 at hersheysstore.com
Go back to basics with this traditional Easter basket, stuffed full with Peanut butter eggs, Reese Candies in an adorable carrot bag, a giant Hershey's Kisses bar, A Cadbury's milk chocolate bunny and milk chocolate mini eggs...what more could you want?! The bunny is solid, too, so it'll keep you happy for hours. Yummy!
Whoever you are buying for, giving them an impressive gift from this list is sure to put a smile on their face, and put you firmly in their good books! After all, Easter only comes once a year, and it's the perfect excuse to remind your family and friends how amazing you are right before your birthday... hee hee! Have you found a seriously impressive Easter egg? Please share it with me... personally I'm hoping for the Ostrich egg!
---
Comments
Popular
Related
Recent