I can haz fashun? Feline wardrobe items apparently go completely in vogue near Halloween, as found by the multitude of black cats crossing my Internet path.
Cats are inherently hilarious, whether by pet ownership or YouTube obsession. Likewise, more than one designer – seven in this case – thought it to be funny to use kitty as inspiration for these items. These go beyond everything in your Hello Kitty imagination. Here are 7 rather ridiculous fashion items inspired by our feline friends...
---
1

Skelanimals – I Still Purr Hoodie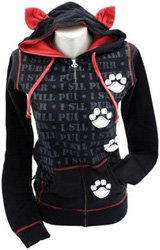 Price: $48.99 at beatdropscloset.com
For the cat obsessed Raver in your soul. Four a.m. parties will never be the same when you enter wearing this animal-eared hoodie by Skelanimals. Every bit adolescent cute, this boring zippered sweatshirt will be the life of the club. Just watch out for the creepy heavy petters hanging out in the alley at sunrise.
---
2

Sparkipuss Funky Cat Tights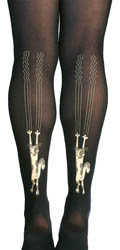 Price: $11.09 at sparkipuss.com
These funky cat tights by Sparkipuss will definitely give you cat scratch fever. Paired with a black sheath or professional business attire – the back-print design meows for workplace attention. Who says you can't wear a Halloween costume to the office?
3

Miu Miu Satin Cat Mary Jane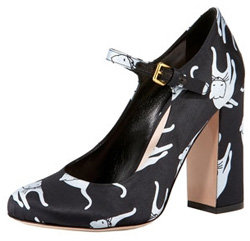 Price: $263.00 at neimanmarcus.com
Why yes, these are satin-cat print Mary Jane heels are from one of the world's most amazing shoe designers. And likely created for the ecumenical girly-girl who needs footwear to match her overly feminine babydoll dress and bubblegum pink headband. Oh, Miu Miu – or shall I call you Meow Meow – you make my feet purr!
---
4

Miu Miu Satin Clogs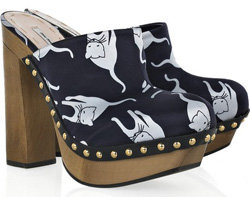 Price: $346.50 at net-a-porter.com
These clogs, much like their matching Miu Miu satin-print litter mentioned above, are made with an especially unique person in mind. But perhaps, a little more… "vegetarian." Not likely me, as even the thought of walking in clogs takes away seven of my nine lives.
---
5

Your Eyes Lie Cat Dress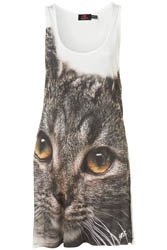 Price: $76.00 at us.topshop.com
There's weird… then of course, there is insanely strange. Much as the category of this tank dress would describe. That is what it is, right – a dress? Regardless, there is Fluffy, all up-close-and-personal begging for treats. Err… in your nether regions. I'm going to ask what I imagine others are thinking: do I have to shave my legs when I wear this? It's almost as if I would already match. Just me then?
---
6

Forzieri Green Garnet and Diamond Cat Pendant Necklace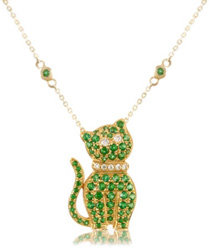 Price: $1,730.00 at forzieri.com
It's not that this green garnet and diamond pendant necklace from Forzieri is not cute – it's that it costs nearly $2,000. THAT, my lovely fashionistas, is ridiculous. If I can't afford to pay a vet bill at that price, I certainly won't adorn my decolletage with my cat's likeness.
---
7

Black Hills Gold Cat Cameo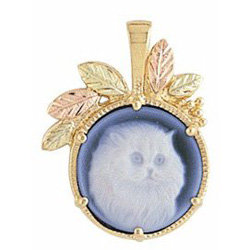 Price: $259.99 at ecrater.com
This cameo effectively creeps me out – more so than the haunted ladies who typically adorn such a pendant. We have a white kitty on a blue background set in seriously non-trendy (dare I say ugly) tri-color gold leaves. Or as I call: the Epitome of Absurd. Cat-chy!
Sure, cats are cute. I have one – who effectively drives me nuts, especially when I attempt to finish an article, and he is climbing continuously in front of my laptop. But would you wear this kitty gear? Have you seen any other crazy cat lady-inspired fashion pieces?
---
Comments
Popular
Related
Recent