In today's health conscience society, nutritious meals and snacks are on the top of every one's must have needs. While we are looking for healthy alternatives to French fries and hamburgers, don't forget your baby! Your baby's brain is still developing and wholesome foods are an essential part of growing up healthy! Below are my top favorite choices for my baby and toddler. I think you (and your baby!) will also love them!
---
1

Apple and Pear Puree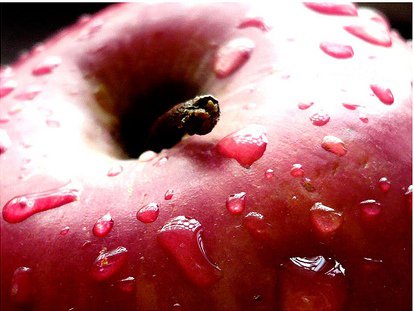 Photo Credit: Anumâ : Bee-Zee
Peel, core, and dice one small apple and pear. Cook in 3 TBS. of water until very soft, about 7-10 minutes. Mix in a blender, or press through a sieve. If necessary, thin with water until it's the consistency you desire. Serve lukewarm. Keeps 24 hours in refrigerator.
2

Banana Puree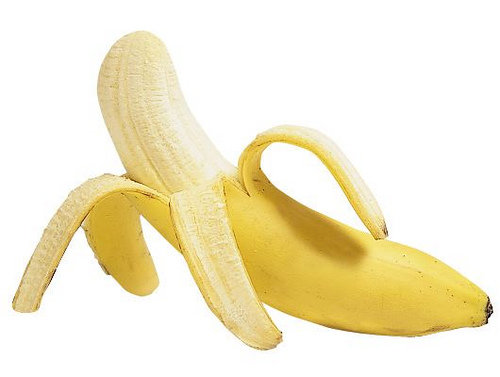 Photo Credit: firoze shakir photographerno1
Mash a banana with a blender. Add a small amount of breast milk or formula and serve immediately. Do not refrigerate.
---
3

Summer Melon Puree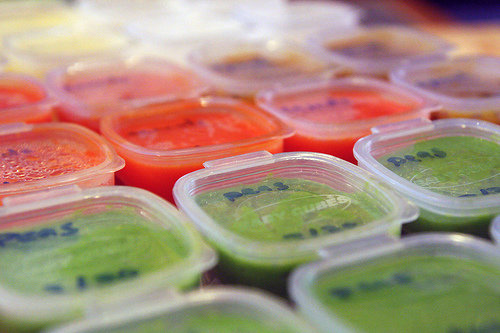 Photo Credit: mharvey75
Remove the seeds from a wedge of melon and cut from the skin. Slice into chunks and press each piece through a strainer. Will not keep overnight so serve that day.
---
4

Macaroni and Cheese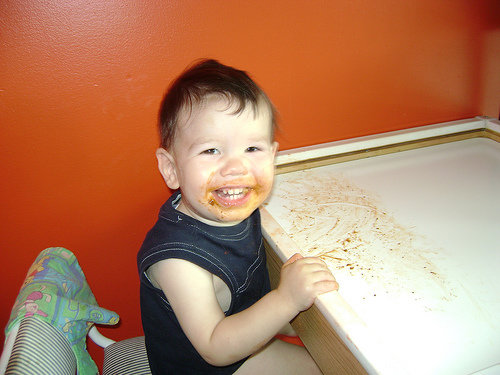 Photo Credit: webbycoble
2 oz. elbow macaroni, preferably whole wheat, 4 tbsp. frozen peas, ½ c. cheese sauce, 1 tbsp bread crumbs, 1 tbsp parmesan cheese, 2 cherry tomatoes. Boil macaroni and peas according to directions. Mix together and add sauce. Sprinkle breadcrumbs and Parmesan cheese on top. Arrange tomatoes on top. Bake for 10 minutes at 350 degrees.
---
5

Corn Fritters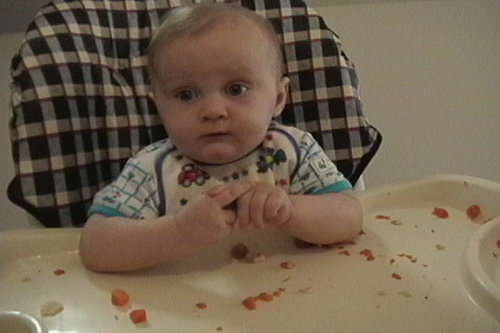 Photo Credit: Kevin Lawver
¾ c milk, 1 egg, ¾ c flour, 1/3 c corn, 4 tbsp shredded cheese, 1 tsp chives, oil for frying, preferably sunflower oil. Whisk egg and milk. Add flour, followed by the rest of ingredients. Drop by spoonful onto hot pan and fry for 2 minutes on each side.
---
6

Chicken Triangles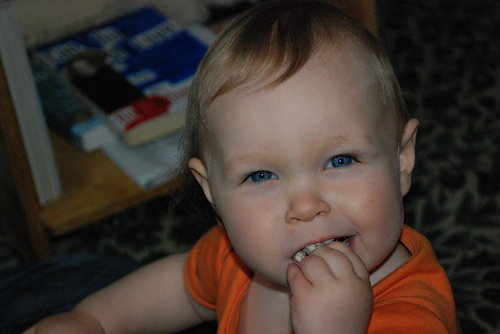 Photo Credit: napalm nikki
2 small tortillas, 2 tsp. butter, ½ cooked chicken breast, ¾ c shredded cheese, 1 tomato, diced. Brush tortilla with melted butter and place on baking sheet, butter side down. Top with chicken, tomato, and cheese. Place 2nd tortilla on top, brush with butter and bake for 10 minutes at 400 degrees. Serve with sour cream and salsa, and even Avocado dip!
---
7

Purple Oatmeal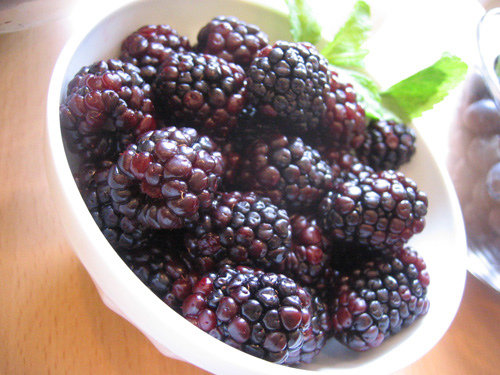 Photo Credit: princess_of_llyr
1/4 c oatmeal, 1/3 c milk, 3,4 cup blueberries (you may use any fruit your child likes: raspberries, blackberries, strawberries) Puree ½ the fruit. Cook the oatmeal and milk for 5 minutes, and sweeten with 1 – 2 tsp honey. (Please do not feed honey to a toddler under 1 year old). Swirl purred fruit through oatmeal and top with remaining fruit.
Does your baby or toddler have a favorite dish not on my list? Let me know and I'll add it to my recipe book!
Top Photo Credit: Daniel Hurst Photography
---
Comments
Popular
Related
Recent