Do you love the Gothic style, but find it a bit too intense? Perhaps you don't quite want to immerse yourself in the style, but would like to get 'the look'. Well, you don't have to cover yourself in black from head to toe and look like you hang around in cemeteries all day. Here I suggest some ways that you can get a hint of Gothic by adding just one item to your outfit.
---
#1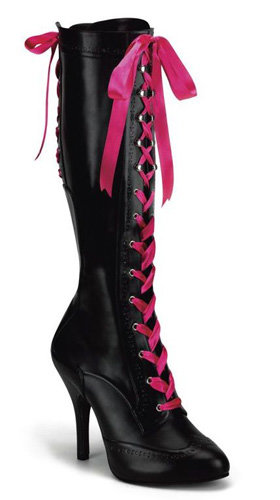 Get a fabulous pair of boots. Wear them with jeans or a plain dress (best not to opt for black), and let the boots do the talking. Platform heels, PVC, knee-length lace-up (maybe not all at the same time) … Try these gorgeous boots laced with pink ribbons.
amberssecrets.com
#2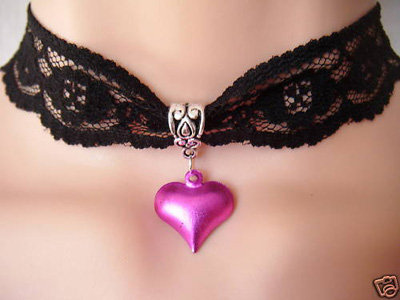 What about a necklace? This will add a Gothic touch without looking too outlandish. There is a huge range of pendants and chokers, which would look cool with a plain black scoop-neck t-shirt. Try this lovely lace choker with a pink heart suspended from it.
cgi.ebay.co.uk
---
#3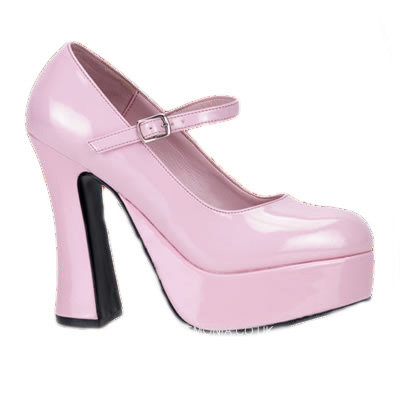 Ooh … glitter! These fabulous baby pink shoes add a demonic Dorothy touch. Try wearing them with black opaque tights, and they will be a real talking point. Gothic doesn't have to mean boring black, much as I love black! Get those feet sparkling!
demonia.co.uk
---
#4
Fancy a change of hair color? Go for a bold Gothic shade! If you're not quite brave enough to go for an all over color, even temporarily, then why not opt for clip-in extensions. These will give you that Gothic look for the evening, with absolutely no commitment, and can be quickly removed when you get home.
cgi.ebay.co.uk
---
#5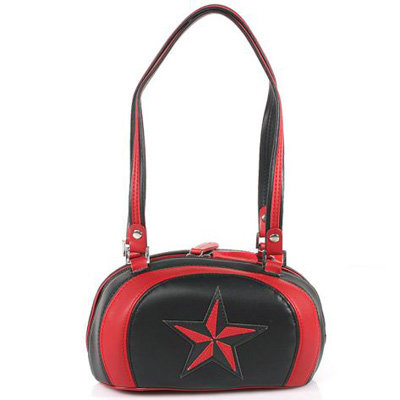 This little red and black shoulder bag will add a nice Gothic touch without being too intense. Perfect for a evening out, it's not too weird but still looks eye-catching and bold.The star design isn't overtly Gothic and won't have people assuming you are a creature of the night.
amberssecrets.com
---
#6
A corset-style top always looks very sexy, and is very versatile. It could be worn with smart jeans, a black skirt, even shorts or hotpants if you've got the legs. Corset tops are found everywhere and never go out of fashion, so for that touch of Victorian try something like this.
cgi.ebay.co.uk
---
#7
Who doesn't love t-shirts? There are a vast number of gothic styles available, and this transfer is cute and wicked at the same time. So why not buy one and put it on a t-shirt or bag? Let everyone know 'I may be small, but I will beat your ass' …
cgi.ebay.co.uk
Do you love the Gothic style? Are you a full-blown devotee, or do you like to add just a hint?
Top Photo Image: Leah Vanderbilt
---
Popular
Related
Recent