With all of this talk about styles, fashion and beauty, I could not help but to think of our four legged friends that bark! I love looking at cute dog collars and figured that I would create a blog just for them. Below, I give you 7 cool dog collars to get your pooch…
---
7

Cute Dog Collars Swarovski My Little Cupcake Collar Pink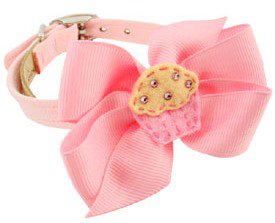 Price: $36.99 at sassypup.net
Isn't this an adorable little collar for the cupcake in your life? I really like this collar. It is perfect enough for the little dog, but doesn't look like it would really stand out on the big dogs.
---
6

Crystal Dog Collar Bone on Bead Clear Necklace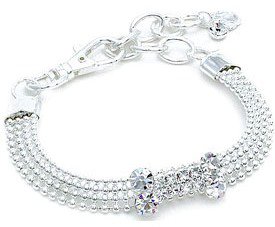 Price: $44.99 at sassypup.net
With this collar, your pooch will be sparkling! It is more like a necklace for dogs! It has a center bone with Austrian Crystals. Take note that it is a decorative collar. It doesn't have a D-ring for the dog leash, but nonetheless, it is still a collar that you should get your pup!
---
5

Crystal Dog Jewelry Crystal Jet 3 Bones Australian Crystals Sparkly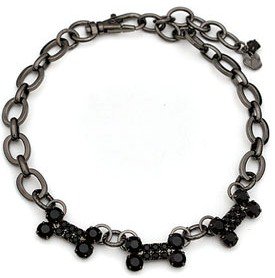 Price: $46.99 at sassypup.net
This is a sparkly necklace made just for the four-legged friend in your life. It has some adorable bones and is made of black Australian crystals. I really like it and it would look great on your spoiled puppy.
---
4

Crystal Dog Jewelry Petite Pink Heart Australian Crystals Sparkly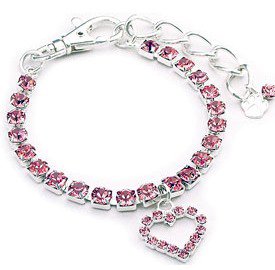 Price: $45.99 at sassypup.net
This is a cute necklace. Obviously, it is for the female dog in your life, hence the pink color. There is one exactly like this that is in red as well. It will definitely look spectacular on the small dog in your life. It is accented with pink genuine Australian crystals.
---
3

Crystal Pet Necklace Angel Charm Australian Crystals Sparkly Sterling Silver Plated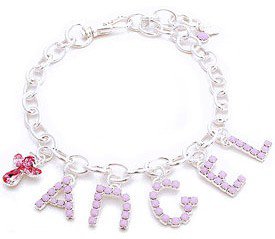 Price: $49.99 at sassypup.net
The word "Angel" will be hanging from your dog's neck. It is handmade and light in weight. Great for that spoiled puppy (or should I say Angel) in your life.
---
2

Dog Accessories Crystal Rhinestone Necklace (1 Row) with Bone Pendant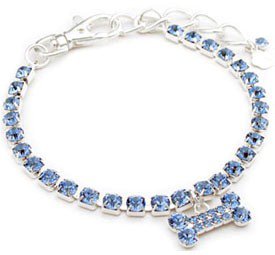 Price: $28.99 at sassypup.net
This one is great for the boy dog in your life. It has blue diamond's going all around it with a bone made of blue diamond's as the finishing touch. I know your dog is going to look good in this.
1

APBT Leather Spiked Dog Collar - 3 Rows of Spikes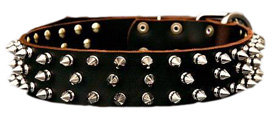 Price: $43.90 at pitbull-store.com
If you know me, you probably knew I was going to put a collar for pit bulls as number one! As a pit bull owner, I am always on the watch for new stuff designed for these strong dogs. This is a leather collar with three rows of symmetrical proportional spikes. The spikes really do bring out the beauty of the collar. There is a guarantee that it is not going to rust. It is very strong and great for the big dog in your life.
There you have 7 cool dog collars that you must have. I am a big animal lover and love dogs, so writing about dog collars is really fun. You may start to see more and more of these posts. Do you have any requests for blogs you would like to see pertaining to animals? Let me know!
Top Photo Credit: jclutter
---
Comments
Popular
Related
Recent