For the first month of school, routines are a little hard to adjust to, aren't they? Many kids are excited for school to be in session again. But after a long summer of lazy activities and late morning sleep-ins, the morning rush might tumble on top of them, and you too, Mom! Need a few good pointers for pointing your children in the right direction, mastering homework, and getting back to the school bus on time? Maybe these tips will help!
---
1

Writing on the Wall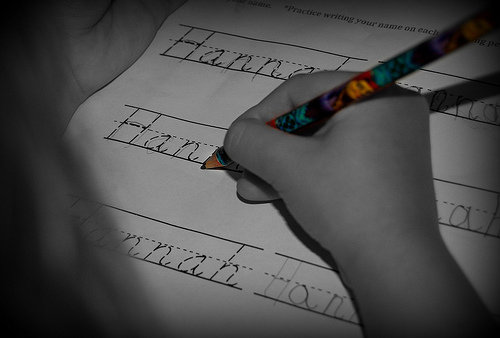 Photo Credit: .Shari.
Spelling words may be a nasty word to a few kids. I know a fabulous tip your unfortunate speller will love! Buy some bathtub crayons. The next time you son jumps in the shower, tape his spelling words to the shower door and let him practice spelling on the shower walls. You can also try body paint. He can spell the words on his legs, arms, chest, and feet. Fun!
---
2

Get to Know You Questionnaire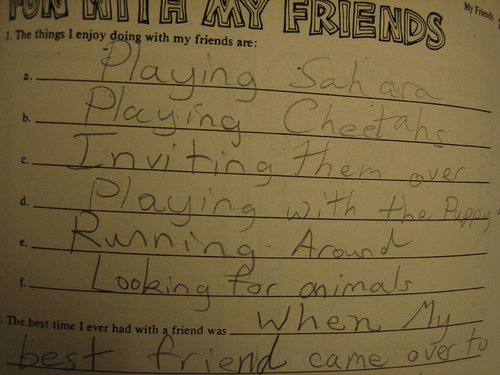 Photo Credit: oniondeath
A simple way for your daughter and son to learn a little about their new teacher is just ask. Write a small note to the new teacher and ask her a few questions, such as, what is your favorite color, what is your favorite snack, and what do you like to do after school. You can make for your children, too, and that way, their teacher will learn a little trivia about your child also.
3

Create a Morning Checklist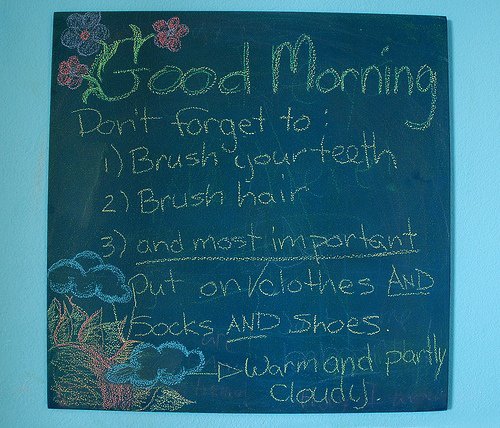 Photo Credit: fd
This help out your younger children. Make a simple checklist and include things like Make your bed, gather your homework and books, pack your gym clothes, and so on. Each morning, your kids will be able to check off each task. No more, "I forgot!"
---
4

Get out of the Bed on Time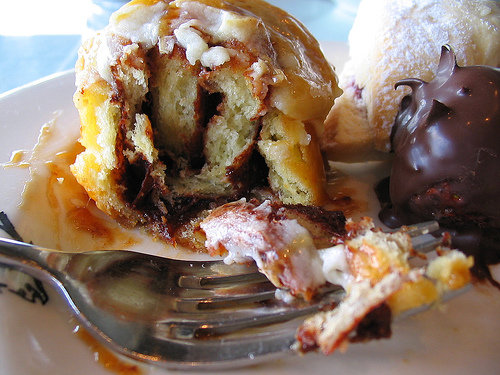 Photo Credit: xlungex
Little sleepy heads may be had to wake, but try this sneaky tip and they will be on time every morning: Bake something yummy! Try cinnamon rolls. Delicious aromas will tempt even the sleepiest kid!
---
5

Make It Merry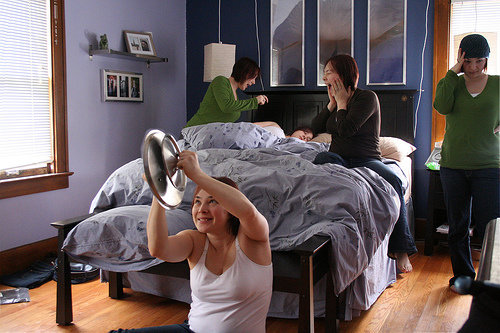 Photo Credit: sheSaid@purpleHouseonPearl.com
After the scrumptious smell lures Jr. out of his sleep get him on his feet by blasting his favorite tunes on the radio. He'll be dancing and spinning around the room in no time! No more Mr. Grumpy while brushing his teeth, he'll be singing and whistling as he comes to the breakfast table.
---
6

Front Door Station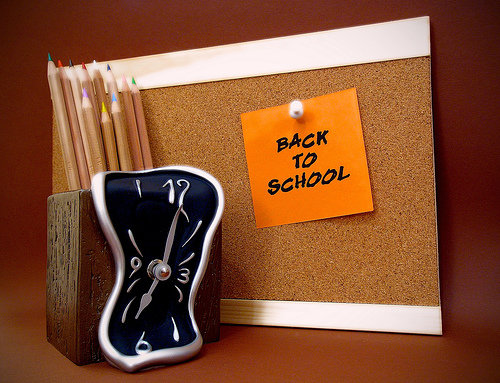 Photo Credit: PIß
Even the best-laid plans can run behind schedule. When that happens, you'll be happy you set up a last minute glance in the mirror station. Place it by the front door and include a mirror, brush, ponytail holders, and a spray bottle of water. Quick hair fixes made a little easier!
---
7

Edible Notes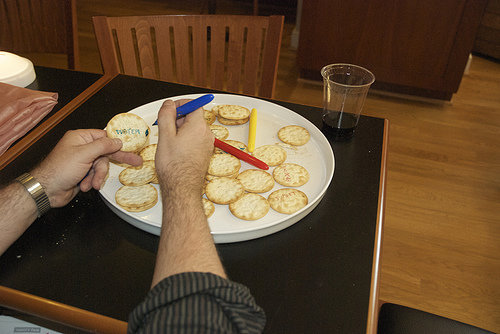 Photo Credit: dbfoundation
Lunch -time laughs, or notes, put smiles on the lips of mom and child alike. Buy an edible food marker and use it to write riddles on your daughter's sandwich, cookies, or fruit. Write the question on one side, and the answer on the other side. You may even want to write reminders, such as, "Don't forget your library book." Your kids will look forward to lunch every day.
What makes your school better? Do you have any fun ideas to share?
Top Photo Credit: mikefurgang
---
Comments
Popular
Related
Recent