COMMENT
Who says you have to stop wearing great-looking jeans that fit well just because you're pregnant?
We've scoured the shops to find the best maternity jeans, guaranteed to make you hot mama in the months before your baby is born. Enjoy!
1. Gap Back Panel Boot Cut Jeans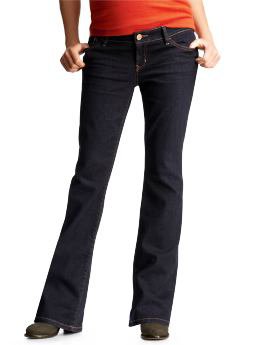 The dark wash of these jeans makes them perfect for work or for a night out. I love the back-panel… so much sexier than that unflattering tummy panel! And the boot-cut and slight flare of the legs helps balance out your cute tummy bulge. I love these!
Gap Demi Panel Long & Lean Jeans (Dark Wash)