What a week, Ladies! My head starts spinning once I start thinking of ALL the fab things I came across this week!
And these 7 Fashion Lust items below are the most fabulous ones out of them all! See for yourself!
7

- Chanel 'Tibet' Shearling Gringes, Lamskin Flap Bag with Matching Mini Bag

When I look at something this beautiful I totally forget about all the ethics. Animal rights? What animal rights? Oh, right, animal rights.... damn you, PETA!

Take a look at this white furry baby at Chanel.com, and check out that little matching mini bag which comes with it! How cute is that?!

# 6 - Classic Chanel Flap Bag (aka - chanel 2.55, aka - I-can't-live-without-it Chanel bag)

This bag is considered to be one of those 'always in style' bags that every stylish girl just has to have! I am SO saving for this bag, $80.00 down, $1.515.00 to go! :/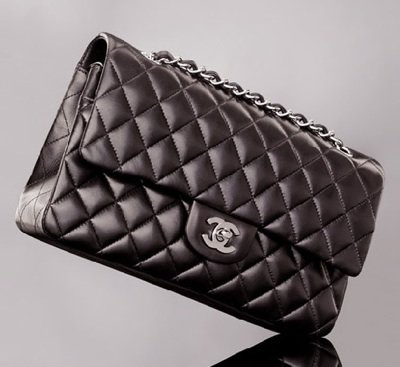 Here is where you can see this particular classic bag, Ladies: Chanel.com
For those of you, who have decided to save up for this lamb skin beauty, here is a little size/price chart I found on The Purse Blog:
SIZES & PRICES:
The Chanel Classic Flap Bag comes in three sizes:
Small - 9″ x 5.5″ x 2″ - $1,495.00 Caviar + $100.00 more for lambskin
Medium - 10″ x 6″ x 2.5″ - $1,595.00 Caviar + $100.00 more for the lambskin
Jumbo - 12″ x 8″ x 3″ - $1,695.00 Caviar + $100.00 more for the lambskin
The sizes for the Chanel Reissue 2.55:
$1,795 A302224: - The Baby 7.5 W x 5.75 H x 1.75 D inches
$1,895 A302225: - Small 9.75″ x 7.06″ x 2.16″
$1,995 A302226: - Medium 11″ x 8″ x 2.5″
$2,095 A302227: - Large 12.25″ x 9.18″ x 2.5″
$2,495 A302228: - The X-Large aka Jumbo 14.2″ x 9.8″ x 3″ (rare)
I know it looks painful, Ladies, but fashionistas've got to do what they've got to do! Right?
# 5 - Yves Saint Laurent pump in black croc-embossed patent leather with gold sole
The moment I saw this shoe I fell in love with it! I adore everything about it... Call it a whore shoe, call it impractical, but I am SO getting these when I am around an YSL store with a $1000.00 on me! There are black patent versions too at YvesSaintLaurent.com in case the heel and the print together are too much for you.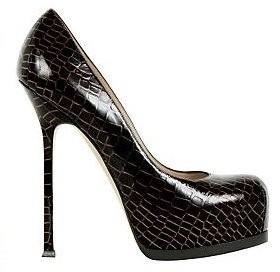 # 4 - Yves Saint Laurent Double Zip Ankle Boot
This YSL little boots in black grained patent leather totally broke my heart! I don't know how much they are (not yet), but I am sure it should be in the $1500 limit. They are so YSL... so perfectly made, so chic and so sexy, they are probably the hottest pair of boots this season!
(No offense, M. Louboutin!)
I became such an YSL shoe whore... I can't help it! They just keep coming up with the sexiest shoe wear... Here comes another fab pair!
# 3 - Yves Saint Laurent lace up sandal with jeweled medallion in black patent
I have been eyeing these bad boys for quite a while now, and although, it's autumn now, I am so not over these gorgeous YSL laced pair!
The picture I saw in some magazine of Cindy Crawford wearing exactly the same sandals with a gorgeous gown made my heart sink... If only I remembered what magazine that was...
BTW, these gorgeous designer sandals are available in YSL online store for as much as $895.00, but something tells me they are absolutely worth it! And from what we can see in spring shoe fashion, these pair will be steaming hot during spring-summer 2009 too!
# 2 - Dolce & Gabbana golden silk body hugging dresses
I almost fell off the bed when I came across these STUNNING dresses from Dolce & Gabbana! These talented Italian designers keep surprising season after season! Check out the whole Dolce & Gabbana Collection for even more fabulous Italian fashion!
PS: please do not do browse it before the bed time, because this collection is so chic and hot, you won't be able to go to sleep afterwards!
And our number one this week is....
# 1 - Harry Winston fancy vivid yellow diamond ring!
This piece of Harry Winston's jewelry is so fabulous, it hurts! Seriously! Ouch! My eyes, my eyes..! I think I went blind for a moment there... Gosh, if I had a piece like this on my finger, I probably wouldn't care about anything else. I would sit and look at it untill I die and go to heaven (obviously :), where they give Harry Winston earrings, necklaces and bracelets to compliment the ring!
In case you personally prefer more color, take a look at Harry Winston's fancy vivid blue and fancy vivid pink at HarryWinston.com!
Well, Ladies, this is all for this week, but I'll make sure I find something absolutely amazing for our next week's Fashion Obsession, so, stay close! :)
PS: if you are as crazy as I am and you also spend endless hours browsing designer websites, then please, by all means let me know about your fashion lusts in the comment field bellow! Your fellow fashionistas and I would love to see what makes YOUR heart drop!
xoxo!