Edited by Tania Fedio
From the minute that Queens native Donna Karan **launched her first collection in 1984 – the label already had the makings of a sensation. Her designs have evolved from the **"Seven Easy Pieces" to a softer, more luxurious, cashmere-centered look in the following years.
NY Fashion describes the **Donna Karan look **as "Body-hugging jersey dresses, often adorned with big statement jewelry or elaborate belts."
Let's see what the famed designer has in store for us in her luxurious, sexy Spring 2009 collection which was showcased just recently at the NY Fashion Week.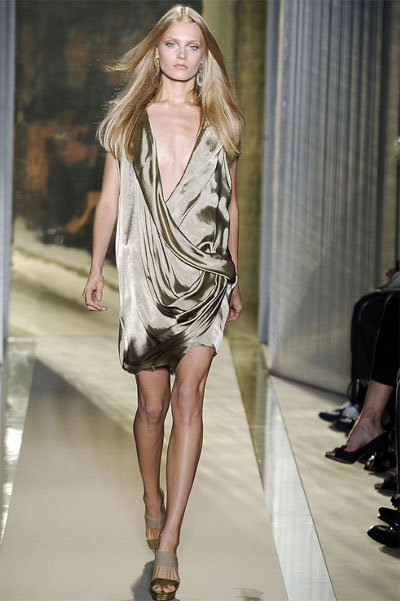 Donna Karan herself dubbed the show as "**Liquid Assets**" – and this loosely draped dress really does look like **liquid silk **– and the color is absolutely gorgeous!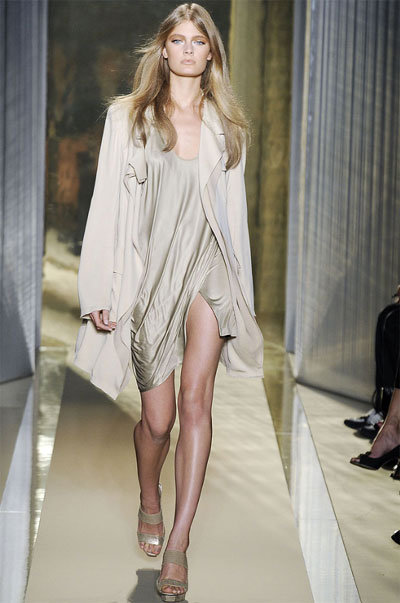 We'll get to see more of these dresses throughout the collection. This one has a flowing overcoat, a rounded neck for the dress and a sexy slit on the thigh.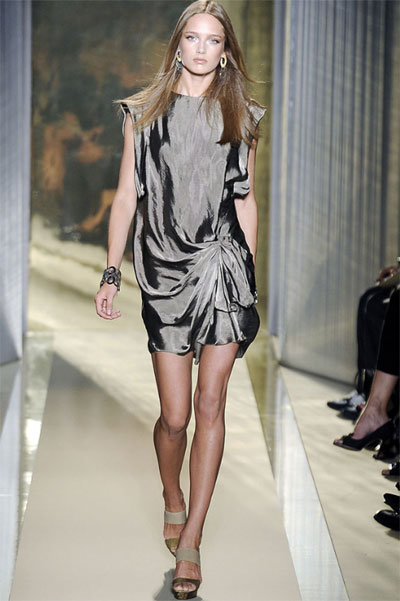 The simple silhouette of this short, one-piece dress is accented with the ribbon-like detailing on the hips. Also, I am drooling over the set of accessories that this model has on!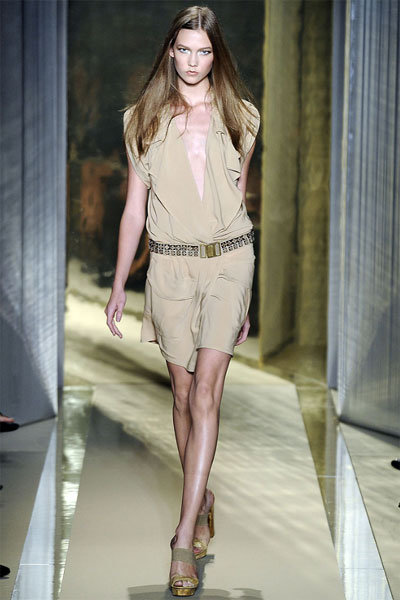 The décolleté is perfectly highlighted for Donna Karan's Spring '09 collection – which she matched with subtle earth tones in short, flowing, feminine dresses like this. And did I mention that this belt is as chic an accessory as you can get?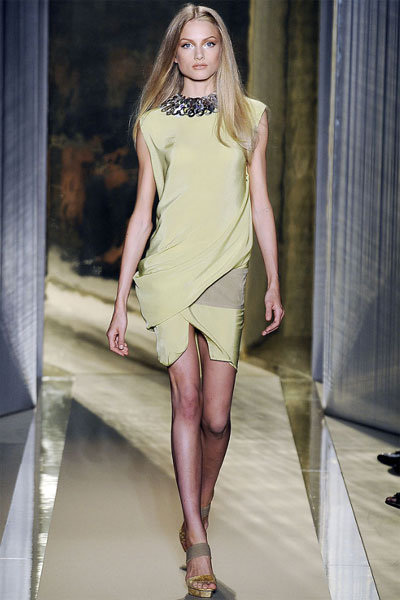 You'll surely fall in love with the main and accent color of this dress – and that fab necklace is the only accessory that you'll ever need to pull off the high fashion Donna Karan look.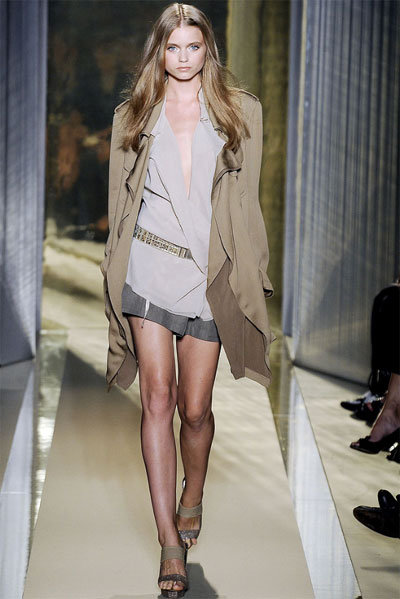 Nicole Phelps of Style.com describes this ensemble perfectly:
The show's few hard edges came via strong-shouldered jackets, but even those were paired with liquid jersey tops that dipped low in front above crystal-studded miniskirts, as if you'd borrowed your husband's sport coat or trench for the short walk home from a late-night party.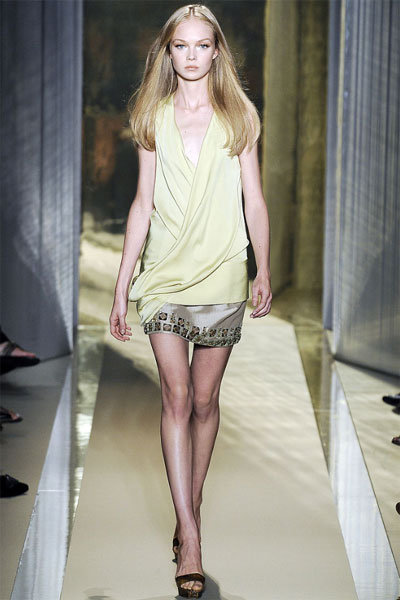 I love the pairing of the colors of this liquid jersey top and crystal-studded miniskirt.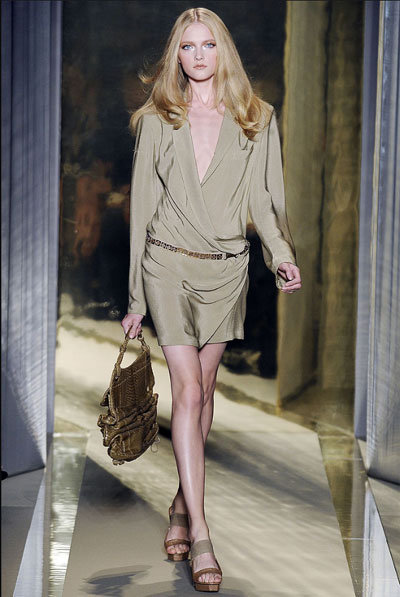 Talk about high fashion! This Donna Karan belted dress is probably one of the most luxurious and stylish piece of clothing that you can ever own!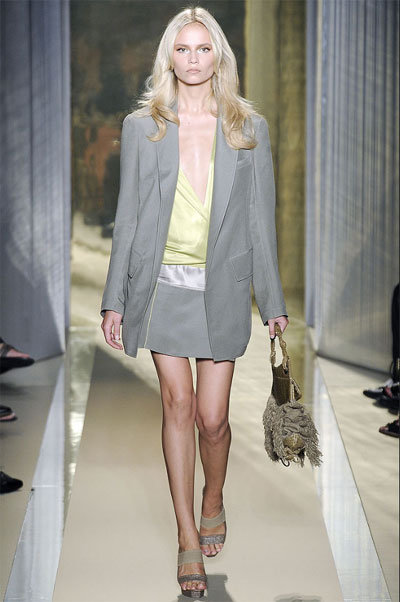 You can probably pull off this look in a business casual office environment. With that gorgeous bag to boot!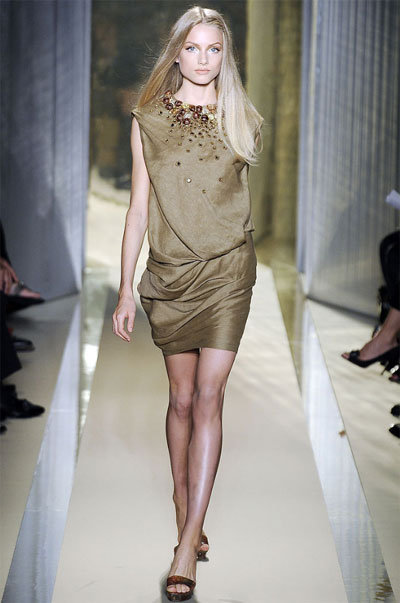 Be the center of attention in this dress with that exquisitely detailed neckline.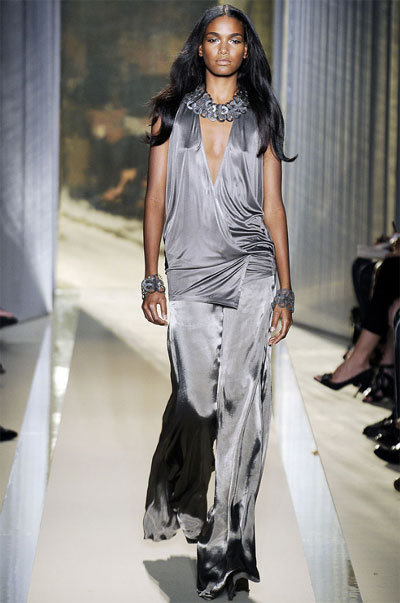 We have seen a lot of those V-neck, liquid jersey tops – but when it's worn with matching loose pant – the effect is simply stunning!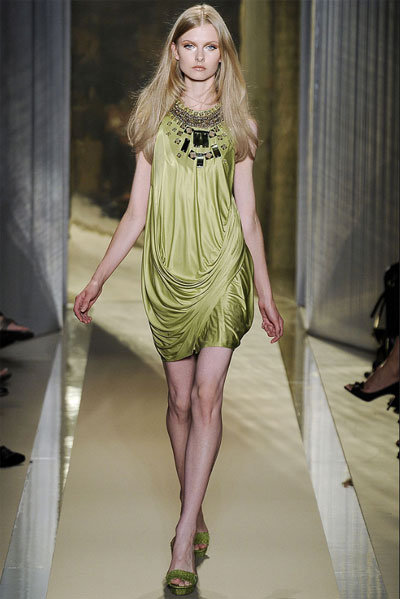 I've always loved draped dresses – and this rich green number from Donna Karan is my personal favorite.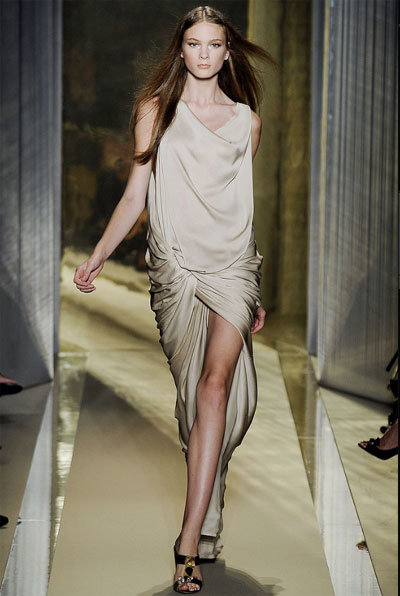 This is like a longer version of our first entry in our Donna Karan Spring '09 collection – the thigh-high slit of the dress makes it ultra daring and sexy!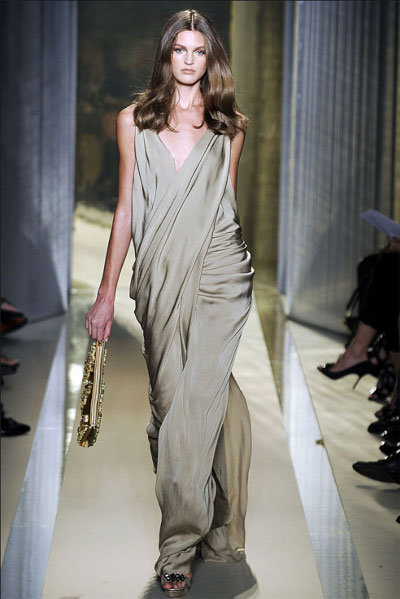 If you feel that you can't pull off the thigh-high slit look – this is a similar dress that you can use as an alternative.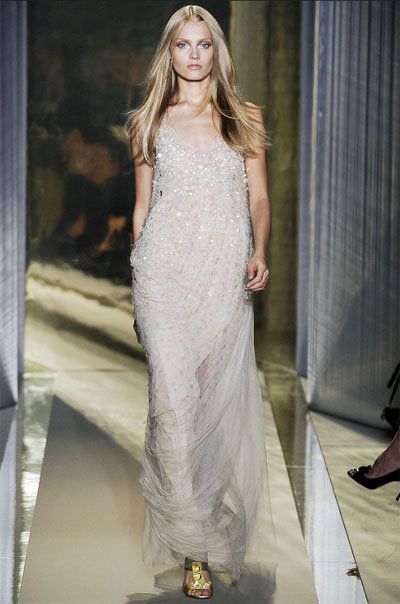 Finally, we have this breathtaking, flowing Donna Karan gown. Any celebrity worth her salt would not think twice about wearing it to any red carpet event!
Photo Credit:Style.com
More
---
Comments
Popular
Recent