Edited by Tania Fedio
Jennifer Lopez **may have graced the occasion – but the highlight of the show for **Oscar de la Renta's Spring 2009 Collection is still the clothes.
Nicole Phelps of Style.com describes the collection this way:
Everything was perfectly beautiful, maybe a bit too much so.
Meanwhile, NY Fashion describes the Oscar dela Renta look as luxurious ruffles, embroidery, ostrich-feathered eveningwear, and ornate beading and embellishments like buttons and metallic threads.
Hmmm… maybe one of Hollywood's fave designer's did not veer away too much from his signature style. Take a look at the items from Mr. de la Renta's collection: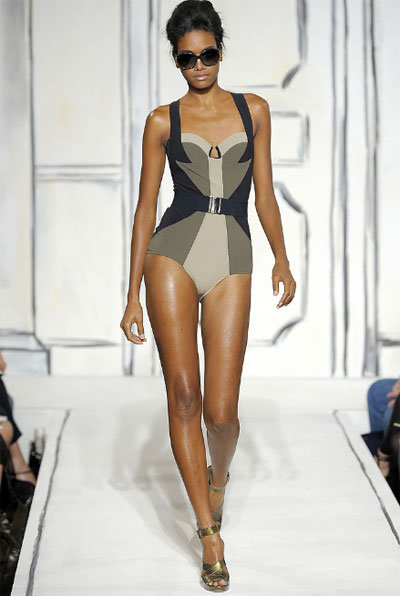 The show started off with this color-blocked and belted maillot.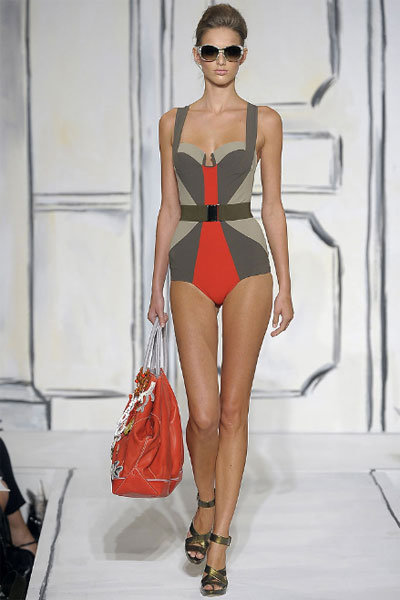 This is a another variation of the color-blocked maillot for the show's opening salvo – only it has a bright colored accent in the middle.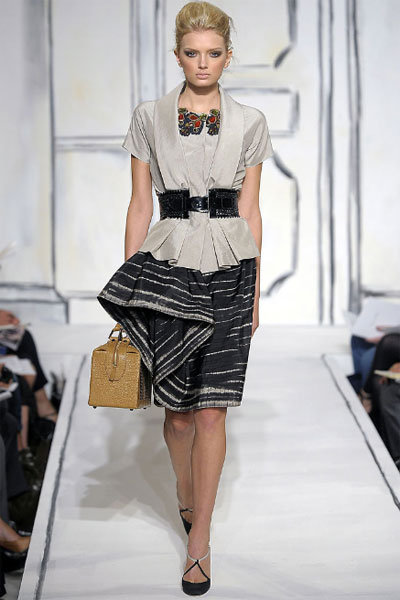 Even the most high-maintenance diva cannot fault the crispness and chicn-ess of this ensemble. I just love the silhouette of that top and the way that it is belted!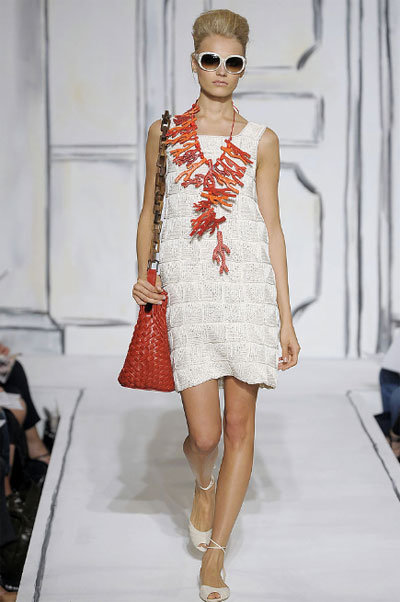 This casual white frock is perfect for a day or night about town.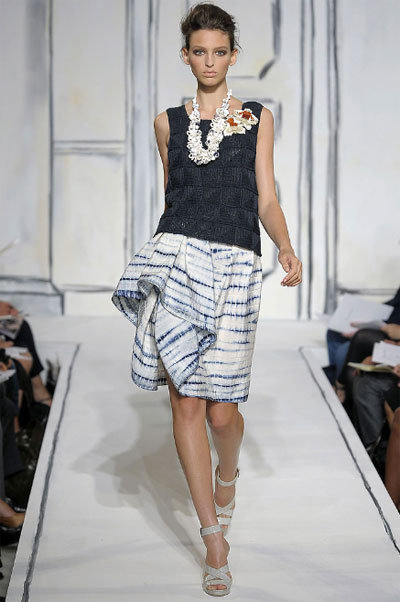 The way that the skirt of this ensemble is draped is a signature Oscar de la Renta look for this collection – it's flirty, sassy and chic all at the same time!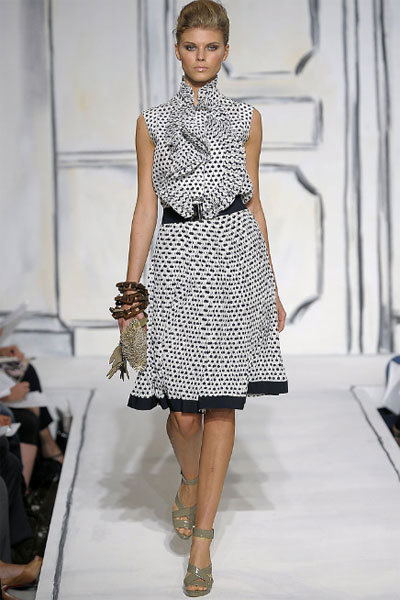 This printed dress with black accents is a piece which perfectly defines what high fashion is all about.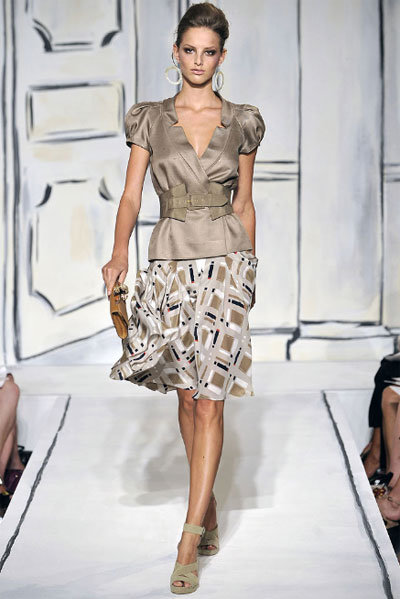 Get a load of the delicious color of that crisp, belted top which is perfectly complemented with that swirly, flirty skirt. The accessories and shoes are fab, too!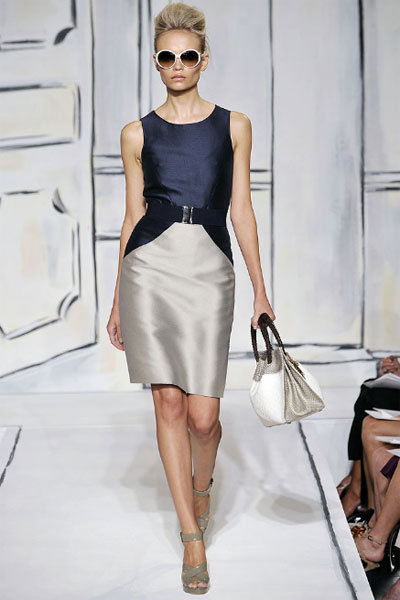 The gray and navy combination of this Oscar de la Renta creation takes power dressing to new heights.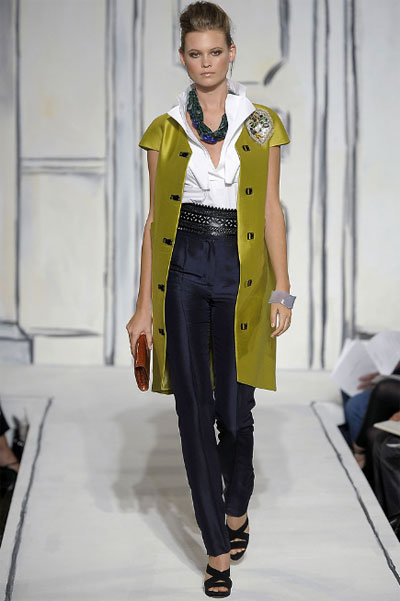 The rich color and luxurious fabric of the long vest, the high-waist, belted pants and the truly chic white top all makes for an uber-stylish combination.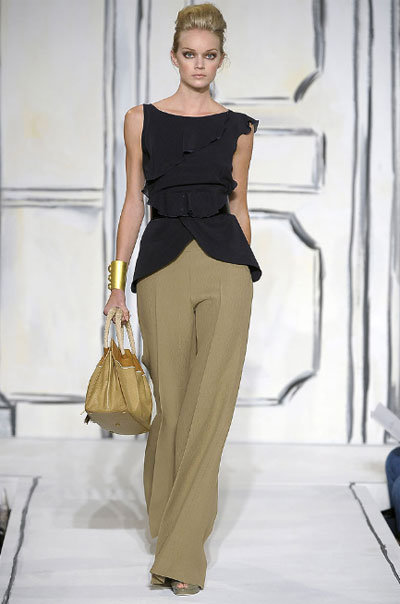 I absolutely love the femininity of the black top – and the wide-legged pants are also perfect!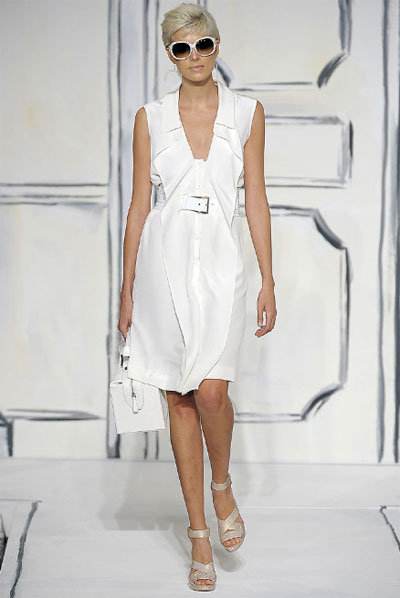 Will you look at exactly what the famed designer can do with a little white fabric? I'm sure I'll look drop-dread gorgeous in this – lol!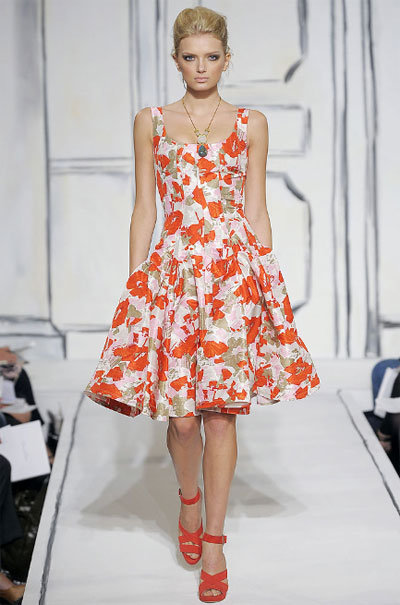 If there's one dress that can become the ultimate definition of spring – this is it!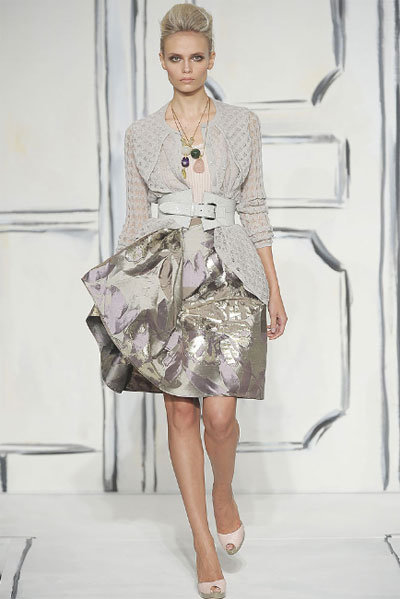 This Carrie-ish outfit will look fab for women of all sizes!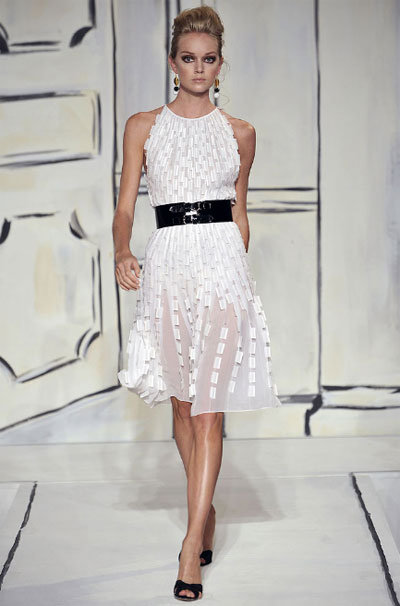 For me, this white somewhat sheer-on-the-bottom dress is the ultimate definition of sexy.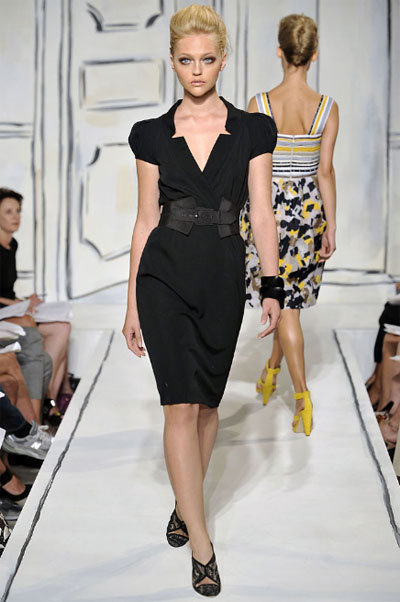 This black Oscar dela Renta LBD just simply takes my breath away!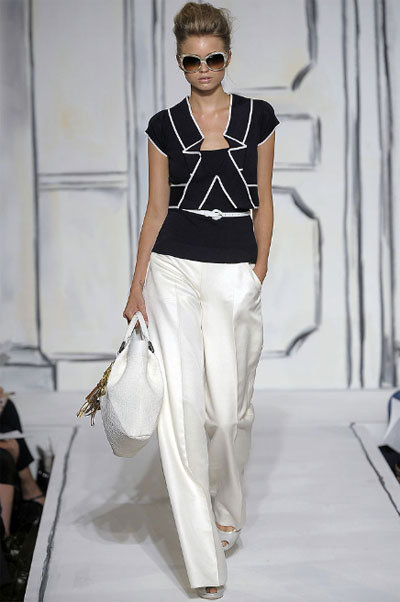 This black-and-white ensemble would be a very welcome addition to my closet!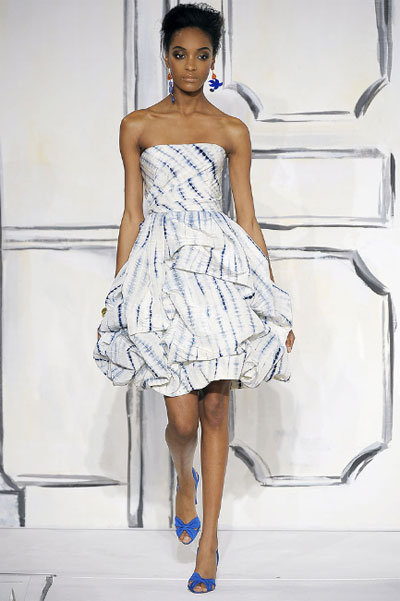 Hmmm – those to-die-for blue shoes and this short dress makes me think that blue will be the new 'purple' for next year's fashion scene.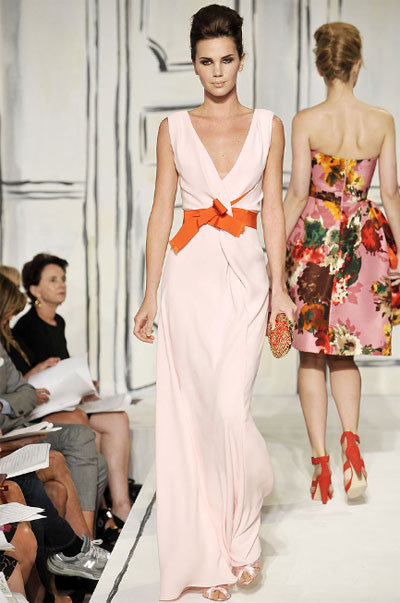 I simply adore the ultra-feminine colors of this V-necked Oscar de la Renta dress!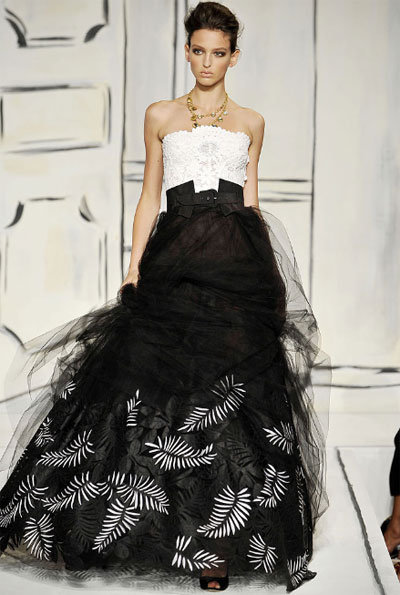 Romantic and drool-worthy – I can't think of a better way to describe this gown which left me almost speechless.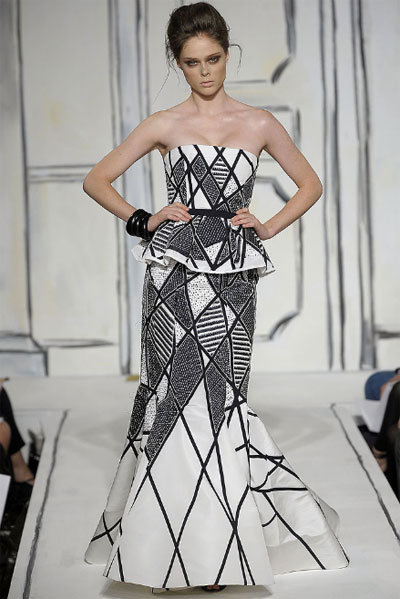 Feel like a modern-day siren in this geometric black-and-white off-shoulder gown.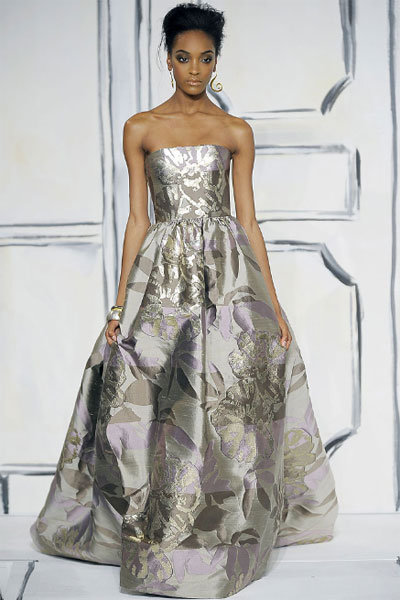 Another highlight of the collection is this printed, off-shoulder gown.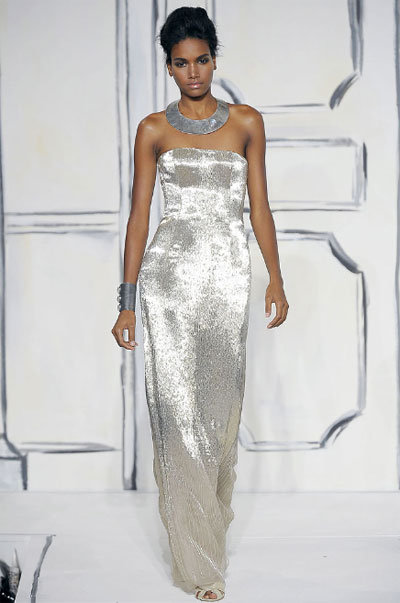 What better way is there to end our countdown of the items from the Oscar de la Renta collection than with this tall and shimmeringly splendid gray gown? The accessories are perfectly matched, too!
Photo credit:Style.com