Here in Australia, sunglasses are cutely nicknamed "**sunnies**" for short. But then again, the Aussies love to abbreviate just about everything such as "brekky" for breakfast and "pressies" for presents. Pretty cute, huh? Well, as for "Sunnies," I'm revealing our top ten we think you'll die for.
---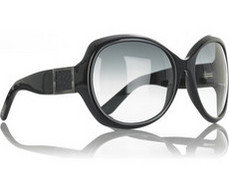 One cannot go wrong with the classic oversized oval framed shades. It will instantly lift up your just-rolled-outta-bed look to Starbucks- the perfect accessory for any attire- whether it's your Sunday best or sweats and a hoodie.
---
Ok, think Marilyn Monroe walking on Sunset Boulevard sporting these sunglasses with a scarf glamorously tied on their perfectly coifed hair. These sunnies epitomize old Hollywood, so if you're aiming for that chic vintage look, then these are the shades for you, girlfriend.
---
The designer logos flaunted on a pair of sunglasses never hurt anyone. Well, this oversized pair by Chloe does just that. If you prefer simple sunnies but still want that extra oomph, I wouldn't doubt that this pair would be your cup of tea.
---
If you're, well, fed up with the oversized oval sunglasses, then you're bound to fall in love with these shades by Miu Miu. Rectangular shaped and tortoiseshell frames totally abandon the cookie cutter Lauren Conrad and Nicole Ritchie-esque look.
---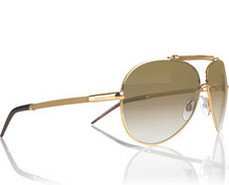 Ok, so I'm not a big fan of aviator sunglasses, but I must say, these have class. And the fact that they are by Roberto Cavalli is an incentive in itself to wear them.
---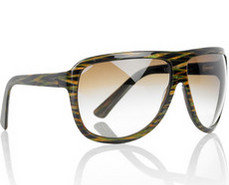 I highly doubt Heather Mills will be indulging in this hot pair of sunglasses by Stella McCartney. Who can resist the metallic striped detailing? But as sexy as they are, it would just be too awkward for Mills.
---
It's all about tortoiseshell glasses this season. This pair is just straight up sophisticated. It's square-ish shape exudes that vintage flair, and it's perfect to wear with a dressy get-up.
---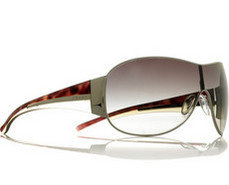 If you're a sporty chick who generally chooses comfort over fashion, then these Prada sunglasses may just be your match. It provides full protection from the sun (hey, think volleyball at the beach or skiing at wintertime), you'll achieve a chic, yet sporty look as it's practical for your lifestyle.
---
Express your inner hippie and sport these retro-inspired sunglasses. Even if you're not a tie-dye kinda girl, these pink lenses are an unconventional, sassy way of protecting your eyes from the rays.
---
If you're like me, you'll go ga ga for anything Dolce&Gabbana, let alone a sexy combo of gold and tortoiseshell sunglasses. Unfortunately my budget won't allow it at the moment, but I still refuse to buy a D&G knock-off... I feel like I'd commit a fashion felony- a pair like these are unparalleled.
Whether the sun is shining or it's just overcast, these sunglasses are the perfect accessory to jazz up your spring/summer attire... ok, any time of year really! Even if you live in Seattle, show these sunnies off by flipping one on your head as a cute headband...any excuse will do!
More
Comments
Popular
Recent