Have you got a friend who is turning a year older soon or celebrating something fantastic? If he (or she) happens to be a shutterbug, this list is for you. I have gathered here cute gifts for a photographer friend. Happy shopping!
---
1

Wish You Were Here Disposable Camera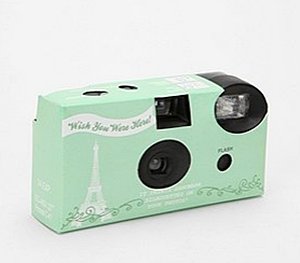 Price: $12.00 at urban outfitters
Could a disposable camera be any cuter? Sure, your photographer friend probably carries with him or her a DSLR all the time but this disposable cutie can still come in handy. A DSLR is heavy compared to this whimsical camera (made of paper and plastic only) and if I were your friend, I'd be very happy to receive this as a gift.
---
2

Camera Pencil Sharpener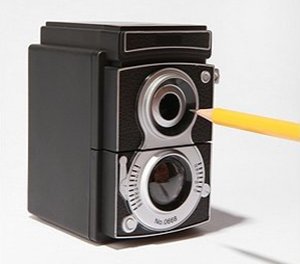 Price: $12 at urban outfitters
This list of cute gifts for a photographer friend includes more than actual cameras, of course. What we have here is an adorable pencil sharpener in a TLR camera design. Not only is this functional, this will also make any desk look more interesting.
3

Camera Ring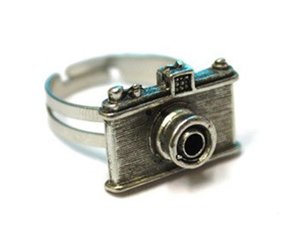 Price: $8 at shana logic
How adorable is this? You probably see many of these around. However, I thought a list on cute gifts for a photographer friend will not be complete without this. If your photographer friend is a dude, you can look for a camera key chain instead.
---
4

Retro Camera Mobile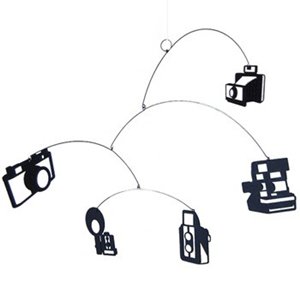 Price: $33 at shana logic
Is your friend into vintage film cameras? Why don't you give her something cute and fun for her room? This mobile features silhouettes of vintage cameras hanging from black wires. The vintage camera parts are made of black mat board. This will look adorable hanging near your friend's Polaroid wall.
---
5

Vintage Camera Tie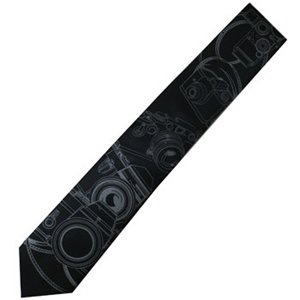 Price: $30 at shana logic
Most of these cute gifts for a photographer friend are perfect for ladies but do not worry if you're looking for a gift for a guy friend. This tie is your answer. Not only is the print brilliant, the grey on black design is beautiful, too. This is a narrow style tie for that added snazzy effect.
---
6

Caught on Camera Tape Dispenser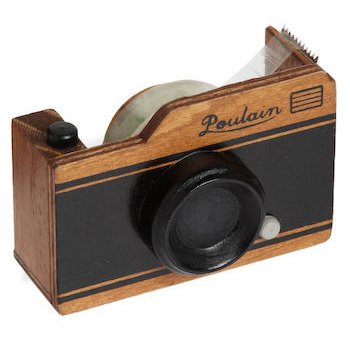 Price: $21.99 at modcloth
Another cute addition to the desk of someone who fancies himself a shutterbug. I love the antique feel of this camera. Place it beside the TLR pencil sharpener above and no one will doubt that your friend is crazy for photography.
---
7

Meow Pix Camera

Price: $54.99 at modcloth

Does your friend have a cat? For sure, she loves to take photos of her furry friend. Unfortunately, they can be quite hard to photograph. I speak from experience. No worries, you can give your friend this fun cat camera. This has several "meow" sounds to catch the cat's attention. It has flashing lights and other sound effects, too.
---
8

Cameras on a Hot Tin Sign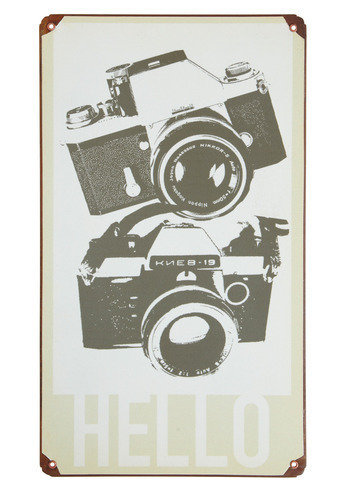 Price: $34.99 at modcloth
Another great option if your photographer friend is planning on renovating his home. This vintage perfect tin sign has four grommets and is ready for hanging. Love the HELLO print!
---
9

Diana Mini Camera

Price: $69.99 at modcloth

I have this and I have to say that I love it to bits. The square format is just fantastic. Plus you can't beat the cuteness factor. It is highly likely that your photographer friend also owns this but he or she might have the one in green. This white version would be happily welcomed to his collection.
---
10

Well-Read Pinhole Camera

Price: $148 at anthropologie

Okay, this one is very expensive and should only be given to a photographer friend who truly deserves it. These are beautifully handmade. What makes them truly one of a kind is the fact that they are made of vintage hardback cover books. Nifty and fun, yes?

We hope that these cute gifts for a photographer friend help you in your quest for the perfect present. Which of these do you think he or she will love?
---
Comments
Popular
Related
Recent