My daughter has a tiny pre-lit tree in her bedroom all during the holidays, and she loves decorating it with adorable Hallmark mini-ornaments. There are so many to choose from, and each year, she chooses two more to add to her collection. This year is no exception, with so many adorable Hallmark minis to choose from! Since they're not quite ready to roll out the new ones yet, though, let's take a look at some of the adorable Hallmark mini-ornaments there are right now! While they're Hallmark ornaments, you can get a great deal now at other places, and stock up for your 2011 tree!
---
1

Festive Santa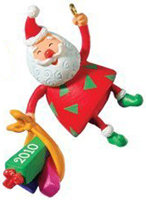 Price: $2.69 at amazon.com
This daring little Santa is the second in the series, and he's definitely an adorable Hallmark mini-ornament, isn't he? I love his expression, and I also like that the ornament is dated. He may be small, but he looks so cute hanging from the tree!
---
2

Sweet Treat Elf

Price: $7.18 at amazon.com
This friendly little elf is wearing a beanie with a propeller that really spins, so he's more than a little magical. He also has a sweet treat he's willing to share! This was my youngest daughter's pick for her tree last year.
---
3

So Cute in a Boot

**
Price:** $9.94 at amazon.com
The last place I ever want to find a snowman is in my winter boots, unless he's this little guy! He's so charming, and I love his little hat! This ornament would be a perfect gift for the outdoorsy hunter on your list…
---
4

A Beary Cool Treat

**
Price:** $2.78 at amazon.com
This little polar bear is happy with his ice cream cone, and when he's eaten that, he can move on to the big green gumdrop he's sitting on! The gumdrop looks very realistic, and the bear's smile is so cute! I just love the whimsy of this adorable Hallmark mini-ornament!
---
5

Winter Fun with Snoopy®

**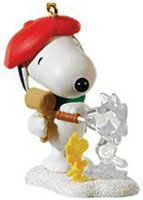 Price:** $3.89 at amazon.com
This is the 13th in the series, and one of my favorites! It features Snoopy and his best feathered friend, Woodstock, making a tiny ice sculpture. What a perfect stocking stuffer for anyone who loves the Peanuts!
---
6

What an Angel!

**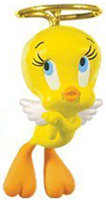 Price:** $8.87 at amazon.com
Tweety Bird has always been an innocent thing, all big eyes and good intentions. Let him guard your tree from all the naughty kitties out there… He'll protect all of your other mini ornaments, and possibly even a few of the full-sized ones.
7

Goldfinch

**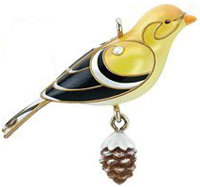 Price:** $11.50 at amazon.com
This richly detailed, glittery gold goldfinch perches atop a snowy pinecone, ready to grace your tree. He's part of a series that includes larger ornaments, either to hang with them, or alone on a smaller tree. Isn't he an adorable Hallmark mini-ornament? The detail is so gorgeous!
---
8

A Friendly Sort of Gift

**
Price:** $3.69 at amazon.com
Winnie the Pooh's best friend, Piglet, has a big present for him, all wrapped in bright blue and yellow wrapping paper and topped with a sprig of holly. The gift is almost as big as Piglet himself… I wonder what it could be! Maybe Pooh's favorite, a jar of honey…

These are such adorable Hallmark mini-ornaments! I love them all! We've bought three of them so far, and I already can't wait to see the new ornaments for next Christmas! Which of these Hallmark mini ornaments do you like best, and why -- or is there another one I missed? Please let me know!
---
Popular
Related
Recent