COMMENT
Snow Globes are one of my favorite collectible items. I adore them and I've been collecting them for years. However, I'm extremely picky about my snow globes. Unless I really like a movie or something, for instance, I won't choose character globes. I never want anything too kitschy unless it's kitsch I'm already really into. Here, I can explain what I mean by showing you 8 snow globes I love.
1. Dolphin Snow Globe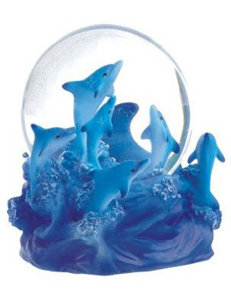 Price: $13.50 at amazon.comAs someone who collects all manner of dolphin memorabilia, it's no wonder that this is one of the snow globes that caught my eye. Every year for my birthday and for Christmas, my dad finds me a new kind of dolphin. I have figurines in all kinds of glass, crystal, and ceramic, in all manner of colors, and plenty of globes as well. I love the colors in this one especially, all the bright shades of blue and cerulean -- it really evokes the ocean!
Snow Globe Ring