Any girl with green eyes can tell you: if she's playing up her eye color, she's going to use purple make-up because that's the color that brings out emerald eyes the most. But some purples are so garish or awful, no green-eyed girl in her right mind would wear them. I can help you avoid the overly glittery or just plain boring, though… as a fellow green-eyed girl, I've searched my favorite make-up site, Sephora, and tried dozens of eye make-ups, so I know what's great, and what to avoid. Here are 8 great make-up items for us girls with green eyes.
---
1

Urban Decay 24/7 Glide-on Eye Pencil in 1999 (Glimmering Plum)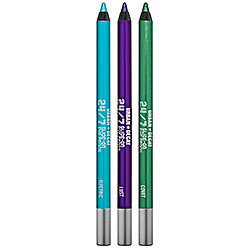 Price: $17.00 at sephora.com
I wear contacts, so it's hard to apply eyeliner that's too stiff. That's why I love this eye pencil — as the name implies, it glides right on. It doesn't smudge, though, so you can wear it all day without worrying about touch-ups. And the color's gorgeous!
2

Kat Von D Tattoo Liner in Lapdance (Rich Plum)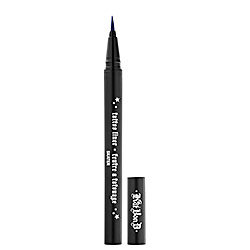 Price: $18.00 at sephora.com
I love the sleek, somewhat retro look of a thick line of liquid liner on just my upper lids. This one's water-resistant, which makes it great for all-day wear, even in the pool or at the beach. You can also use it to make your own temporary tattoos, too!
---
3

Urban Decay Heavy Metal Glitter Liner in Metal Head (Dark Purple)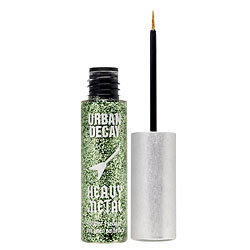 Price: $18.00 at sephora.com
I know in the intro I said that I don't really like the cheap glitter look on my eyes, but this glitter liner by Urban Decay is an exception. It's easy to apply and the color is amazing, perfect for highlighting your gorgeous green eyes. You can ink a thin, subtle line over your base liner, or brush it across your entire lid for a glam-rock club look.
---
4

Clinique Quick Eyes Cream Shadow in Rock Violet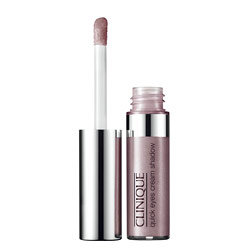 Price: $15.00 at sephora.com
I absolutely adore this pretty, subtle shade by Clinque. I also love the ease of applying it, since it's a cream shadow. It doesn't crease or smudge, even after an intense 8-hour work day, and it's neutral, so it looks great with just about any liner and mascara you can choose.
---
5

Buxom Stay-There Eye Shadow in Schnauzer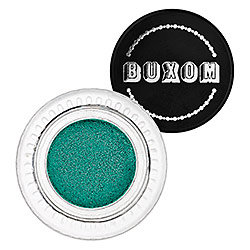 Price: $17.00 at sephora.com
This little pot of magic eye color is exclusive to Sephora, and I'm in love! The color is so vibrant, so rich, I don't know if I'll ever want to use another shadow again. If you're sensitive to parabens, no worries — this shadow is made without them. And for every purchase of this shadow, Buxom makes a donation to Canine Companions for Independence.
---
6

Smashbox Single Eye Shadow in Cabernet or Enchanted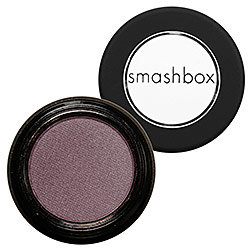 Price: $16.00 at sephora.com
This color highlights green eyes beautifully, making them appear greener, brighter, and even more gorgeous than ever. It's long-lasting, so you won't have to worry about frequent touch-ups, and it's paraben-free and hypoallergenic.
---
7

Smashbox Lash Revival Treatment & Conditioner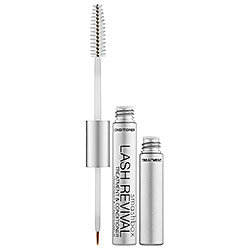 Price: $34.00 at sephora.com
This lash treatment is a must-have, whether your eyes are blue, green, brown, or somewhere in between. More than 90% of users saw longer, softer, fuller, thicker lashes within just 8 weeks… amazing! And you can wear it instead of, or under, your current mascara.
---
8

DiorShow Mascara in Chestnut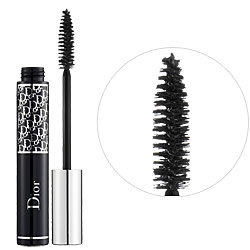 Price: $24.00 at sephora.com
This is hands-down my favorite mascara, and though it's available in three rich colors, the brown really makes my green eyes pop. The blue is great for brown eyes, or just for fun, and the black is another great choice for any eye color.
Those are my picks for the best eye make-up for girls with green eyes, like me. I love the gorgeous plum and bright purples, and I love what they do for my eyes… do you have green eyes? Which of these shadows and liners do you like best, and why? Or is there another one you like to use?
---
Comments
Popular
Related
Recent