I have dozens of necklaces, stacks of bracelets, and oh-so-many rings… but of course I can't wear them all at once, so how to store them? I don't want them to become a messy, tangled, unmanageable mess, so I've been searching for jewelry stands and such, and this is what I've found! Here are 7 ways to store your accessories, keeping them tidy and displaying them so your favorite statement piece is right at your fingertips!
---
1

Take a Stand Jewelry Holder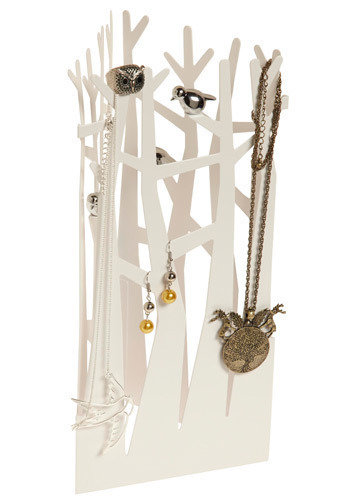 Price: $21.99 at modcloth.com
This jewelry holder is art o its own, but will look even more gorgeous with your favorite necklaces, earrings, and bracelets draped over it. It's metal, too, so you can even use a few chunky magnets to hold notes and ticket stubs and photos. It's quite tall, too, so it can even hold your longer necklaces, not just chokers.
2

Very Tweet Jewelry Stand

Price: $32.99 at modcloth.com
Three tall trees, and two short one, equals five places to hang your glittering jewels. Place the wooden stand on your vanity or dresser, and you'll never have tangled necklaces or mis-placed bracelets again!
---
3

Center Cage Card and Jewelry Holder
Price: $23.99 at modcloth.com
My vanity is already covered with make-up and perfume bottles, so I don't have space to place another jewelry stand. That's why I love this one — it mounts on the wall. Three hooks hang your bracelets, rings, and necklaces, and five little weathered wood clips hold photos and such. I adore the little birdie perched on top, too!
---
4

Jewelry Doesn't Grow on Trees Stand
Price: $18.99 at modcloth.com
This stand is spare, stark, and elegant, perfect for displaying your favorite statement necklaces and rings… it's black, too, so it won't clash with your existing décor. Love it!
---
5

Leaf Your Jewelry Here Tray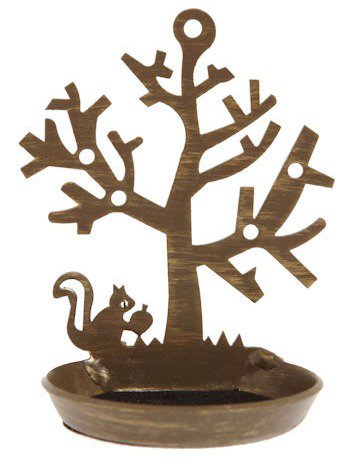 Price: $14.99 at modcloth.com
This tiny tray is made for your rings and earrings, all the tiny delicate jewels that tend to get lost in the shuffle. There's a little squirrel to stand guard, small branches for bracelets and rings, and tiny holes for earrings. Keep it on your bed-side table, and you'll always have a place to leave your things. Be warned, though: when I say it's tiny, I mean it: this tray is really only 3 inches tall!
---
6

Out on a Limb Jewelry Stand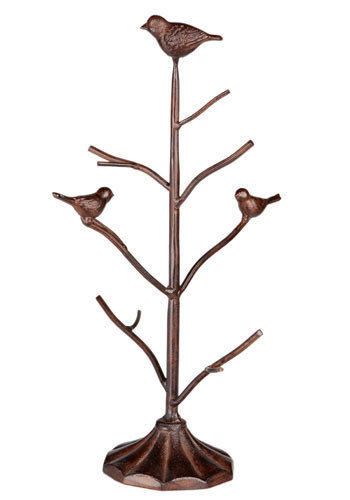 Price: $19.99 at modcloth.com
This little stand doesn't need jewels to dress it up or make it pretty — it already has a small flock of chickadees to do that. Still, your necklaces and bracelets do need a place to stay, so drape them on the branches and admire their sparkle while knowing they're safe and sound (and tangle-free).
---
7

The Treasure Tree Jewelry Stand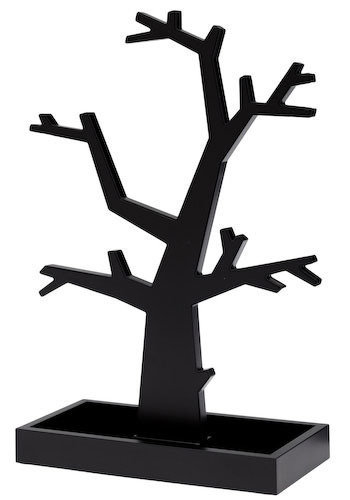 Price: $27.99 at modcloth.com
Choose black or white, either way, this pretty metal stand will make a lovely addition to your room, perfect for hanging your jewelry and keeping your small change and other goodies. It's a little more than a foot tall, so you can't use it for your long necklaces, but it's perfect for pretty chokers and bracelets, no?
I'm not sure which of these pretty jewelry stands and accessories holders I like best, but did you notice how they're all nature-themed? It's a very pretty trend, all the birds and branches, but I wonder why that is. Which of these do you like best, and why? Or do you store and display your accessories another way?
---
Comments
Popular
Related
Recent