I love college football — the excitement, the great plays, the gorgeous players, the tailgating — and if you're a fan, too, then chances are, an entire section of your closet is devoted to tees and more sporting your favorite team's logo. Mine sure is… I have dozens of U of M clothes, and I'm always on the hunt for more! If you're reluctant to shop because you're afraid everything's boxy and unflattering, I can help! I've found so many stylish, girly-cut tees and more, all so much fun to wear on game day. Here are 7 ways to show your team spirit (regardless of whose team you root for)!
---
1

New Agenda Junior LS Grey Michigan Tee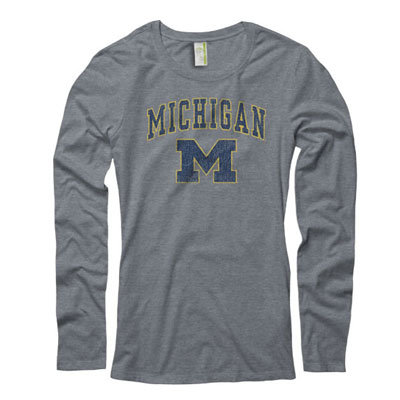 Price: $19.95 at mden.com
Long sleeves are a must-have when you go to the Big House to watch the Wolverines play. Be sure you're wearing this, with the U of M insignia on the front, unless it's a blue-and- maize out. The scoop neck is comfortable, and the cotton is super-soft…
---
2

New Agenda Junior Ox Helmet Tee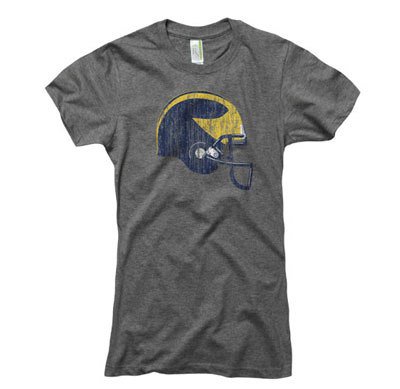 Price: $16.95 at mden.com
Everyone will be wearing a tee with the Michigan logo, so be a little different and wear this instead, with a graphic on the front of the Wolverine helmet. If it's chilly, layer it over a white, navy, or maize tee for extra warmth…
---
3

New Agenda Junior Navy M Tee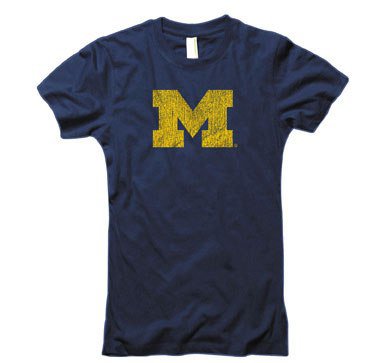 Price: $16.95 at mden.com
I have this tee, and it's my favorite! It's tissue-thin, so it's perfect for wearing to games or tailgates when the weather's toasty. If it's chilly, just layer a long-sleeved tee underneath!
---
4

Sportiqe Ladies Navy Vintage Tee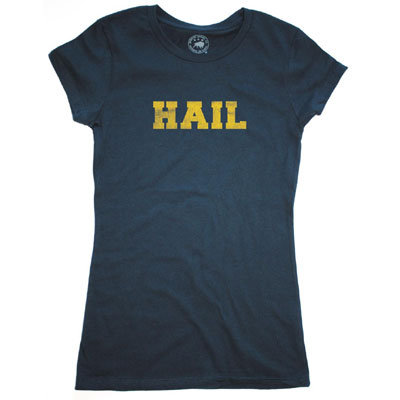 Price: $22.95 at mden.com
The Michigan fight song: The Victors! Celebrate the song's opening line with this tee, which is so much better than a ringtone… this tee is simple, and may be my new favorite, once I get it in the mail!
---
5

Columbia Ladies Velocity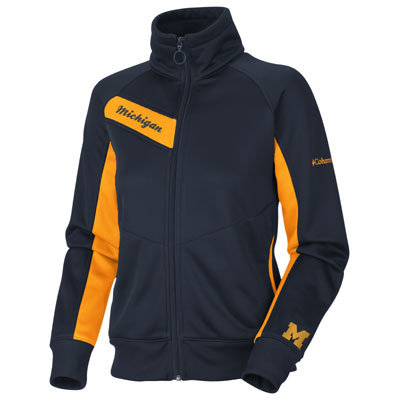 Price: $60.00 at mden.com
By the end of the football season, it's snow weather, so you're going to need some extra warmth, like gloves, a hat, a scarf, and this super-snug Columbia jacket. I love the design, and the high collar to help keep you extra toasty.
---
6

Columbia Ladies Reversible Vest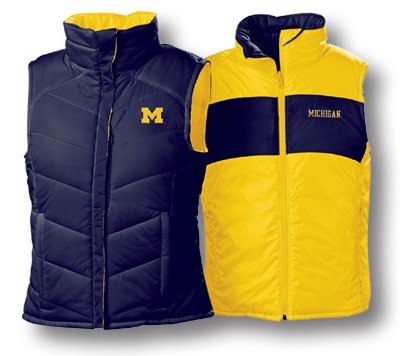 Price: $55.00 at mden.com
Wow, this vest looks so warm, and stylish! Granted, I'd never wear it with the yellow side out (it's kind of ugly, isn't it?) but the blue side would be perfect for wearing over a long-sleeved tee or a fleece.
---
7

Hat-Twins Ladies Navy

Price: $16.95 at mden.com
Men's hats are always way too big for my head, so when I find a girl's hat with the U of M logo, I always jump at the chance to at least try it on! This one fits perfectly, and looks so cute with a ponytail! I'd like it more if the logo was yellow, but I actually do like the pink, especially during October, which is Breast Cancer Awareness Month.
Okay, if you're not a U of M fan, I'm sure your school has their own tee shop you can browse… and all of their clothes will be just as stylish! Which of these tees do you like best? And which team do you root for? Please let me know!
More
---
Popular
Recent