I've seen tons of cute costumes for dogs lately. My mom has a small dog that ends up with some sort of outfit for Halloween. Having a much larger dog myself, I don't usually find time to wrestle my beast to the ground so I can dress her up as a giant butterfly or fairy dog princess. Here are 7 ideas on dressing your dog up for Halloween, in case you are looking for ways to make your pup feel like one of the kids. Personally, I think my mom's dog looks forward to this holiday. He always gets lots of attention, which he loves!
---
7

Cheerleader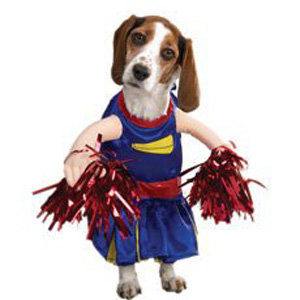 Price: $13.29 at amazon.com
The tiny pom-poms made me laugh so much, that I just couldn't help but add this to my list of dog costumes. Unfortunately, it's only for very small dogs, but I don't think my Malamute will mind too much. A great thing about this type of costume is that it only covers up the front half of your dog, so you won't have to worry about removing it for bathroom breaks along the Trick-or Treat route.
---
6

Fairy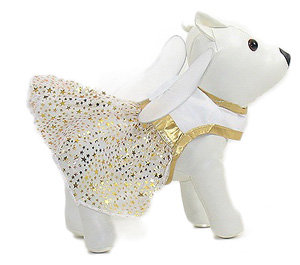 Price: $31.99 at bestfriendsgeneralstore.com
The gold trim dress combined with the gold-starred overlay is perfect Fairy Wear. The wings are also removable so the dress could be worn for something other than Halloween, if you are into that sort of thing. I've heard of people having birthday parties for their dog, so I guess this could double as a party dress. Right?
---
5

Bumble Bee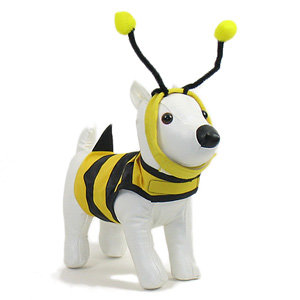 Price: $37.99 at bestfriendsgeneralstore.com
The tiny stinger and wiggly antennae definitely complete this costume. Sure, tiny little teacup dogs might be super cute in a costume like this, due to their itty bitty size, but who wouldn't get a chuckle out of a 100 pound dog dressed as a bumble bee too? My dog would probably have issues with the antennae. She gets irritated enough by her curly tail!
---
4

Football Player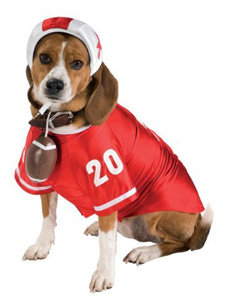 Price: $13.56 at amazon.com
I remember putting shirts on my small dog when I was a little kid. This shirt is actually made for dogs, so I'm sure it is much more comfortable. My poor dog used to step on the shirt, since it hung down so far. It might be difficult to keep the soft helmet around your dog's head, but even if he wasn't into wearing the helmet the t-shirt is still really cute!
---
3

Flower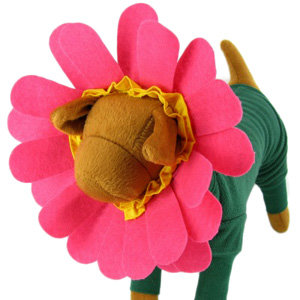 Price: $31.98 at bestfriendsgeneralstore.com
I like how the flower-shaped headband and the green body suit can be worn separately on this costume. If it's too warm outside, then you still have the option to put the flower portion of this costume on your dog. The petals are felt, so they hold their shape well. The body suit part of the costume is fleece and the band around the bottom of each leg is supposed to keep the sleeves from riding up as your dog runs around.
---
2

Indiana Jones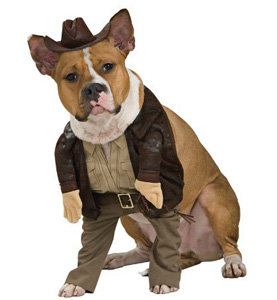 Price: $13.49 at amazon.com
My son and I thoroughly enjoy all the Indiana Jones movies, so this dog costume caught my eye. You could always swap out the fedora for a mini-cowboy hat and wrap a bandanna around your dog's neck for more of a cowboy look too, this way your canine companion can get two years of Trick-or-Treating fun out of the same costume.
---
1

Monkey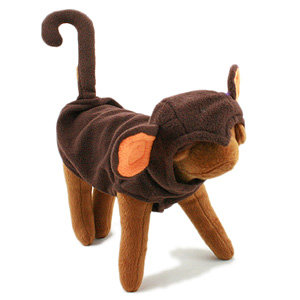 Price: $27.99 at bestfriendsgeneralstore.com
I have always loved monkeys and this is the perfect costume for my dog. She is always bouncing around the yard like a monkey, so why not dress her like one for Halloween? I was so excited to find a fun costume that comes in sizes for big dogs. Why should only little dogs have all the fun? A word of warning with this costume; it is made of fleece which means very hairy dogs might overheat if the weather isn't quite cool.
I hope you like these 7 ideas on dressing your dog up for Halloween. I had a blast finding them and I got tons of new ideas for dog costumes. Now if I could only get the cats to tolerate costumes too, Trick-or-Treating would be great fun! Do you enjoy dressing up your dog for the holidays? What is your favorite dog costume you've found?
More
---
Popular
Recent