With fall fast approaching, I'm sure that a lot of you have started wondering what shape all your sweaters are in. After being stored in the closet or attic for a few months, there's no doubt that some of them may not be in their best shape. So, save yourself all that worrying (and mending!) and treat yourself to some new sweaters! Here are 7 chic sweaters you will love!
---
1

Happy Henley

Price: $14.99 at amazon.com
This sweater is ultra chic! I love the buttons on it and how it looks so snuggly and comfy! You could pair this with jeans and flats for a casual look or a skirt and boots for something a little dressier.
---
2

Collar Cardigan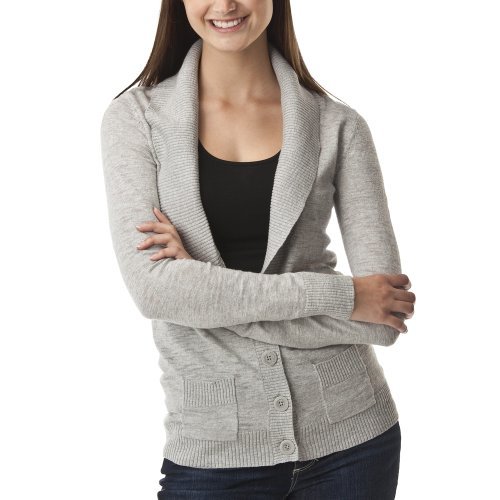 Price: $17.99 at amazon.com
Nothing says fall like this warm, soft shawl sweater by Mossimo Supply Co. I love the versatile color; it will make it easy to pair with the items you already have in your closet, and easy to wear. It's so casual yet sophisticated!
3

Sexy Stripes
Price: $21.99 at amazon.com
Purple and gray paired together make an awesome duo! This fitted sweater will smooth over your curves, keeping you warm but not making you look bulky. The scoop neck is perfect to put a lace cami underneath, the lace peeping out at the top will give it an ultra feminine touch!
---
4

Yes! It's Yellow!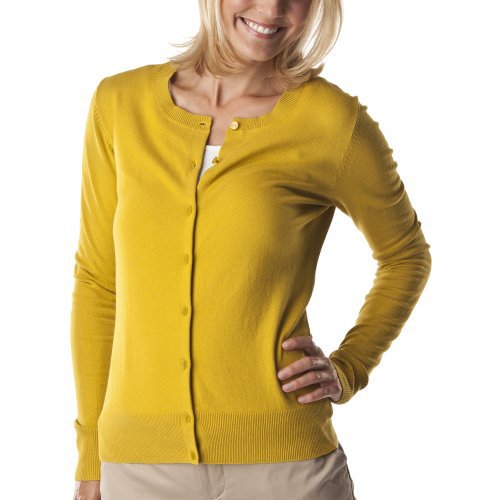 Price: $19.99 at amazon.com
I have been totally in love with yellow this season! I've bought everything yellow in sight, from shirts to hoodies, to shoes! This cardigan is no exception - it's lovely! Such a cheery color, it will brighten up many a gray, rainy fall day. An essential for your chic sweater wardrobe!
---
5

Military Madness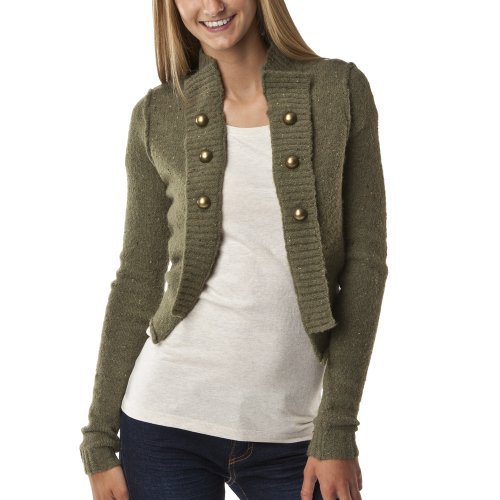 Price: $24.99 at amazon.com
Military themed clothes have been all the rage this season. I find myself fascinated by all the cute little brass buttons and how they can take such a manly symbol and make it so feminine and cute in the ladies department! This cropped sweater is darling and will lend a trendy air to your outfit. It's very "right-now" in the fashion world!
---
6

Belted Beauty

Price: $24.99 at amazon.com
This is just too adorable! An absolute must have for fall! I love the style, the belt, the color; everything about it is so darling and very classy! The sleeves have really cute gathers in them. It's available also in two other colors.
---
7

Classy Cardigan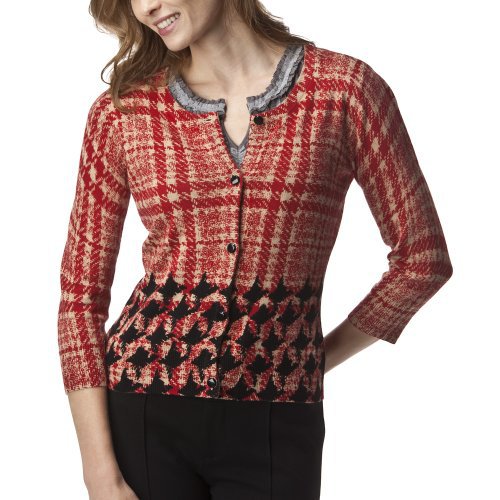 Price: $29.99 at amazon.com
Timeless classic cardigan in a cute design that is sure to capture your heart - and keep it nice and toasty! Red and black checkers are sophisticated and the gray neckline keeps it casual yet not unprofessional. You could wear this to the office, and then change into a skirt and heels for a party afterwards!
No matter what your style is, preppy, casual, or businesslike, there's a chic sweater out there for you! Have fun shopping around! I hope these 7 chic sweaters will get you started. Did you find a sweater that you loved today?
---
Comments
Popular
Related
Recent