7. Multi-Task Eye Cream by Bioelements
**Price: **$26.95 at skinenergizer.com
When I first discovered that I had black circles under my eyes, my self-confidence plunged down. Here I was, standing in front of the mirror with puffy, black eyes. What oh what was I to do? When I put on my foundation and tried to cover it up, it looked too obvious. I didn't want this to last for long, so I started to do my own research. And that is when I found Multi-Task Eye Cream by Bioelements.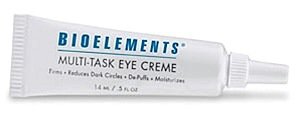 This cream de-puffs the skin and firms it up. It also got rid of those annoying dark circled. It has a great blend of ingredients in it that is for even those individuals that have dry skin. You can use it not only under your eyes, but under your face as well. This product also has some antioxidants as well as soothing agents in it.
Don't forget about the plant oil and Shea Butter. It also includes Vitamin K, which helps with those dark circles. Take note that this eye cream is fragrance free. When I look at the ingredients of this product, I do not find anything bad. The only thing I find is Propylparaben. You see the word "paraben" at the end?
That's in nearly everything out there, it's a preservative that really is not needed. In the end, I give this product a 9/10. Why a 9? Because it has paraben, so it's not all natural.
6. Eye Specialist Essential Moisture Treatment by Cosmodicine
Price: $45 at beauty.hsn.com
I was in need of some under eye treatment and I needed it fast. I didn't know exactly what to do or where to turn. No, I was not even the least bit familiar with under eye creams. With that said, I started to do my research on the Internet. During my research, I found this special product. I was a bit skeptical with trying this product. Why? Because I'm an all natural girl.
What's that mean? It means that I make my own stuff. However, I needed something quick, something that I could just get from the store shelves and put on. It not only gets rid of those dark circles, but it firms and tightens the skin that is around the eyes.
You will also get a softer appearance and as you are aging, it will prevent those wrinkles and fine lines.
This cream is silky smooth. Yes, it has a great feeling to it. It is also fragrance free, as far as I can tell. If you're looking for a good skin product for under your eyes and wrinkles, then this should definitely be your choice.
**5. Opti-molotgist Eye Cream with Light Diffusers by Cosmodicine
**
Price: $45 at amazon.com


I woke up one morning only to find that I had eyes that had black and puffy circles under them. One could only assume that it was because of my lack of sleep. However, I know that as you are aging, those black circles begin to appear under the eyes.
With that said, I needed a great under the eye treatment product and that is why I chose this one. This product is complete with all of the beneficial ingredients and antioxidants that your skin needs.
There is an amount of caffeine in it that is negligible and I must say, the rosemary oil is not that great for the eye area. However, it is still an excellent product and I will continue using it.
**4. Visible Lift Line-Minimizing & Tone-Enhancing Under Eye Concealer SPF 20 by L'Oreal
**
**Price: **$7.95 at well.ca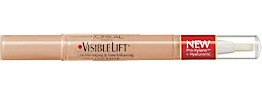 I just didn't know what to do about those under eye circles. I was telling my friend about them, trying to get her suggestions and that is when she recommended this product to me. She told me it is what she uses and it works perfect.
It is dispensed from a pen applicator that comes out in a click. It is built onto a synthetic brush and I must say, it glides on perfectly, without any problems what so ever. It helps camouflage those black eyes and it even gives sun protection. It comes in four different shades.
All of the shades are great for fair to medium skin tons. It doesn't really lift skin anywhere, but that does not mean that it isn't a great product. It does everything I need it to do.
**3. Continuous Eye Hydration Advanced Technology by MD Skincare
**
**Price: **$45 at mdskincare.com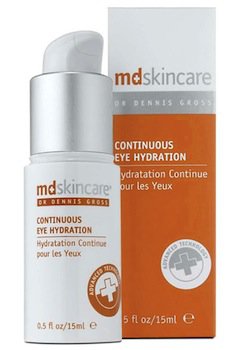 When you think about under the eye treatment for those dark circles, chances are you think of cucumbers and tea bags. I also use the cucumber method, but apart from that, I use this product. I must say, he product works perfect and I could never ask for anything else. It has both caffeine and cucumber extract in it, which is great.
We all know that cucumber extract is good when it comes to getting rid of those dark under the eye circles. It will be using the caffeine in order to reduce those puffy eyes and the cucumber ingredient helps to get rid of those dark circles. The next time you are in need of getting rid of those dark circles, we highly recommend you looking into this.
Although, I do believe you should keep it around, because you never know when those dark circles are going to shine through.
2. China Herbal Eyes Alive by Wei East
Price: $35 at weieast.com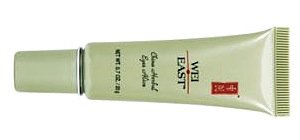 This product claims that it is going to perk up those tired eye with the "magical" formula that it has in it. It is also going to smooth away those fine lines and adds some light to those dark circles. It also claims that it is going to get rid of that puffiness. With that said, I decided that I would put this product to the test.
I must say, I am happy, because I finally found a product that lives up to their word. This product has a herbal formula in it that gets rid of those dark circles. I personally believe that this is one of the best products on the market today when it comes to getting rid of those dark, puffy circles.
1. Dual Protection Eye Cream SPF 15 by Zia Natural
Price: $12.89 at n101.com
All this talk about under the eye cream makes me want to tell you about something for men. Yes, this will work for women, but it is made for men. Smiles. Guys, are you tired of having those stressful, tired eyes that have dark circles under them? We know you do not feel like sitting there with cucumbers on your eyes.
With that said, I believe you should look into this product. This product is known for getting rid of those dark circles under the eyes. I know guys that use it and it works very well for them. In fact, I am surprised at how good it works. It even has an eye area sunscreen in it. Guys, don't you think it's about time they came out with a product just for you?
It has antioxidants in it, which is just what your skin needs.
Have you tried other treatments for under eye dark circles that actually worked? Please do share with me in the comments!
More Great Posts on Dark Circles and Puffiness:
• 5 Best Concealers for Dark Under Eye Circles …
• 4 Things That Cause Your Under Eye Dark Circles and Puffiness …
• 5 Tips on How to Get Rid of Under Eye Dark Circles and Puffiness …