Being a teenager is practically a legal excuse to go wild and try fun hairstyles! It's the only time in your life that you won't get weird looks for wearing shiny barrettes, or a temporary pink strip on the left side for breast cancer awareness month. I like to keep my hair pretty short and I've found that having short hair gives you fewer options as far as what you can do with it. But don't despair! There are some super cute ideas that will look marvelous on you if you just give it a try! Here are my 7 best hairdos for short hair!
---
1

A Bob with Bangs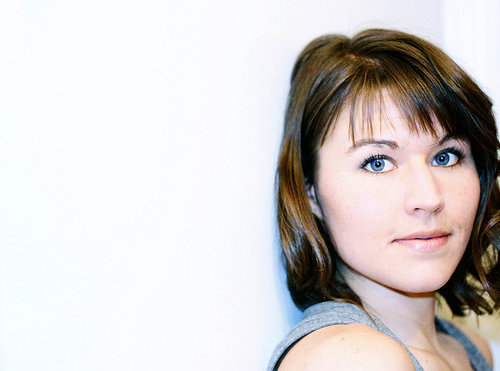 Photo Credit: hokiechick01
This is the most teenage-friendly style ever! A swingy bob with bangs keep you looking sophisticated, but still young! You can also scrunch your hair with gel and a diffuser to get a curlier look. Perfect for a day out on the town with friends or around the house being lazy. And this hairdo is cute no matter how you wear it!
---
2

Colored Hair
Photo Credit: wip-hairport
While I certainly don't suggest you do this on a regular basis, it can be fun to experiment around with temporary color just for fun! Why not try a purple streak or a pink spot? Just for once to say you did it, then you can change it back. It would be really neat if you do it for a reason, say a pink highlight in honor of the breast cancer awareness fundraiser or a red and green spot for your part as a volunteer at the soup kitchen at Christmas time!
---
3

Sweet Scarf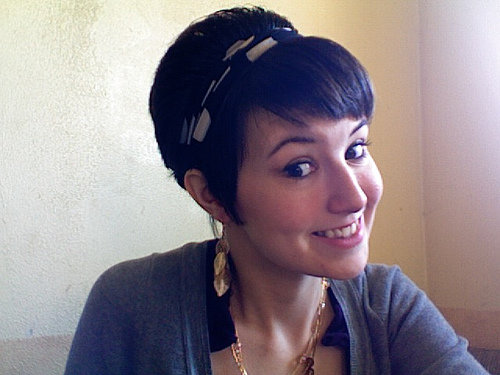 Photo Credit: zombie riot
Scarves are lovely for any length of hair, but I particularly love how sweet and innocent they look with short pixie cuts! You can style your hair just as pictured here, simply use hair spray and a fine-toothed comb to tease your hair up in back, and then use bobby pins to secure the scarf into place. There! You look adorable!
---
4

Sideswept Bangs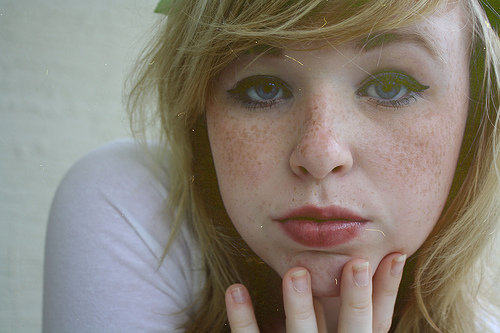 Photo Credit: Amanda Fagan
Side swept bangs are fun and easy to do. They look relaxed and casual! All you have to do is blow dry your bangs off to one side with a blow dryer and spray them in place. If you want, hold them there with a cute barrette or two criss-crossed bobby pins. It's a great vintage, girl-next-door look!
---
5

Tiny Braids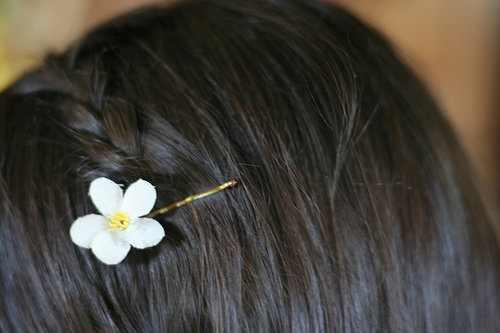 Photo Credit: semiplume
Adding a tiny braid to your hair will add texture and an innocent touch. You can secure it with a sweet little flower pin as shown here, or you can get clear elastics. Either way it will be beautiful! Experiment with placement and width of the braid. You can do one all the way across you head or half way down one side of your hair or do two on each side and bring them together in the back! Have fun playing around!
---
6

Ponytail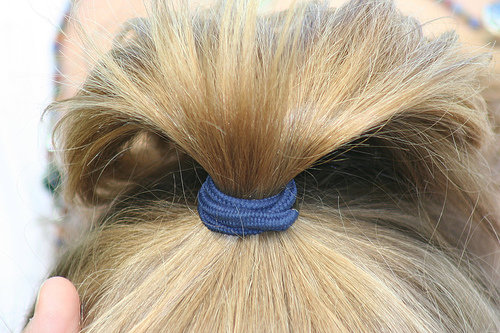 Photo Credit: Britta's world of photos
Ponytails are cute and sassy and very versatile! You can dress them up by curling the ends and wearing a big barrette on top. You can wear them high or low, straight or crooked, or off to one side. You can even wear more than one! However, be careful that you choose the right time and place because wearing two ponytails can sometimes make you look younger!
7

Lots of Curls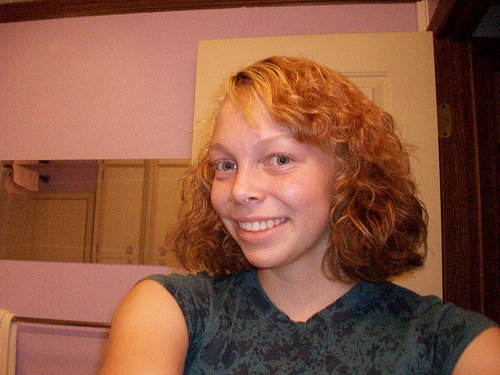 Photo Credit: miniauzi88
Short hair tends to curl a lot easier and hold a lot longer than long hair does. This is because without the weight of long hair to drag it down, your hair is free to bounce and curl tighter and higher! So take advantage of your short do and curl it often! Use a scrunch spray gel to help the curls lock in.
Having short hair doesn't mean you are stuck with the same style day after day! Get creative and have fun with curling irons, flat irons and barrettes. Remember, if you hate your short hair and simply can't find a style that suits you, you can always cover it with hats and scarves until it grows back out! Did you get any inspiration for your style today?
Top Photo Credit: Jade M. Sheldon
---
Comments
Popular
Related
Recent