If you enjoy finding and repurposing gorgeous antique tables and dressers and such, then you already know the delight of matching just the right knobs to bring the piece up to date while still retaining its vintage charm. You may be tempted to settle for what you can find in the local hardware store, but resist! Try a few of these instead! Here are 7 beautiful knobs for your cabinets, dressers, tables, and more!
---
1

Glass Melon Knob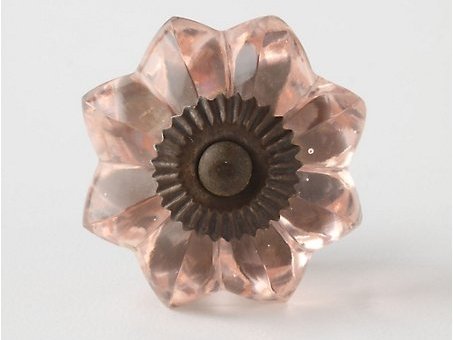 Price: $8.00 at anthropologie.com
These gorgeous glass knobs come in a range of eight rich colors, from bright Prussian blue to deep amber to the palest of pinks, and everything in between. They come with everything you need to mount them right away, and the long bolt is made to be trimmed to just the right size. Each melon-shaped globe is capped with a slightly different metal piece, in brass, silver, or zinc. I'd use these to finish an antique vanity or end table.
---
2

Alexandra Knob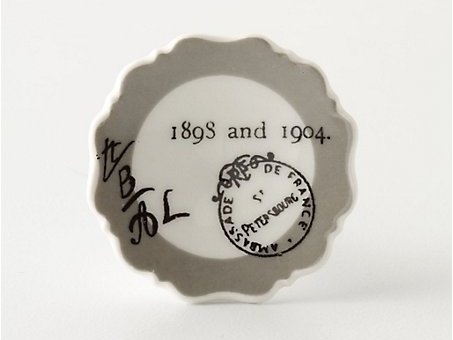 Price: $8.00 at anthropologie.com
I wonder if the name of these beautiful vintage-inspired knobs was drawn from the last Russian czarina, Alexandra? For the prints on the scallop-edged bone china do suggest it, including postmarks and the like. They're very pretty and feminine, as she was, too.
3

Glass Zinnia Knob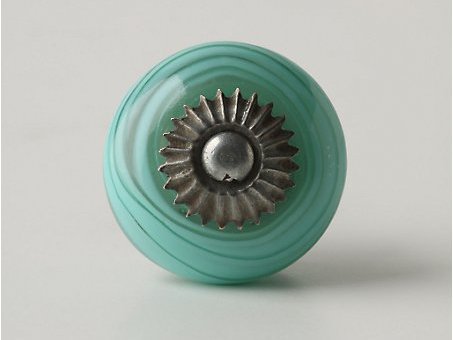 Price: $6.00 at anthropologie.com
The price, and style, of these small glass knobs is right, ideal for adding a touch of color to your latest vintage find on a budget. They feature swirled glass in a soft blue color, topped with an iron cap, with a bolt that can be cut to exactly the right size.
---
4

Lucky Number Knob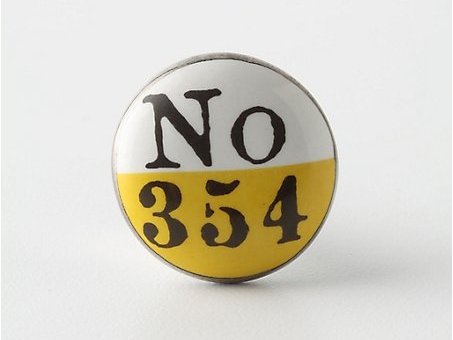 Price: $8.00 at anthropologie.com
Update your great-grandfather's roll-top desk, with all of its cunning pigeon-holes and the secret compartment he used to stash love letters in, with these charming yellow or red knobs. Each features and unique lucky number in ceramic and brass on the end of a bolt that can be cut to the size you need.
---
5

Cursive Knobs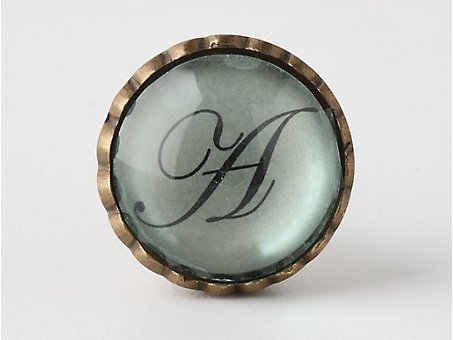 Price: $12.00 at anthropologie.com
For the hopelessly organizationally-inclined, these pretty drawer knobs in iron and glass are truly a god-send, allowing you to initial your dresser space in the dorm or even spell out the contents of each tidy drawer. Each knob measures an inch and a half around, and features a pretty script letter.
---
6

Pink Poppy Knob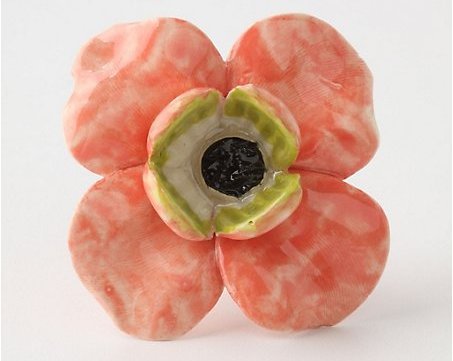 Price: $8.00 at anthropologie.com
How beautiful and unique! Each one of these lush pink poppies features green center petals and a black middle, mounted on a bolt that can be sized with ease. I'd add these to the drawers of a dark-wood dresser, or on the drawers of a bathroom vanity or medicine cabinet.
---
7

Rosy Knob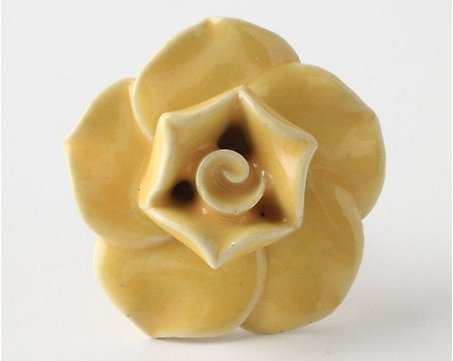 Price: $6.00 at anthropologie.com
These beautiful knobs can be used on any of your pieces, for their subtle charm comes in four shades — yellow, linen, blue, and pink — ideal for use in any room, on any furniture, with any décor. I've used the yellow ones in my daughter's room, and they're so pretty! Note the price, too… it's certainly very budget-conscious.
---
8

Tweet Knob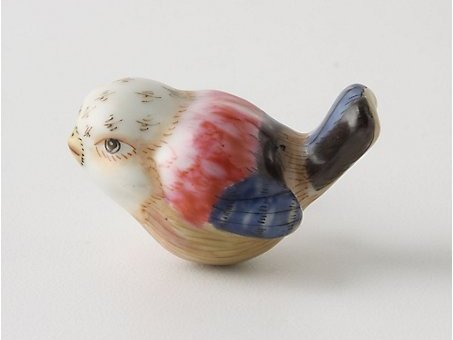 Price: $10.00 at anthropologie.com
Do you think this sweet little hand=painted porcelain birdie uses Twitter? If not, he should, so he could keep us up-to-date on all of the reasons we should love him — his soft colors, his sweet tail, his trimmable bolt in back. I'd follow him!
These are just a few of the beautiful knobs you can use to update or decorate any of your furniture, new or old, or your cabinets, in any room. They're available is so many styles, at so many price points, there's bound to be a set that's perfect for your latest project! Which of these drawer knobs do you like best, and how would you use them?
---
Comments
Popular
Related
Recent