COMMENT
One of my favorite parts of decorating for the holidays is choosing the theme for the big Christmas tree. Every year, I look forward to trying something new, finding inspiration in all of my favorite shops. Classic, traditional, modern, chic, pretty, rustic — there are so many choices! This year, it's going to be so hard to choose. But I've narrowed it down quite a bit… here are my picks for 7 beautiful Christmas tree themes…
1. Sweet Chickadees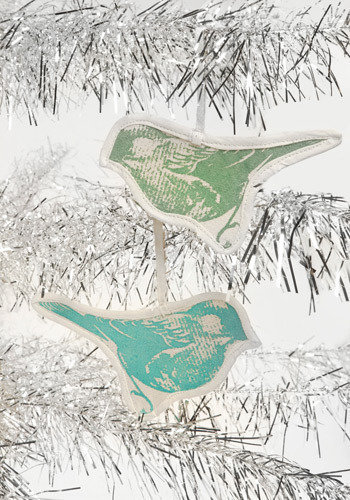 These four sweet little chickadees are up to the formidable task of starting your Christmas tree theme, made of creamy cotton canvas and printed with one each in gold, blue, dark green, and pea green. Pair with the stocking of the same motif to spread the theme around your room… Add blue or white lights to complete the look.
2. White Christmas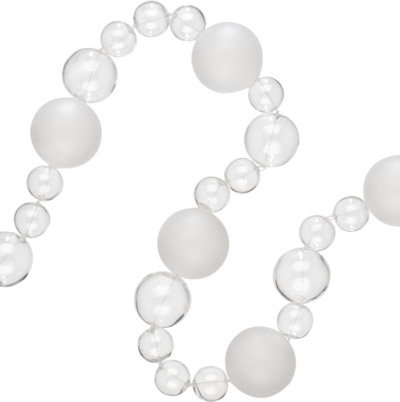 If you're dreaming of a White Christmas, and a tree that reminds you of the peace and elegance of falling snow, then this may be the garland you need to start trimming your tree! It's 72" inches (that's 6 feet) long and features clear and opaque baubles in various sizes.
3. Beautiful Blue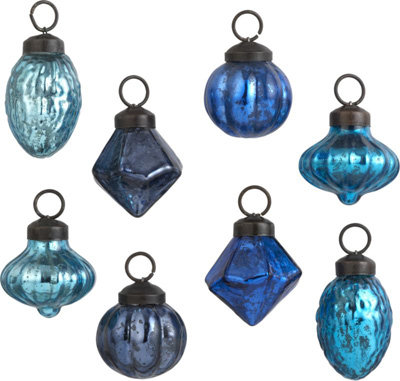 I love the look of a blue Christmas tree — it's so unique, and looks gorgeous with silver or gold… or both! Buy a few sets of these vintage-inspired hand-blown ornaments to your tree and add silver or gold accents to finish the theme. These ornaments are so pretty, in a variety of shapes and shades of blue.
4. Candy Canes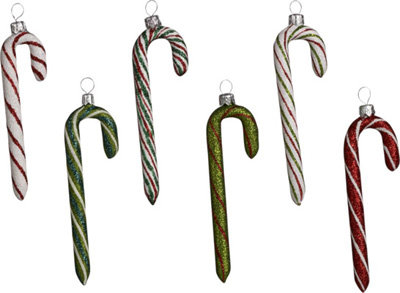 Use the candy cane theme to trim a small tree in a child's room or play room and watch their little eyes Iight up every time you plug it in! These canes are perfect, too, because they're made to reflect the lights, all glitter in a rainbow of greens, reds, and whites.
5. Grown-up Drinks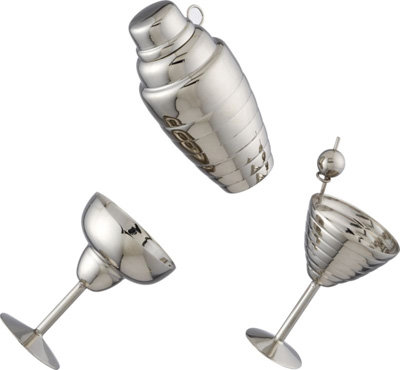 After a crazy day at the mall, and a night spent in frenzied wrapping lest the recipients sneak a peek and ruin their Christmas surprises, you deserve a grown-up drink! This set of shiny silver mini adult beverages is just the way to celebrate via the tree… will you have the shaker, martini, or margarita? No worries — you'll get all three!
6. Silver and Gold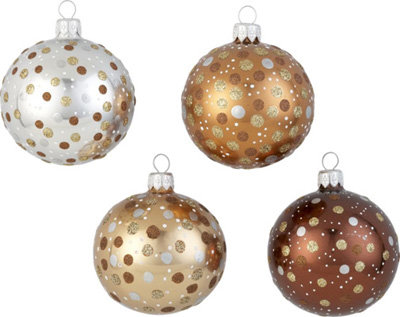 Trim your tree with a theme inspired by the classic holiday song. Start with these gorgeous, rich-looking round glass ornaments, all hand-blown in Europe and covered in matching glittery dots of gold, silver, bronze, and copper.
7. Owls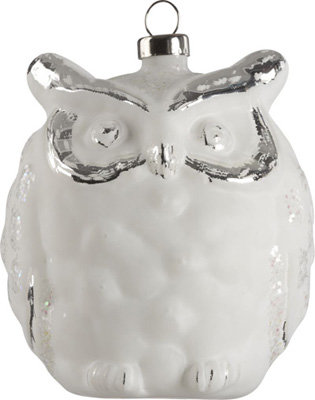 I have a thing for owls, so this is the theme I'm using for my big tree this year. I'm fond of this chubby little owl in particular, all done in silver and white with touches of iridescent glitter. I plan to finish the theme with a few smaller owls in bright colors, but this one's my favorite!
The possibilities for beautiful Christmas tree themes are limited only by your imagination — and I know you're creative and have fabulous taste, so your tree will be gorgeous! Which of these themes do you like best, or is there another one you plan to use? Please share!
15 Secret Signs He's the Jealous Type ...