College is one of the most expensive, but most important, investments you can make. But how will you come up with the money to pay for it, and how will you live cheaply while you're in college? As someone who's both a college student, and the mother of another college student, I can help! Here's my list of the top 10 ways to save money for college, and how to spend less while you're there!
---
1

Start as Soon as Possible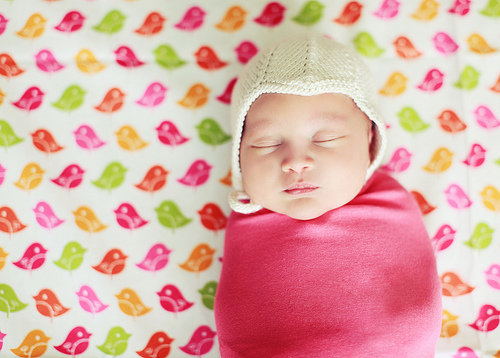 Photo Credit: LeighTaylor
Money Saved: from $1,200 up to $80,000
Additional Time Spent: 30 minutes per month
Additional Trouble Level: 5 out of 10
It's no secret or mystery — we start college after high school. So we all know when that expense is coming, right? Then why do we always wait until the last year or so to start saving for college? The sooner you start saving, the more you will save. If you can't start any earlier, at least start saving when you're a freshman in high school (grade 9), which will give you at least four years to save. If you can start sooner, then do it! If you only sock away a measly $25 per week, which is what you would spend on one night at the movies, you can save $1,300 in one year, or $5,200 in four years. That doesn't even include any of the other ways you can save money, detailed below…
---
2

Open a Tax-free Account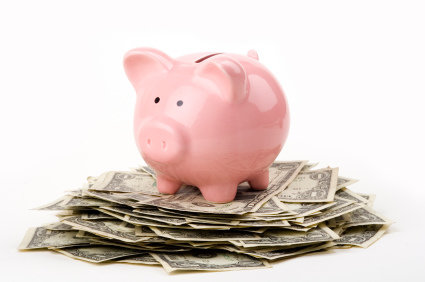 Photo Credit: nikkinoguer
Money Saved: from $100 up to $8,000
Additional Time Spent: 90 minutes
Additional Trouble Level: 6 out of 10
If you know for certain you'll be able to put away a certain amount of money each month, then you should consider opening a tax-free 529 college savings account. Any interest you earn is tax-free, and you won't pay any penalties when you withdraw the money to use it for school expenses, like tuition and textbooks. You will need a sizeable amount to start off with though, and you will also have to commit to a monthly minimum deposit, but the deposit can sometimes be as low as only $50 per month. Shop around to find a savings plan that works for you.
---
3

Open a Upromise Account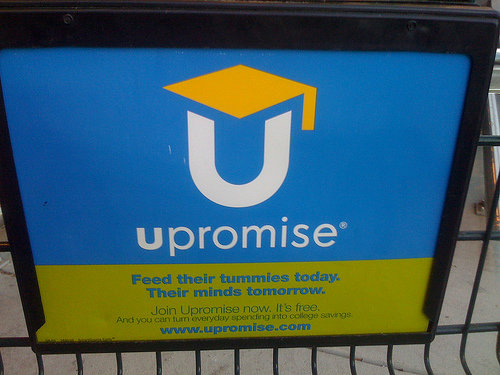 Photo Credit: madeleine_perry
Money Saved: from $10 up to $5,000
Additional Time Spent: 10 minutes
Additional Trouble Level: 3 out of 10
There is a way you can actually get cash back from your online purchases to pay for school! Simply visit upromise.com and open a free account. When you use a registered credit card to buy everything from jeans at American Eagle to a tool box at Sears to make-up at Target, you'll get a certain percentage back directly into your Upromise account. It only works when you shop online, or at certain restaurants, but if you shop online at all, why not get free cash back? It's easy to withdraw the money, and if you want, you can actually apply the money to an existing student loan, or even deposit into a linked 529 account. I don't do a lot of online shopping, but in the past year, I've saved almost $30! That may not sound like very much, but it would cover notebooks, binders, and inkpens. And, if you shop online a lot, you'll get even more than that! You can also ask friends and family to contribute their cash-back Upromise money, to, so when they shop, you save!
---
4

Leverage Birthdays and Such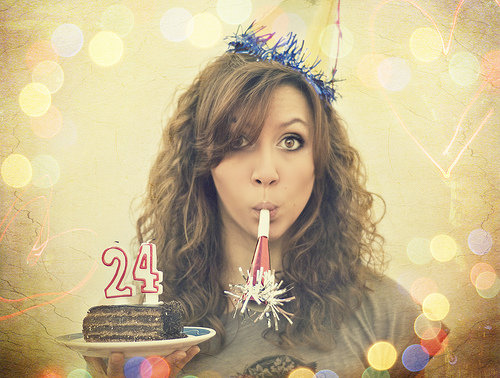 Photo Credit: Desirée Delgado
Money Saved: from $100 up to $3,800
Additional Time Spent: 45 minutes
Additional Trouble Level: 6 out of 10
I'm willing to bet your grandmother would be delighted to know that you're saving for college. So delighted, in fact, she may even stop giving you hand-knit mittens for Christmas, and start giving you college money. Many banks and 529 accounts will give you special deposit tickets that you can discreetly give out to family friends and relatives, so they can make gift deposits right into your account. I'm sure you'll miss the thoughtful, but ridiculous, gifts from your great-aunt Betsy… do you really need another pair of rainbow toe socks?
---
5

Pre-pay if You Can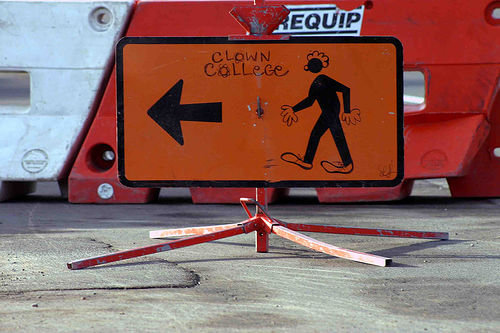 Photo Credit: The Viscount of Jive
Money Saved: from $2,000 up to $60,000
Additional Time Spent: 90 minutes
Additional Trouble Level: 5 out of 10
Some states, like Michigan, offer their residents an education trust account. Like the 529 account, you must have a sizeable initial deposit, and make monthly minimum deposits, but the interest is tax-free, and best of all, you're guaranteed to be able to use the money to pay for your education at any state college or university. When you open the account, they tell you what to pay, and however much tuition rates increase, you'll pay that same amount… which can save you a LOT of money, for just a little effort. You get to lock in your tuition rate, so what kids are paying for college now is the rate you'll lock in, even if you're not going to college for ten or fifteen years! Wow!
---
6

Buy Textbooks Used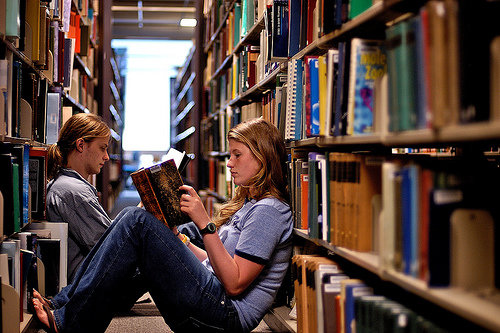 Photo Credit: patrick crawford
Money Saved: from $25 up to $3,600
Additional Time Spent: 120 minutes
Additional Trouble Level: 8 out of 10
Once you've paid for tuition, chances are, you won't have a lot left over for everything else you'll need, including textbooks. If possible, buy used textbooks from your college bookstore, or better yet, buy them second-hand on amazon.com. You'll pay anywhere from 90 to 20% less… and that adds up! My Business Management text is a great example. New at my college bookstore, it costs $196.25. Used at my college bookstore, it's $147.50. Used at amazon.com, it's only $110. You will definitely save money if you buy used, and you can still sell your used text at the end of the semester!
---
7

Live at Home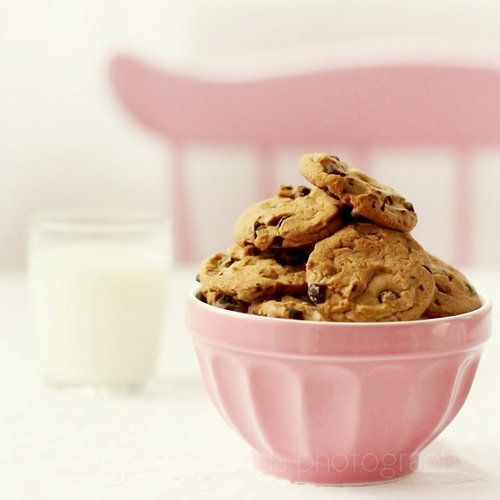 Photo Credit: Jackie Rueda
Money Saved: from $12,000 up to $48,000
Additional Time Spent: 1 to 4 years
Additional Trouble Level: 7 out of 10
If you're a college student, the last thing you want is your mother hovering, asking if you've done your homework, and if you've eaten enough today. But you'll save a lot of money if you live at home. If you live close enough to your college or university, it's a good idea, even if you have to follow some of your parents' old rules. And besides, where else can you get your mom's special chicken noodle soup, or a quick loan for $20 for gas money, if you're running a little short?
---
8

Live in the Dorm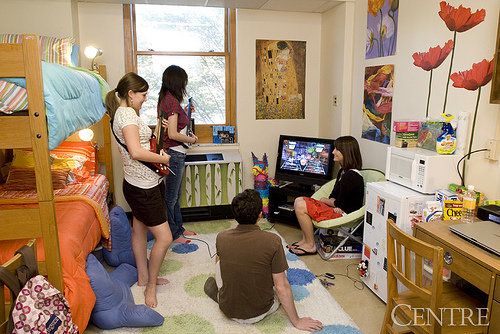 Photo Credit: Centre College
Money Saved: from $400 up to $20,000...
Additional Time Spent: 0 minutes
Additional Trouble Level: 2 out of 10
If your college is too far away to live at home, rather than get an apartment, it might be cheaper to live in a dorm. Utilities and meals are included, and most have wi-fi for free, too. Also, you wouldn't need a car to commute to school, so you'd save money on gas and maintenance (and a car payment). Consider what you'd pay for apartment rent, gas, electric, water, groceries, and a car payment, and suddenly, the $150 per week for the dorm seems quite reasonable, doesn't it?
---
9

Start at Community College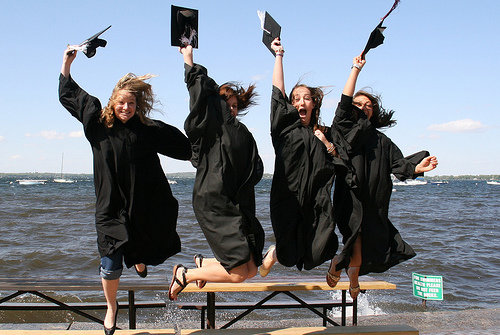 Photo Credit: Kathy~
Money Saved: from $20,000 up to $30,000
Additional Time Spent: 1 to 2 years
Additional Trouble Level: 6 out of 10
If you graduate high school, and still don't have the money saved for university, don't fret. You can start off at a local community college while you save the money for university. Community colleges are cheap, and credit you earn there will transfer to your new school. In fact, even if you have saved the money for university, you may want to consider starting at community college.
---
10

Ask Ahead What Parents Will Contribute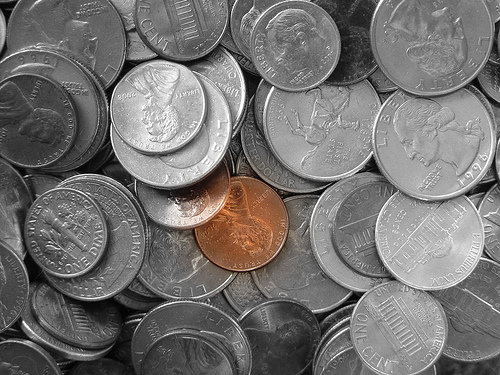 Photo Credit: LoraA444
Money Saved: from $50 up to 50,000
Additional Time Spent: 60 minutes
Additional Trouble Level: 8 out of 10
Once you've chosen a field of study or a college, ask your parents what, if anything, they'll be able to contribute. Ask them about tuition, and if they can't do that, bargain and ask what they CAN pay. Your car payment and insurance? Textbooks? Dorm fees? Cell phone? A new laptop? Knowing ahead of time will help both you and your parents plan and budget.
Now that you have all of the secrets, it's time to get started saving money for college! I would definitely start with a free Upromise account, and talk to your parents right away, too. And I didn't even mention financial aid! That's free too… visit fafsa.ed.gov and complete your free financial aid application. It only takes about an hour, and in a few weeks, you'll find out if you qualify for any financial aid, and if so, in what form. What tips can you share about saving for college? Please let me know… I still have a few semesters left to pay for!
Top Photo Credit: sweetgoddess71
More
Comments
Popular
Recent