As If the expense of college tuition wasn't outrageous enough, we also have to pay for textbooks, which can be almost as expensive! My business management book cost half as much as the course itself! But there are places where you can find gently used textbooks at a fraction of the cost new at your college bookstore… here's my list of the seven best places to find cheap textbooks… feel free to shop around!
---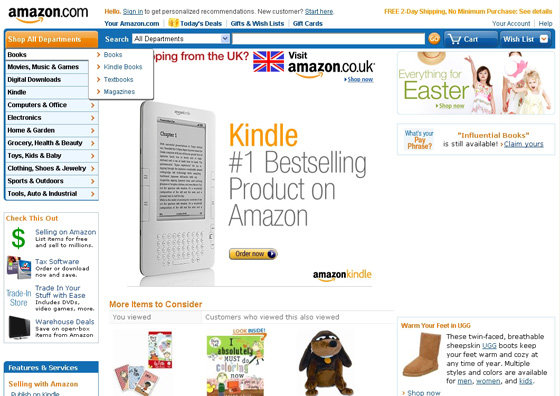 (navigate to textbooks on the left under the "books" category)
Is it just me, or does amazon.com have everything? That, of course, includes textbooks, even the ones that are so new you can't find them anywhere else. Their used textbook marketplace makes it easy to find cheap textbooks, too, since the individual sellers set the prices, not the site.
---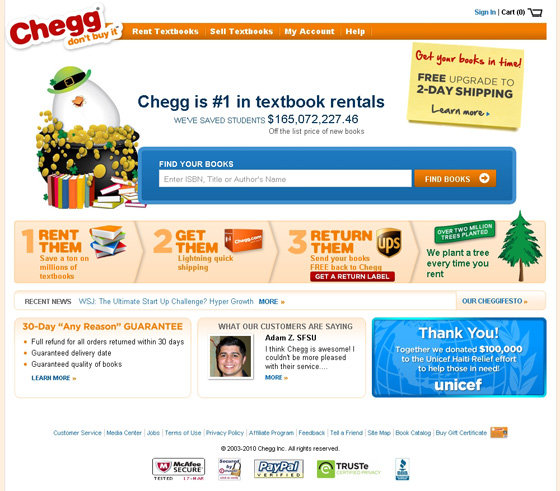 Have you considered renting textbooks, instead of buying them? It's only a fraction of the cost of buying them, even if you buy them used. They offer free return shipping when your semester ends, and they also plant a tree for every textbook you rent. Wallet-friendly and eco-friendly!
Trendinig Stories
More Stories ...
Cheap, fast, easy, safe, and secure… what more could you ask for when shopping for used textbooks? They say it's actually cheaper to buy used textbooks and sell them, rather than rent them, but I think it depends on the book, and how long you plan to use it. Investigate, calculate, and decide!
---
You can buy or sell textbooks here, and their used textbooks are up to 90% off the new price! Wow! You can search by title, author, key words, or by reliable old ISBN to find the book you need. They also offer fast, free shipping, and you can sign up for free email updates and alerts.
---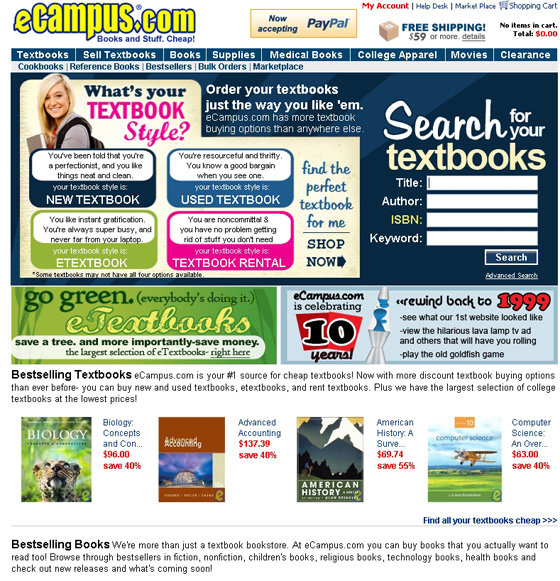 I love eCampus! They offer great rates on thousands of textbooks, and they accept PayPal! They also offer free shipping on orders over $59. You can also sell your old textbooks, and buy other supplies at discounted rates, too. Want to rent a textbook? They offer that, too!
---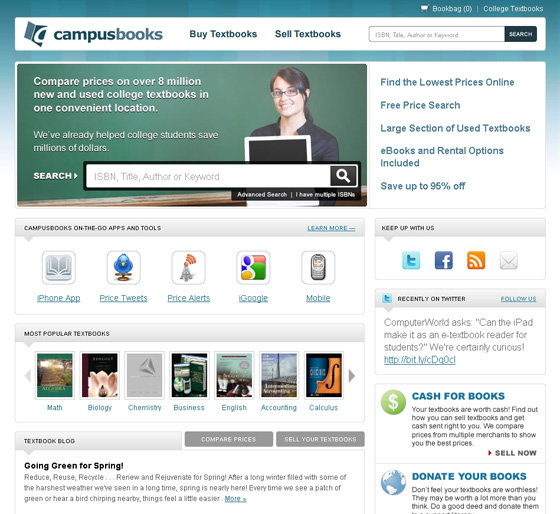 If you're a busy college student on the go, then sign up for free Twitter and Facebook updates, or even download their free iPhone app to get instant price alerts! They buy used textbooks, and offer used books at up to 95% off the price of new books! Sweet!
---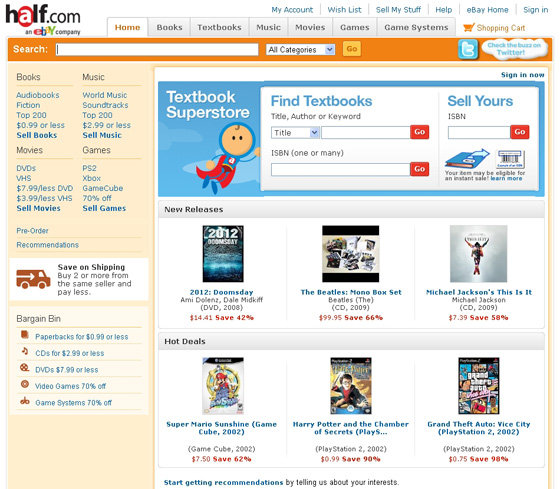 eBay has a sister site called half.com where you can find almost any textbook at a deeply discounted rate. If you can't find a particular book anywhere else, or if you're not happy with the prices, try eBay! You can also sell your used textbooks here…
---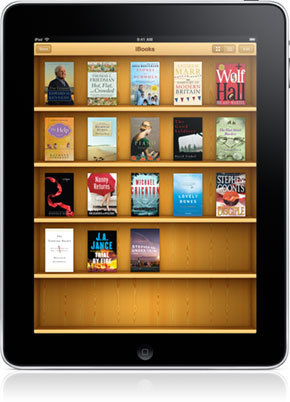 I hear all the textbooks will soon be available on iPads. How convenient is that? All you need to cary is a cute little gadget that can also be used as your laptop.
See? You don't have to pay more! Get your textbooks for less and spend the money you saved on a new pair of jeans, some cute new shoes, anything more fun than textbooks! If all else fails, you can always buy used at the college bookstore on campus, or share books with a friend. Do you have a place that helps you find textbooks for cheap? Please let me know… I'm already looking for my books for the summer semester!
---
Comments
Popular
Related
Recent