The warmer weather means it's time to spend lazy hours lounging outside in your backyard, on the patio, or on the deck by the pool. And how about hosting a few parties there, too? Before you throw a welcome-spring BBQ, you ought to make sure you've spruced things up a bit first! Here are my picks for the ten things for your yard and patio this summer!
---
1

World Market Red Adirondack Chair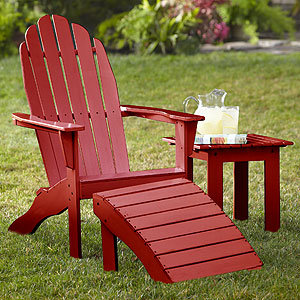 Price: $99.99 at worldmarket.com
This is the quintessential American back-yard or pool-side chair, perfect for long lazy days of lounging in the sun or in the shade, all summer long! This one is painted a spicy red, finished with an oil-based paint to be weather resistant for years to come...
2

Pottery Barn Sling Chair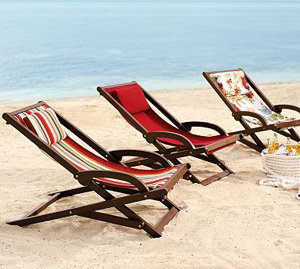 Price: $149.00 at potterybarn.com
Are you looking for a comfortable chair, one that feels more like a hammock than a lounger? This is the chair for you! It's made of light-weight but sturdy acacia wood and weather-resistant polyester canvas, and it folds up for easy transport to the backyard or the beach! Choose from cherry red, bright stripes, or a pretty floral pattern.
---
3

Pottery Barn Palmetto All-Weather Wicker Folding Dining Set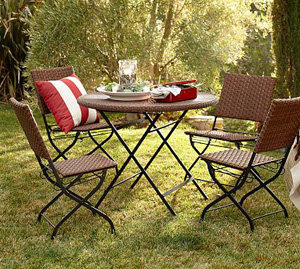 Price: $999.00 at potterybarn.com
Every summer, I hunted high and low for the perfect outdoor dining set, one that was stylish, comfortable, and sturdy, but small enough for my tiny patio... finally, I found it! This set includes one small round table and four chairs, all of which fold for easy transport and storage. They're all made of sturdy weather-resistant iron and woven wicker, and they're so handsome! I love it!
---
4

Pottery Barn Rustic Terra Cotta Lanterns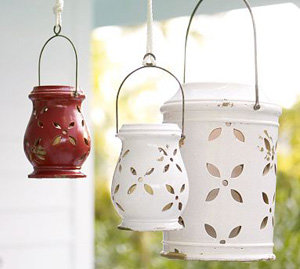 Price: $29.00 to $79.00 at potterybarn.com
These pretty clay lanterns are pretty enough to use just as decor, but they're functional, too! Pair these, then hang them or stand them all around our deck or patio for festive, rustic lighting all summer long! Choose from bright white or deep red.
---
5

Pottery Barn Globe Paper Lanterns
Price: $25.00 at potterybarn.com
Perfect for any backyard barbeque or garden party, just string these up with a set of glittering white string lights, and let the night-time fun begin! There are ten delicate paper globes in the set, and all of them measure a generous 8" across.
---
6

Crate & Barrel Sorrento Melamine Dinner Plates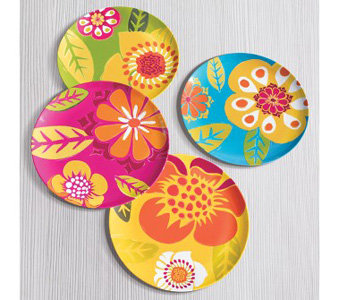 Price: $19.95 at crateandbarrel.com
Who wants to use messy, flimsy paper plates when you can use these bright, sturdy melmine plates instead? I love the super-summer floral print and the slight lip (to keep food from sliding off). These are dishwasher-safe, too!
---
7

Weber Green Performer Grill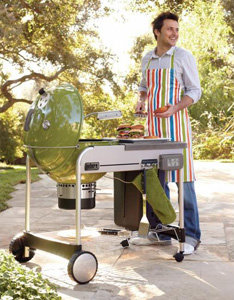 Price: $329.95 at crateandbarrel.com
Are you looking for a new grille, and a great Father's Day gift idea? Then look no further! This advance on Weber's classic kettle grille is cool enough (and kitschy enough) for any fab backyard or patio, and I love the easy gas ignition and hooks for hanging grilling utensils.
---
8

Vers 2x IPod Dock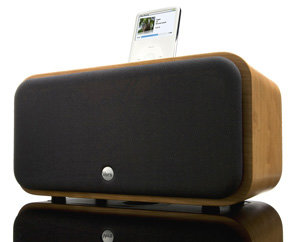 Price: $179.00 at shop.npr.org
Bring your party or relaxation tunes outdoors with performance and style! I love the retro look and the real wood finish. It docks all iPods, and measures almost a foot wide and six inches deep. Small speaker, big style and sound!
---
9

King Luau and King Kona Tiki Torches
Price: $9.98 each at homedepot.com
Keep the bugs away and the mosquitoes at bay with these fun Tiki torches! Just fill them with the natural citronella oil and light them... careful to keep them away from children, flammable nettings, and of course, plants and trees!
---
10

Pier 1 Terracotta Turtle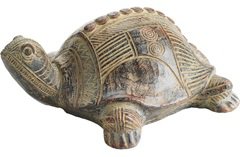 Price: $35.00 at pier1.com
Feel free to invite this sweet little terracotta turtle to any yard or garden party, or let him bask in the sun by the pool. Either way, he's a fun finishing touch for any spot, indoors or out, where a whimsical detail is needed.
When you do have that backyard BBQ, please invite me, and I'll promise to bring the potato salad and plenty of cold adult beverages! Which of these cool yard and patio accessories do you like best? Please let me know... and pass the punch!
---
Comments
Popular
Related
Recent