Our annual beach vacation is my favorite part of summer and I look forward to it all year long! When winter dumps a mountain of snow on the roads and I'm stuck inside waiting for the ice to melt, I like to day dream about the sand between my toes and the salty breeze keeping me cool beneath the sun's hot stare. Now that spring has arrived, I'm counting down the days until my beach vacation. While I'm waiting, I've decided to bring a little bit of the beach to my home in the mountains. If warm weather has you wishing for the beach too, try incorporating these 10 pretty pieces to bring the beach into your home.
---
1

Cast Iron Sea Horse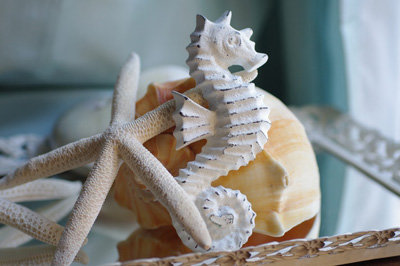 Price: 12.00 at etsy.com
This little sea horse might only be five inches tall, but it makes me happy every time I see it! Something about the worn cast iron reminds me of a beach villa that has been battered by the surf. Perch this little sea horse on your kitchen window sill and you can dream of the ocean while you wash the dishes at night.
---
2

Beach Grass Art
Price: 20.00 at etsy.com
There is something so serene about watching beach grass sway in the breeze. This beautiful photograph captures that moment in calming colors that look beautiful in any space. Frame it with a gorgeous matte and you will have a little bit of the beach hanging in your living room.
Trendinig Stories
More Stories ...
3

Aqua Glass Sea Life Bottles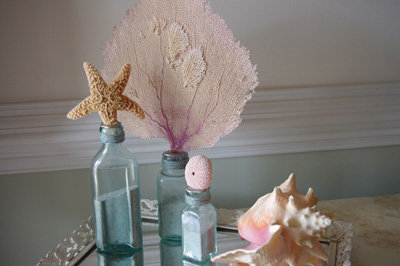 Price: 78.00 at etsy.com
Vintage aqua glass is the perfect color to represent the shore. The transparent blues are weathered and worn which give your home a touch of shabby chic cottage style instantly. Perch these beauties on a shelf or display them on the mantle. Make sure they are close to the windows so they can catch the light's sparkle.
---
4

Star Fish Plaques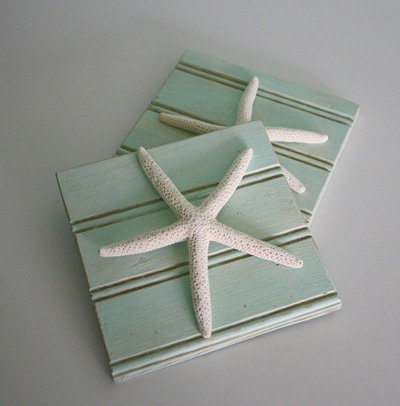 Price: 18.00 at etsy.com
These plaques are a way to literally bring some ocean life into your home. Mounted on distressed aqua bead board, these real star fish are a beautiful accent piece. Hang them anywhere to enjoy a peaceful ocean décor.
---
5

Beach Words Subway Art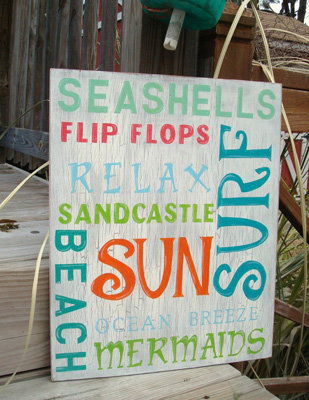 Price: 65.00 at etsy.com
Subway art is popular for all varieties of home décor, but this particular piece is dedicated to beach words. Prop it on your mantle or hang it by the door for an instant reminder to slow down and enjoy the casual pace of life by the ocean.
---
6

Natural Seashell Wreath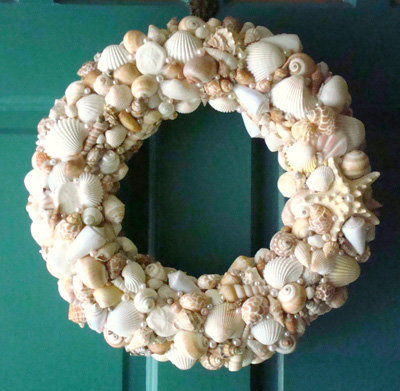 Price: 49.00 at etsy.com
This wreath is made from dozens of sea shells in a variety of sizes, shapes, and colors. Hang it on your door or display it inside to conjure up images of collecting shells while you take a walk on the beach at sunrise.
---
7

White Seashell Pomander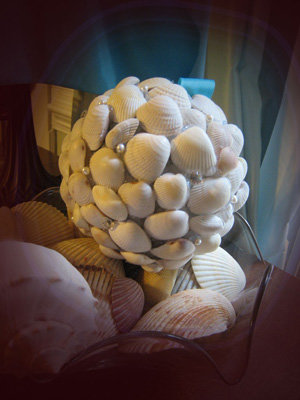 Price: 28.00 at etsy.com
Add a seashell pomander to your home to accent the wreath above or just perch it on top of a candle holder for a summer take on an existing item. This pretty pomander has some added pearls to make it elegant and timeless.
---
8

Metal Wire Sea Horse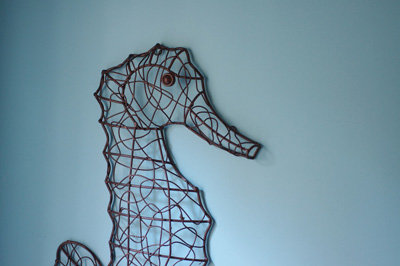 Price: 42.00 at etsy.com
Hang a sea horse on the wall to keep your room feeling fun and casual. The rustic design adds a lot of texture to your room without being overpowering. Sea horses are always adorable whether you hang them on your wall or watch them swim in the tropical surf.
---
9

Coastal Chic Beach Lumbar Pillow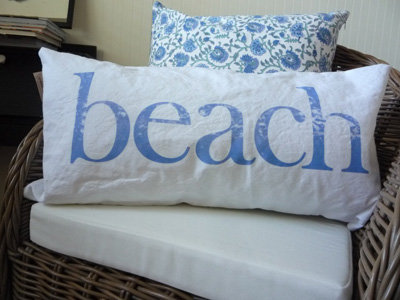 Price: 38.00 at etsy.com
The ocean will never be far from your mind with this gorgeous throw pillow. It is simple and soft, making it perfect for a beach cottage style in an instant.
---
10

Elegant Coral Candlesticks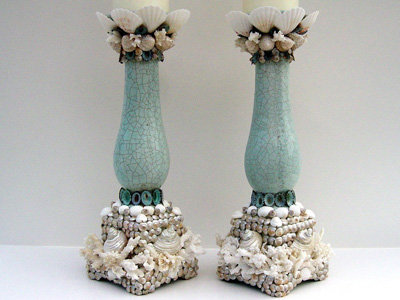 Price: 275.00 at etsy.com
Make a statement with these pretty candlesticks. With a crackled aqua stem and seashells adorning both ends, the candlesticks are an elegant take on beach cottage design.
You don't have to wait to enjoy some of the luxuries that come with life by the ocean. Experience it now with these 10 pretty pieces to bring the beach into your home. What is your favorite part of visiting the beach?
---
Popular
Related
Recent