The refrigerator isn't just where you keep your food anymore — it's where the family calendar resides, and where you show off your kid's amazing artwork and stellar report cards. So stop using those boring old fridge magnets, and start using something with style! Not sure where to look for cool fridge magnets? I can help… here's a shopping list, one you can hang on the fridge!
---
1

Triplet Pastel Magnets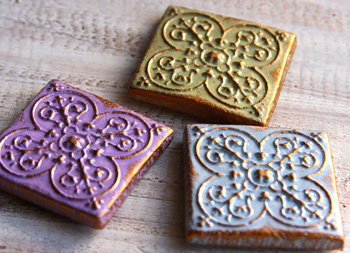 Price: $13.50 at etsy.com
These aren't just refrigerator magnets, they're tiny bits of hand-made, one of a kind art! Each delicate tile measures 3.5cm square and is hand-painted with azure, lilac, and pistachio, then antique'd with acrylic gold and coated with varnish. I love these!
---
2

"That is Sooo Cute" Magnet Set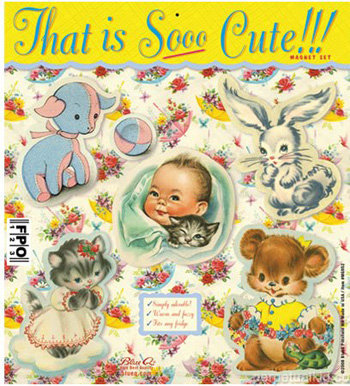 Price: $11.99 at perpetualkid.com
Do your tastes tend towards kitschy cuteness? Then these magnets are ideal to hang on your fridge! The set contains one each of a cute kitten, sweet baby, tiny teddy, darling bunny, and little lamb. Aren't they just so cute?
---
3

Magnetic Battery Eater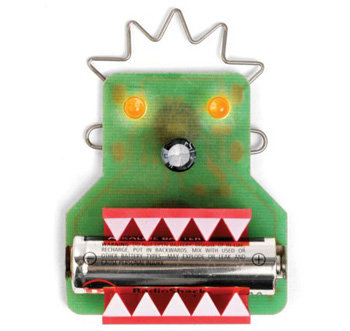 Price: $5.99 at perpetualkid.com
Do you feel a little guilty pitching those batteries that aren't quite dead, but won't work the remote anymore? Then use this little green monster to suck the last bit of juice from them, and watch as he lights up and makes little humming noises. His favorite snack is mostly-used AA batteries, and he loves holding up artwork on the fridge with his hefty magnet on the back.
---
4

"Stuck up" Magnet Set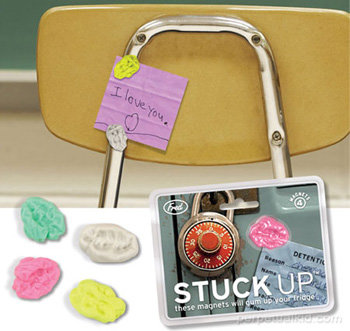 Price: $5.99 at perpetualkid.com
Eww, is that… chewing gum? No, but it sure looks like it, doesn't it? And if kids got to choose what they would use to stick things up, I'm sure that's what those clever little rascals would use, too! The set contains four phony wads of gum, one each in bubble gum pink, spearmint white, fruity yellow, and peppermint green.
---
5

Jumbo Geisha Girl Magnet Set - Rainbow Edition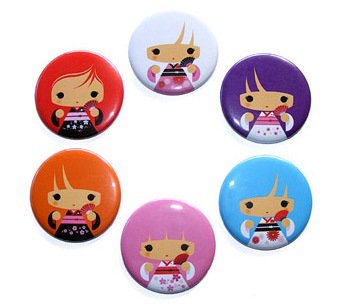 Price: $12.00 at shanalogic.com
These are the sweetest little Geisha girls, each hand-pressed onto a jumbo 2.25" magnet. There's one each of the geishas in white, red, orange, blue, pink, and violet, each holding a fan and dressed in a matching kimono.
---
6

Spectrum Magnutz Magnets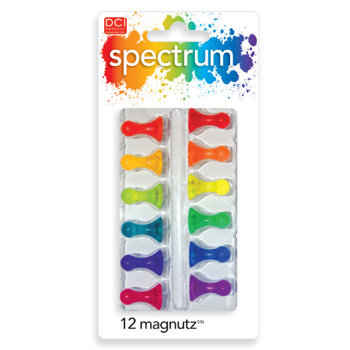 Price: $12.00 at girlzlyfe.com
Are you looking for a set of super-strong magnets, sturdy enough to hold up even the thickest of cardboard or felt artwork, or an entire year's calendar? Then these are the magnets for your fridge! Each set contains six sturdy magnets in a rainbow of bright colors, shaped like little game pieces.
7

Paperchase Moulded Heart Magnets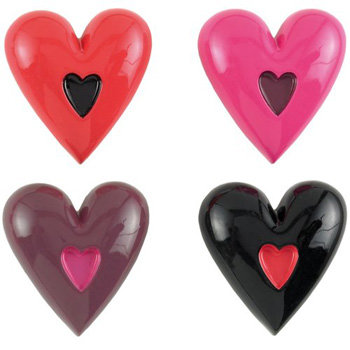 Price: £5.00 at amazon.co.uk
These darling little candy-heart magnets are ideal for displaying the artwork you love, right there on the fridge for all to see! The set contains four shiny hearts, each measuring 25mm across. They're shiny and scrumptious-looking, and would make a great Valentine's Day gift, too!
---
8

Songbird Magnets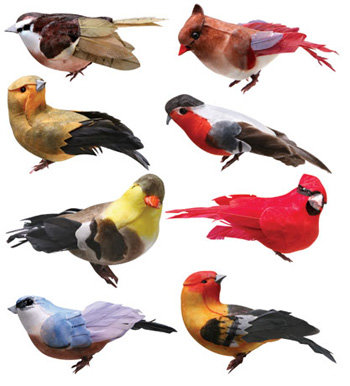 Price: $19.95 at signals.com
This little flock of eight pretty songbirds looks so realistic! Each is made from foam and goose feathers, hand-painted, with a sturdy magnet and crocodile clip on back. They're each about 2¼" long, and can you think of a better way to display a perfect report card or school photo?
---
9

Kitschy Animals Magnet Set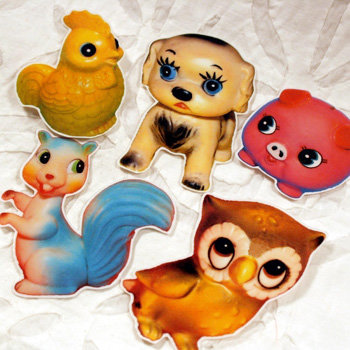 Price: $7.00 at etsy.com
Ooo, more kitschy cute animals! This set contains five retro-style critters — a pondering pink piggy-bank, a frisky pup, a wise little owl, a spunky blue squirrel, and a plucky yellow rooster. These are all hand-made, from the photograph to start with, cutting, laminating, and packaging.
---
10

IPOP Clicks Crow Magnet Set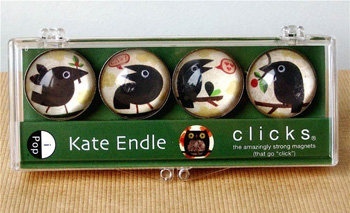 Price: $10.00 at etsy.com
Artist Katie Endle's iPOP clicks magnets are renowned for their strength and durability, and in my view, they're also completely fabulous! This quartet of winsome shiny black crows is ideal for sticking on the fridge… each glass-dome magnet measures 1" across, with a thin silver trim around the edges.
See? It's completely possible to display your grocery list with little Jane's precious artwork alongside Johnnie's perfect report card and footie schedule in style! Which of these magnets sets do you like best? Or is there another set you've found and love more? Please let me know… I'm always looking for cute new fridge magnets!
---
Comments
Popular
Related
Recent