Ah sunshine, you miss it when it's not around and you bask in it the second it comes back. But, sunshine doesn't always love you as much as you love it. Sunshine houses some seriously bad-for-you UV rays, so protect yourself with these great moisturizers with SPF!
---
1

Clean and Clear Morning Glow Moisturizer with SPF 15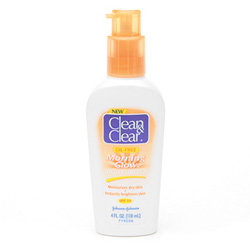 Price: $6.49 at drugstore.com
This moisturizer gives you just the right amount of shimmer while protecting your face. It may feel a little grainy when you put it on at first but the feeling does fade. Don't worry, it's not going to make you look like a disco ball.
---
2

Philosophy Hope in a Jar SPF 20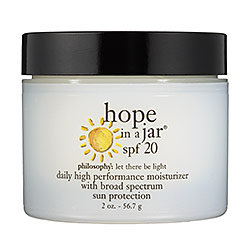 Price: $45 at sephora.com
If there is one line that I love everything about, it's definitely Philosophy. Hope in a Jar really cements that place in my heart. It has little mini exfoliators that you can't even feel. But trust me, you'll notice the lack of peely skin on your face after using this for just a little while.
3

Stila Sheer Color Tinted Moisturizer SPF 15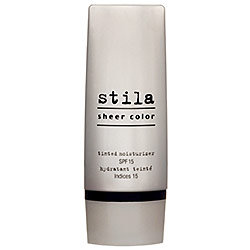 Price: $34 at sephora.com
This moisturizer is everything you need and more. Feel like going to the beach without a lot of makeup on? Then just put on some of this tinted moisturizer. It's got SPF and it will even up your skin tone. It's what I use when I don't want to look caked up outdoors.
---
4

Boscia Oil Free Hydration SPF 15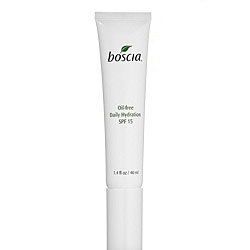 Price: $36 at sephora.com
This moisturizer works REALLY well for people with oily or combination skin. It's not greasy and it soaks right into your face. It'll keep you from getting chapped skin in the winter time but you're going to need to apply in a couple of times a day. But, if you do have oily skin, it's worth the two applications a day.
---
5

Olay Complete Defense Daily UV Moisturizer SPF 30, Sensitive Skin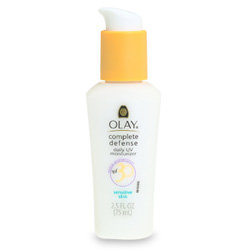 Price: $14.99 at drugstore.com
This is PERFECT for sensitive skin and I do mean perfect. Just about everything under the sun makes my skin break out sometimes, so I really need a moisturizer that isn't too expensive for the days that my skin doesn't want to cooperate. This is it! If my skin were sensitive all the time, I might just buy some stock in Olay.
---
6

Cetaphil Daily Facial Moisturizer, SPF 15, Fragrance Free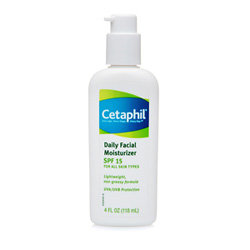 Price: $11.49 at drugstore.com
Cetaphil just has all the best fragrance-free products. Teens use it to clear up acne, I use it when I don't want to smell like three different kinds of lotions. It's cheap and it works well, perfect for someone that doesn't want to break the bank for moisture and SPF.
---
7

Biore Pore Minimizing Lightweight Moisturizer SPF 15, Oil-Free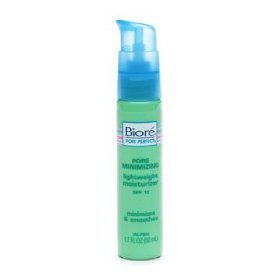 Price: $7.59 at amazon.com
In my teen years, my pores were HUGE and I'm not talking about you can kind of see them when you get close, I'm talking full on pores the size of Texas on my nose. So, I wanted a moisturizer that would help refine those little buggers. Well, I found it. And, it's oil-free, so no break outs. It takes a little bit of time to shrink those pores though so be patient!
---
8

Murad Redness Therapy Correcting Moisturizer SPF 15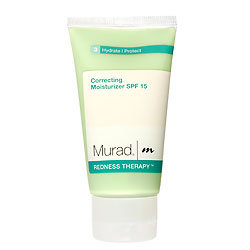 Price: $37 at sephora.com
Biting winds in the winter time and dry air in the summer time are not good for your face. No matter the season, you're always going to get red, inflamed skin. Well, this moisturizer kicks that skin right to the curb. It's soothing and it protects your face. It's like an oasis when you walk in from a day of outdoor activity and slide some on.
---
9

Korres Quercetin and Oak Antiageing Antiwrinkle Daily Cream SPF 10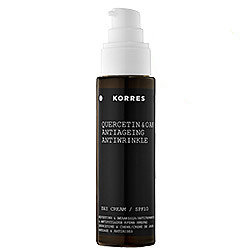 Price: $48 at sephora.com
This is the moisturizer with the lowest SPF on the list and at first, I was a little wary of putting it on. But then I remembered, it's amazing. It's got a unique Oak Tree scent and after about a week of use you'll start to notice that your skin looks a little younger. The secret, the oak tree extracts that are in the moisturizer. And to think, I was about to keep this from the rest of you ladies.
---
10

Alba Botanica Sea Moss Moisturizer SPF 15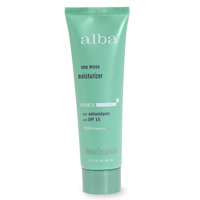 Price: $15.99 at drugstore.com
Ah Alba, you've amazed me yet again. From amazing smelling lip glosses to amazing smelling moisturizers, you've got me hooked. The Sea Moss moisturizer has an interesting smell, unique, and it really works just about as well as any product I could buy at Sephora. After about a week, my skin feels tighter and more elasticy. It's smooth and absorbs easily. This is the product you want if you want a unique scent and to save a little money!
Well ladies, this journey through the aisles of moisture has been fun! Hopefully you enjoy some of the products on my list. Did you try them? Did you love them? Did you hate them? Know of a moisturizer with SPF that should have made the list? Tell me all about it!
---
Comments
Popular
Related
Recent