As expected, the Golden Globes brought with it a plethora of divine dresses, one more gorgeous than the last. But would these looks be half as alluring without the perfect makeup and hair? I think not! Here's bringing to you my favorite hairstyles from the Golden Globes this year.
---
10

Anne Hathaway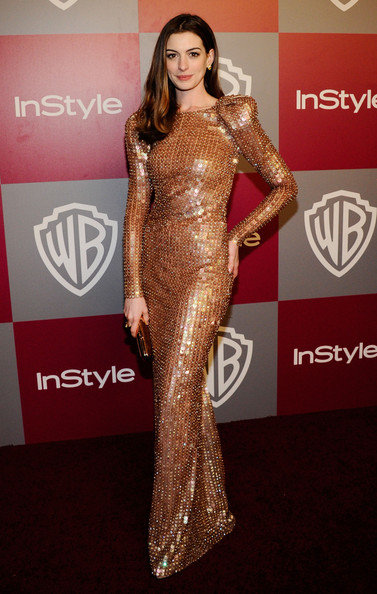 Yes this is a post about hairdos but I have to take a moment to declare my love for this stunning Armani Privé gown. I'm glad Anne decided to keep the hair natural with voluminous waves, so as to not take any attention away from the gown. Pretty and how!
9

Julia Stiles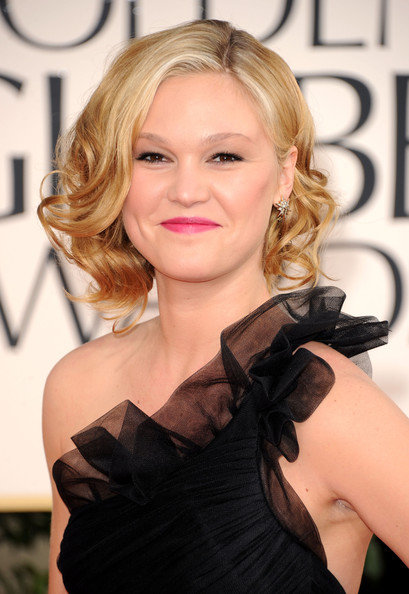 Sophisticated while still being girly, Julia Stiles' wispy curls are the perfect accessory for her pretty LBD! Combine that with the pop of fuchsia on her lips and I have to say that Julia has captured the attention of my inner girly girl.
---
8

Claire Danes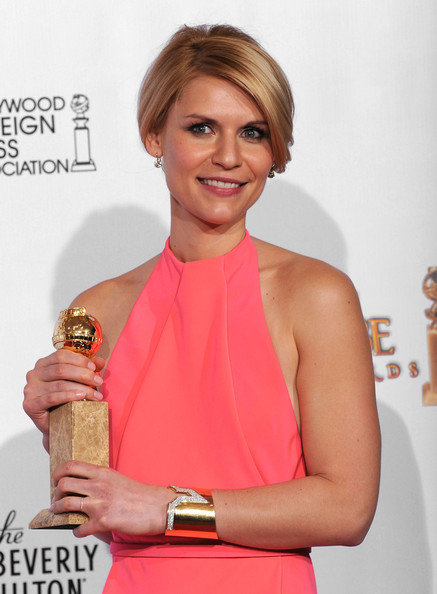 The only hairdo to go with that minimalistic, yet BEAUTIFUL Calvin Klein gown is...a minimalistic, elegant updo that literally makes all of Claire's gorgeous features pop. I love that color on her! And no, it has nothing to do with the fact that I recently bought a coral colored dress :D
---
7

Amy Adams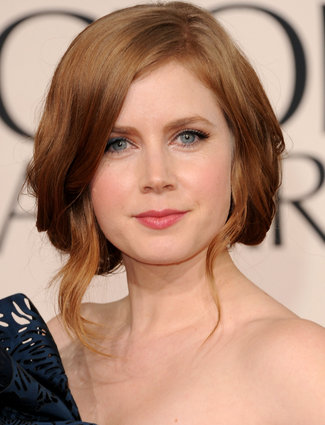 Considering I've been trying to master the fake bob for a while now (Yes, I'm too scared to actually cut my hair), it would be wrong not to include Amy Adam's hair-do on my list. I love the careless, tousled feel it has to it and I have to say that there's something so totally aww-worthy about this cutie, no?
---
6

Amber Riley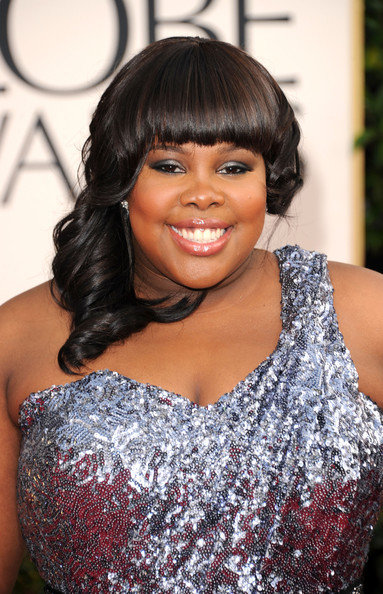 Oh how I want Amber Riley's lustrous locks! Seriously, how do celebrities get their hair to be so shiny?! I love the blunt bangs and the big curls and the smoky eyes. Très adorable!
---
5

Sofia Vergara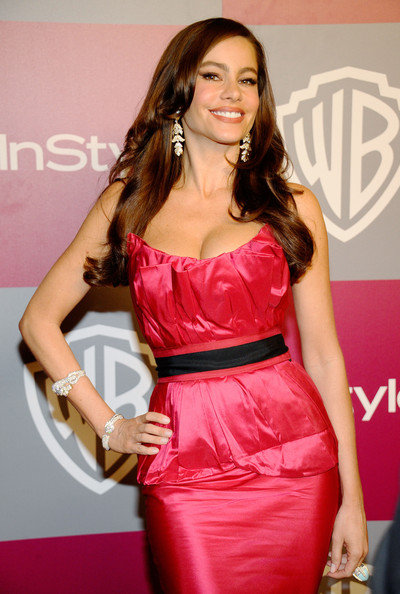 Seriously, how sexy is this woman?! While I wasn't a big fan of her Vera Wang gown, I loved how the soft tumbling curls framed her extraordinarily beautiful face. I know, it's not very different from her usual style but why fix what's not broken?
---
4

Sandra Bullock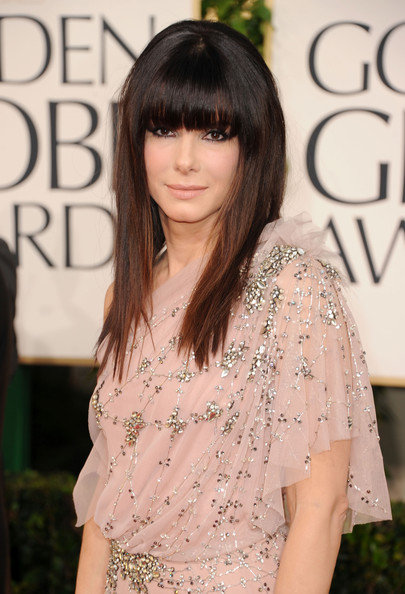 I almost didn't recognize Sandra Bullock with those blunt bangs and dark brown hair! And while, a few may argue that those bangs are a bit too heavy, I think Sandra looks so much younger and prettier! Good for you Sandra!
---
3

Olivia Wilde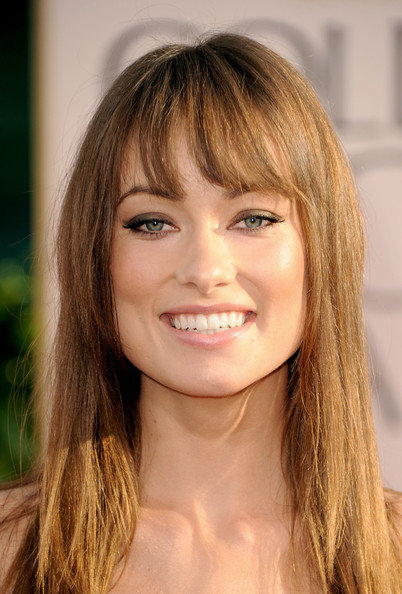 Olivia Wilde could probably walk onto the red carpet right from her bed and look drop dead gorgeous. Okay, maybe that isn't true but she definitely looked exquisite in that princess worthy Marchesa gown and what her stylist terms the "French-girl makeover". Delicious caramel colored hair with delicate bangs that I completely adore!
---
2

January Jones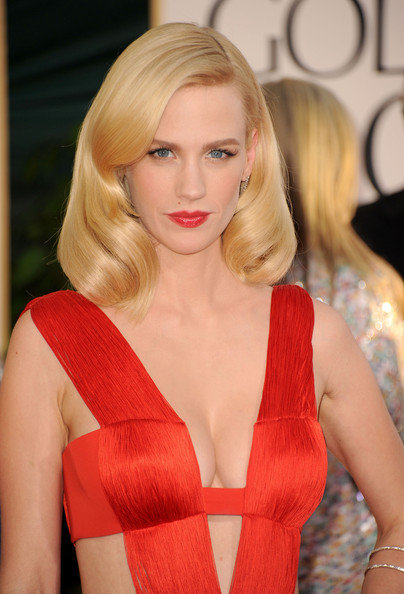 Like most of you, I'm not completely sold on January Jones' red hot Versace number either but I do think that her hair and makeup were flawless! Enchanting barreled curls and luscious red lips evoked vintage Hollywood glamor and I think January did complete justice to her look. Now to look for You Tube videos on how to master her hair do.
---
1

Dianna Agron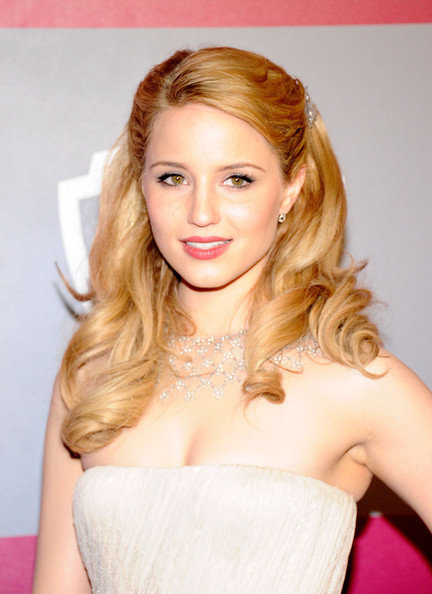 Old Hollywood glamor NEVER goes out of style, does it? Proving this point once again was Glee cutie, Dianna Agron who looked innocently stunning in those barrel curls held up by a sparkling diamond hair accessory (I want!). The hairdo and the spectacular J.Mendel gown she wore came together perfectly to create a divine, almost angelic look.
Without the right hair and make-up, your look could go seriously awry. Case in point: Scarlett Johansson's "Bride of Frankenstein" inspired do. But these celebrities got it bang on (no pun intended). So pick your favorite Golden Globes hairstyle and don't forget to let me know if I've left someone worthy out of my list.
---
Comments
Popular
Related
Recent