Now we all know that Lady Gaga, more fondly known as Mother Monster goes all out to stand out and that almost always guarantees a bizarre ensemble. She defines OTT and it's not just in the clothes (if you can call them that) but also her kooky shoes, her larger than life accessories and her** Crazy Hairstyles**. In the spirit of Halloween, I thought why not pay homage to some of the Craziest Lady Gaga Hairstyles over the years. Best keep an open mind and mouth while checking out my picks for the Craziest Lady Gaga Hairstyles.
---
1

The Bow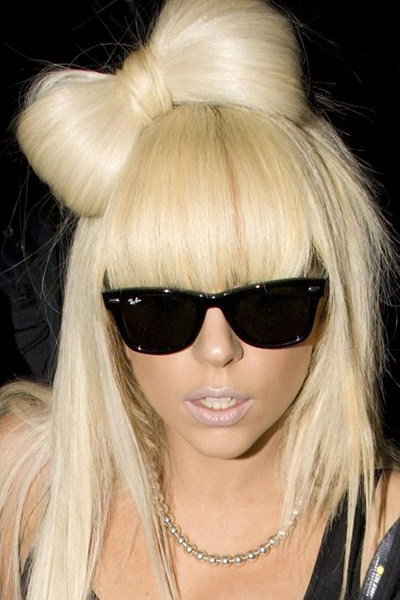 Let's start with the hairstyle that went viral shall we? Of course I'm talking about THE bow that was first seen in her Poker Face video that eventually went on to fascinate people far and wide for a very long time. I can definitely see the appeal though. What's not to love about bows? They're cute and the top of your head is as good a place as any to sport one. You Tube is full of how-to videos but if you are lazy like me, you can just buy one of these atAmazon.com.
2

Variations of the Bow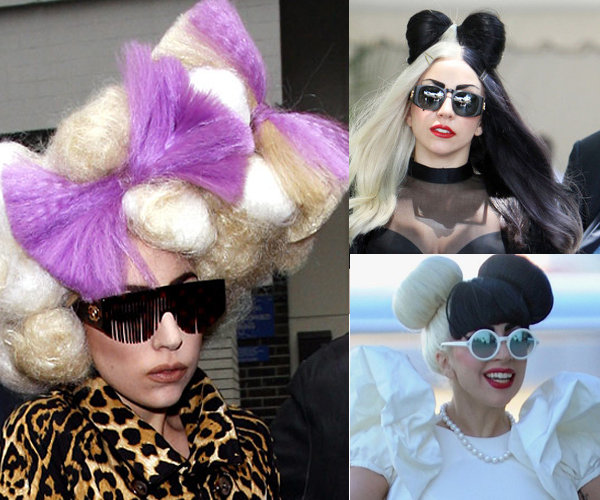 I guess at some point the regular oversized bow on the top of your head just gets boring and you need variations,especially when you are Lady Gaga. So we saw the poodle-puff with lavender bows and then there were the two dual colored Mickey Mouse variations and that ladies is the story of how the bow went from cute to crazy.
---
3

Benjamin Button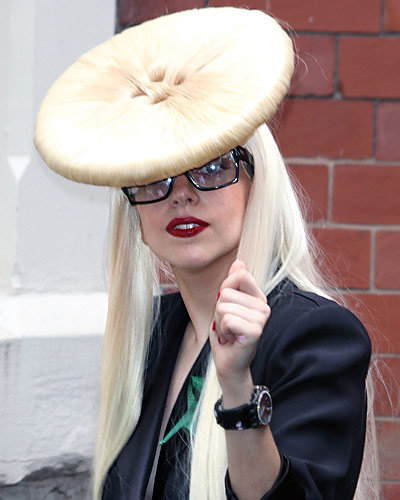 This is by far one of the craziest Lady Gaga hairstyles I have ever seen! T'was June 2009 and Lady Gaga had just arrived at the Manchester Academy in England to show her support for those affected with HIV with what appeared to be a giant button sown to her head. Well, who needs sunglasses when you have a button of hair to keep the sun away...
---
4

Gaga Mixes It up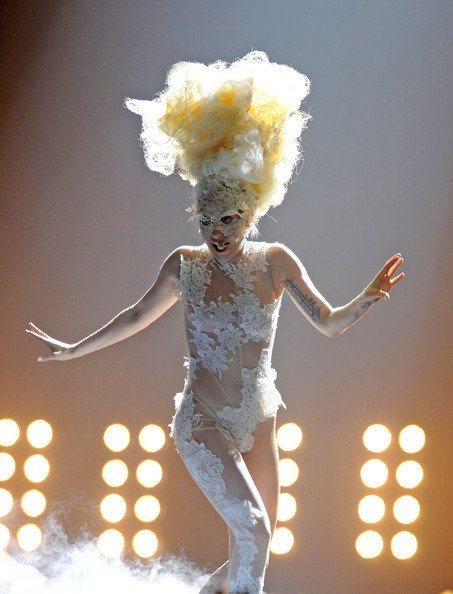 The occasion: The Brit Awards, 2010. The hair: Lady Antoinette meets cotton candy. Of course when the hair is this dramatic, the outfit's got to be sheer lace. She looks like an alien creature with evil powers et al and I love it!
---
5

Gaga Goes Teal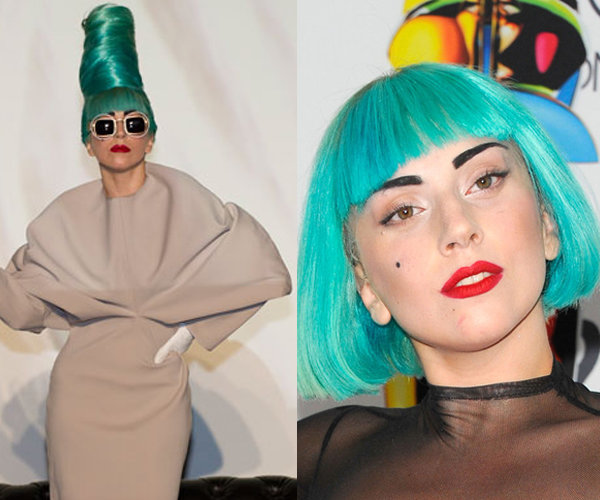 I promised myself that I wouldn't make any "green with envy" references but look how fantastic she looks in that teal bob. I could never pull that off! Okay, maybe that Marge Simpson-esque beehive makes me feel a wee bit better about my normal self. Just a little bit.
---
6

Lady in Red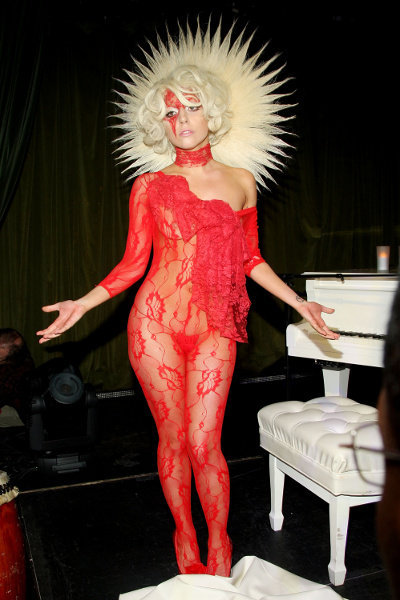 That sheer red lace outfit is definitely something but the hair is just the perfect cherry on the cake. I honestly believe that although this is one of the craziest Lady Gaga Hairstyles ever, it looks pretty fantastic on her because of the regal, almost sun goddess like look to it. Warning: Do not imitate. No, seriously, don't!
---
7

The Telephone Looks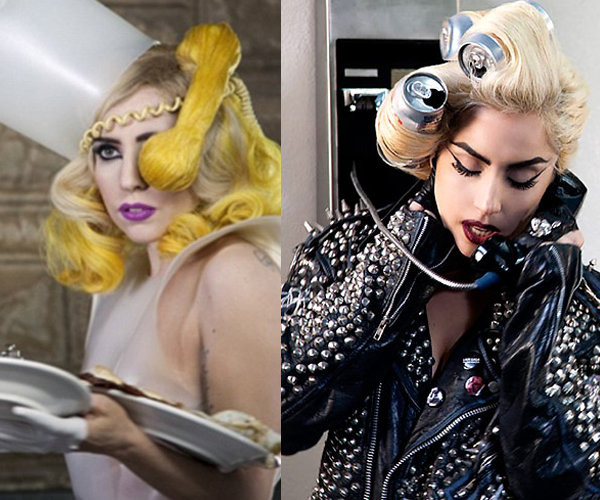 Remember the video of her song, Telephone? I could do a whole new post on the craziest Lady Gaga Hairstyles (and outfits) based on that video alone but for now I will pick my two favorites. Soda can curls, anyone? That's pretty innovative recycling I have to say. Also, what better hairstyle for a song named telephone than to have an actual telephone of hair stuck to your head. Oh Gaga.
---
8

Crazy Hat Lady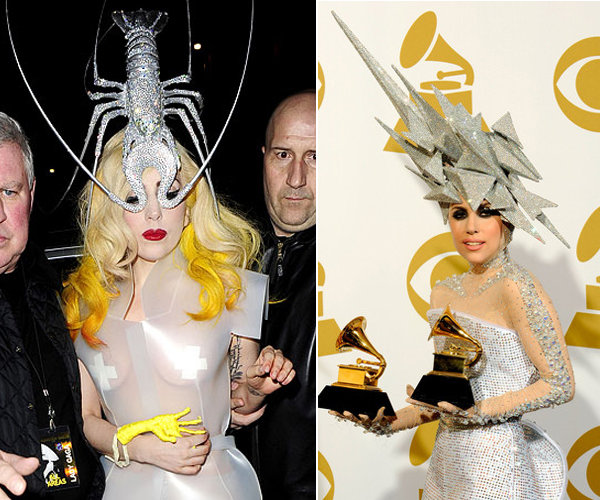 Sometimes it's the hat that maketh the hair. Remember the very "architectural" hat at the 52nd Annual Grammy Awards? And if that is not unique enough for you, how about this very unusual silver lobster hat that she wore to dinner? It does NOT get any more kitsch. Let's just hope she did not go to a seafood restaurant that night.
---
9

Hairy Scary Monster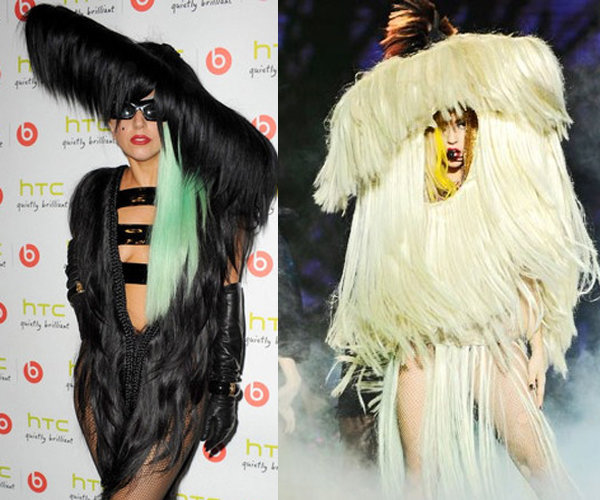 And last but not any less crazy are Lady Gaga's hairy scary ensembles. Is it still called a "hairstyle" if the entire outfit is made of hair and isn't it just a little bit creepy to be wearing all that hair?! Oh wait, we're talking about the woman who wears raw meat.
After all the Craziest Lady Gaga Hairstyles **we've just seen, I just have one question: Isn't that too much weight for the top of someone's head? I would imagine it would be hard to walk or even sit but I guess that's what makes Lady Gaga special in her own weird way. I hope you enjoyed gaping and sniggering at the **Craziest Lady Gaga Hairstyles. Don't forget to add your own finds to the list and until next time, put your paws up little monsters...
---
Comments
Popular
Related
Recent