Does the thought of heavy foundation and eye shadow melting off your face in the heat of the summer repulse you? Well, not to worry because you can still look fab whilst beating the heat without boycotting makeup altogether! Check out our **summer makeup **IT list for your cosmetic bag- so don't let the weather prevail, girlfriend - you can still look HOT in the midst of, well, the hot temperatures.
Laura Mercier Tinted Moisturizer- Oil Free
.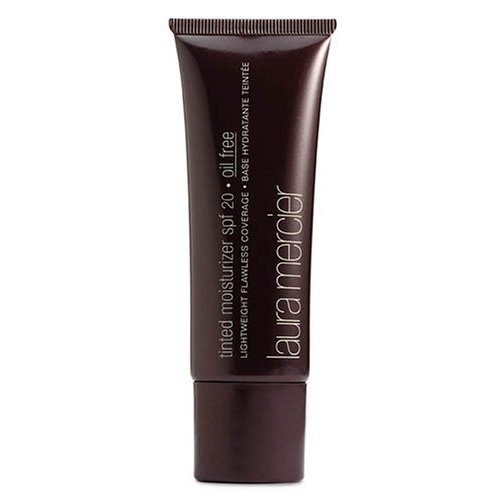 Try it instead of foundation. Although your skin won't get maximum coverage as a foundation offers, this tinted moisturizer will deliver an extra **warm glow **and **light coverage **to your skin - a great alternative to your usual heavier base. And hey, it's oil-free, so you need not worry about the extra shine factor either.
It's excellent at making one's skin tone look even and it's seriously easy to apply -just use a tiny bit and use your fingers to spread a very thin layer on your face.
Harrods Girl, a fashionholic from London
Stila Stila Sun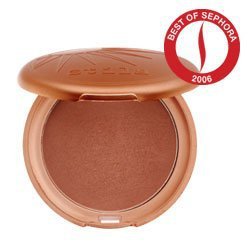 Instead of the harsh UV rays, opt for a Stila bronzer! I mean, seriously. Who needs a burn from the real sun when you've got a skin-friendly "Sun" alternative by Stila that adds a hint of tan factor to your skin?
A perfect bronzer for those of us with fairer skin tones, this is not orange, but a beautiful neutral tan color with shimmer to add high lights to the places naturally darkened by the sun.
Meredith, Makeup Shaker from Indianpolis, US
Bare Escentuals Buxom Babes Lip Tints
Instead of matte lipstick opt for this lip tint when hitting the beach. Bare Escentuals celebrates the summer and every one of us babes by creating funky little lip tints that give those puckers a healthy dose of antioxidants to keep lips soft and supple coupled with a yummy scented, sheer color. Hey, they didn't call it Buxom Babes for nothin'!
I absolutely LOVE Buxom Babes Lip Tints in every shade. The texture is so unbelievably smooth. This is a lip gloss that actually feels like it is nourishing your lips, making them softer by the second. The shine is also out of this world.
Suzy Shopper, makeup obsessed from Chicago, US
Sephora Brand Colorful Eye Shadow Palette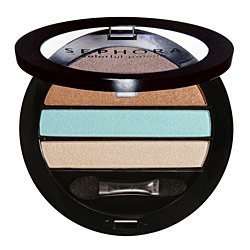 Bring out the inner surf chick in you! Ok, so you might be wondering what this eye shadow has to do with surfing. Well, nothing actually. I don't know about you, but this color palette reminds me of the ocean and sand. Very beachy.
The Colorful Eye Shadow Palette features four gorgeous eyeshadows in bands of color in one stealthy compact. You can highlight, shade, contour, add color, bring attention to the whole eye area with this single palette.
Cindy Bokma, beauty writer form California, US
Tarte Cheek Stain
Get that Aunt Bertha-pinching-those-cheeks or post-flirtation and flattery from a cute boy look sans the blush brush. Tarte Cheek Stain imparts a natural looking flush to your cheeks, and it's water based, so it won't clog those precious pores. Plus it's packed with a multi fruit complex, so your skin will reap some benefits as if you popped a Centrum. It comes in **cheeky colors **(no pun intended) such as Doll Face, Flushed, Sunkissed, and Blushing Bride... a
I love this product and with practice, it has become a staple in my makeup arsenal. The goal of a natural body flush is accomplished. The product has lasted me a very long time and I'm nowhere close to needing a replacement.
F. Nashville, fashionista from Nashville, US
Bourjois Pump Up The Volume Waterproof Mascara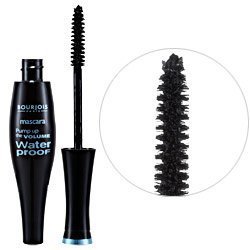 Just because it's now swim season, doesn't mean your lashes have to lack in the volume department. So pump up the volume while doing those back strokes with Bourjois Pump ****Waterproof Mascara. It will magnify those eye lashes without running down your face during aquatic sports. This mascara is certainly the hot summer fling for my lashes this year.
I've tried numerous mascaras, but this is one of the best waterproof ones that I've tried yet...This mascara delivers and will survive a flood of tears - staying truly glamorous at all times.
The "Pretty" Obsessed, from Toronto, Canada
So even if the unforgiving sun is scorching and the air conditioner in your car is not working, don't let that hinder you from achieving a J.Lo inspired glow this season. With these makeup must-haves for the summer, you'll have a reason to say "Life's a beach!"