When it comes to embracing the great outdoors, one essential element that should never be overlooked is the right pair of footwear. For the adventurous type, women's rain boots, and women's garden boots are not just accessories but essential companions for her lifestyle. These trusty pairs of boots not only provide protection from the elements but also offer comfort and durability that are second to none. In this article, we'll explore five carefully selected pairs of HISEA boots that every outdoorsy woman needs in her arsenal, ensuring that she can conquer any terrain or weather condition with confidence and style. Whether you're trekking through the wilderness or tending to your garden oasis, these boots have you covered every step of the way.
Thank you for sharing your thoughts!
Your voice matters to us. Happy reading!
1

HISEA Women's Knee High Rain Boots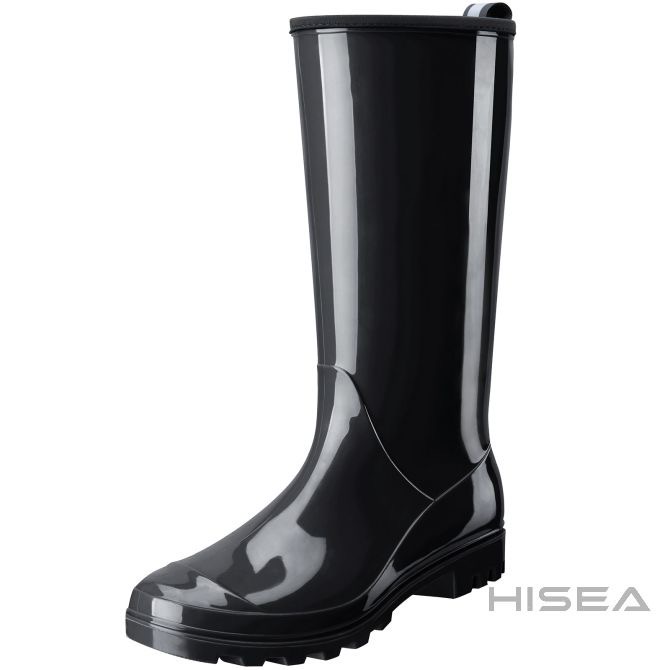 Introducing HISEA Women's Knee High Rain Boots – the perfect blend of style, comfort, and functionality for those rainy days. These knee-high HISEA rain boots are designed to keep you dry and fashionable even when the weather takes a turn for the worse.
Crafted with a durable rubber sole, these boots are ready to tackle wet and slippery conditions with ease. The shaft measures approximately 12.6 inches from the arch, providing ample coverage to protect you from splashes and rain.
The boots feature a platform that measures approximately 0.60 inches, adding a touch of elevation while maintaining stability. The PVC upper material is not only lightweight and flexible but also boasts a glossy plastic coating, making it easy to clean and wipe away dust.
HISEA women's wellington boots showcase a classic round-toe silhouette, ensuring a comfortable fit for all-day wear. But these boots aren't just about looks – they are built for performance. The slip-resistant rubber outsoles offer excellent stability on uneven terrain, giving you the confidence to navigate gloomy, rainy days with ease.
Step inside, and you'll find a soft and quick-dry textile lining that absorbs moisture, keeping your feet dry, cozy, and warm. No more soggy socks or uncomfortable dampness – these boots are designed to keep you comfortable, even in the wettest conditions.
To top it all off, there's a soft fabric collar at the top of the boots for extra comfort, making them a joy to wear. Whether you're running errands on a rainy day or enjoying a walk in the drizzle, HISEA Women's Knee High Rain Boots are your go-to choice for style and functionality. Embrace the rain in style and stay dry with these exceptional rain boots.
Price: $29.99 at www.hisea.com.
2

HISEA Women's Mid-Calf Barn Boots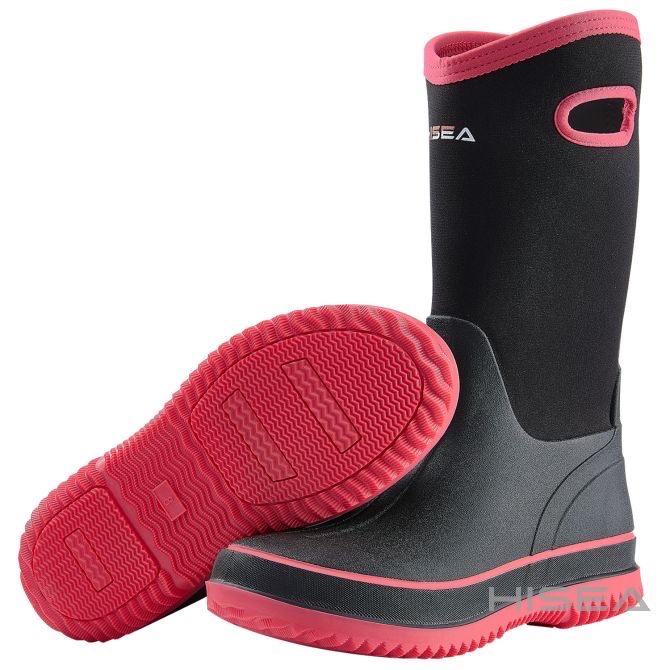 ntroducing HISEA Women's Mid-Calf Barn Boots – the ultimate blend of fashion, functionality, and durability. These boots are more than just footwear; they are a legacy of reliability, trusted for generations to get the job done, whether it's at work, on the farm, or at home.
These barn boots are engineered with seamless construction, a testament to their superior quality. They are not just waterproof but also up to 30% lighter and more durable than ordinary rain boots. Designed to withstand the toughest conditions, these boots are your steadfast companions in all weather.
HISEA understands the challenges of working outdoors, and that's why these boots feature an anti-slip and self-clean rubber outsole. With every step, you'll experience the confidence to tread through mud and muck while keeping your footing secure. Say goodbye to messy, slippery situations and hello to stability and control.
These barn boots are thoughtfully designed to cater to your every need. The sealed rubber shell extends up above the ankle, providing exceptional protection from moisture and potential hazards. No matter the environment, your feet remain dry and secure.
To make your life easier, sturdy handles are integrated into the design, allowing you to effortlessly slip these boots on and off, saving you precious time and effort.
Inside, you'll discover a contoured 5mm durable plush footbed that not only cushions your feet but also keeps them warm and cozy, even in the coldest conditions. These boots are designed for comfort and functionality, ensuring you're ready for whatever the day throws at you.
HISEA Women's Mid-Calf Barn Boots are more than just footwear; they are a symbol of reliability, durability, and style. Whether you're tackling tough tasks at work, tending to your farm, or simply enjoying outdoor adventures, these boots are your trusted companion. Choose HISEA for boots that work as hard as you do, with a touch of fashionable flair.
Price: $49.99 at www.hisea.com.
"Purple is the color of royalty, mystery, and power. It's a color that demands attention, and what better way to stand out than by stepping out in shoes of this rich hue? If you're considering adding a pop of color to your wardrobe, take a look at these stunning purple heels options that are guaranteed to turn heads."
3

HISEA AquaX Women's Rubber Rain Boots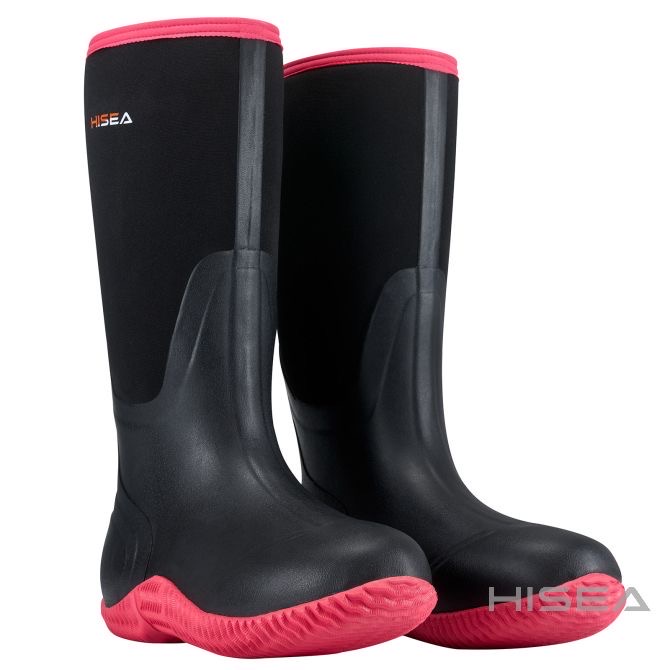 Introducing AquaX Women's Rubber Rain Boots – the epitome of comfort, style, and uncompromising waterproof protection. These boots are not just rain boots; they're a solution to keeping your feet dry, comfortable, and looking great in any wet weather.
AquaX takes waterproofing seriously with a 5mm, lightweight, and complete waterproof CR flex-foam bootie. This cutting-edge technology ensures your feet stay dry no matter how torrential the downpour. The four-way stretch nylon further seals out water while providing a snug, personalized fit. Say goodbye to soggy feet and hello to confidence in any weather.
With a shaft measuring approximately 15 inches from the sole, these boots offer generous coverage, protecting your legs from splashes, mud, and rain. The extended shaft not only adds practicality but also gives these boots a fashionable edge.
AquaX Rubber Rain Boots are built for stability in every season. The rubber outsole is specially designed to increase traction, ensuring a secure footing even on slippery surfaces. You can confidently navigate wet terrain without the fear of slipping or sliding.
These boots are not just about keeping water out; they're about keeping your feet comfortable too. The breathable air mesh lining allows air to circulate within the boot, keeping your feet significantly drier compared to traditional rain boots. No more sweaty discomfort – just all-day freshness and comfort.
AquaX Women's Rubber Rain Boots are the ideal choice for anyone who values both function and fashion. Whether you're splashing through puddles on a rainy day, taking a walk in the wet woods, or simply running errands, these boots provide the ultimate protection and style. With AquaX, you can step out with confidence, knowing your feet will stay dry and comfortable, rain or shine.
Price: $54.99 at www.hisea.com.
4

HISEA Women's Duck Rain Boots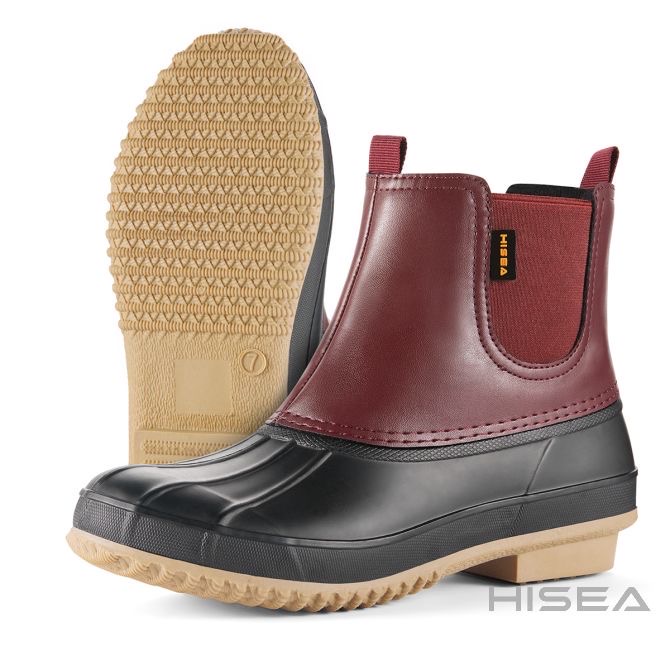 Introducing HISEA Women's Duck Rain Boots – where style meets practicality, and wet weather becomes an opportunity for adventure. These versatile and rugged rain boots seamlessly blend functionality with fashion, making them the perfect choice for outdoor enthusiasts and those who simply want to stay dry and stylish on rainy days.
Inspired by classic duck hunting boots, these rain boots boast a waterproof synthetic upper with PU leather accents. The timeless design not only adds a touch of outdoor charm but also ensures durability that can withstand the rigors of outdoor activities.
Don't let wet conditions hold you back. These rain boots feature a mounted seamless upper that keeps your feet comfortably dry, even when navigating puddles, mud, or other waterlogged terrain. No more soggy feet – just dry and happy strides.
Safety is a priority, and these boots deliver. The slip-resistant and flexible rubber outsole is designed to provide superior traction and grip on wet and slippery surfaces, ensuring you stay steady on your feet, regardless of the weather or environment.
A cushioned insole and supportive midsole work together to provide unbeatable all-day comfort, reducing foot fatigue even during extended wear. The soft synthetic lining adds extra support and stability, making these boots perfect for active women on the move.
Say goodbye to the hassle of cleaning. The sleek exterior of these boots repels stains and dirt, making cleaning a breeze. Just spray off the mud under the hose or faucet, and they'll be ready for your next adventure.
HISEA Women's Duck Rain Boots are the perfect combination of practicality and style for wet weather. Whether you're camping, hiking, gardening, or just running errands on rainy days, these boots have got you covered. With waterproof protection, slip-resistant traction, and lasting comfort, they're your go-to choice for staying dry and fashionable no matter what Mother Nature throws your way. Step confidently into your next rainy day adventure with HISEA.
Price: $41.99 at www.hisea.com.
5

HISEA Women's Upgraded Rain Boots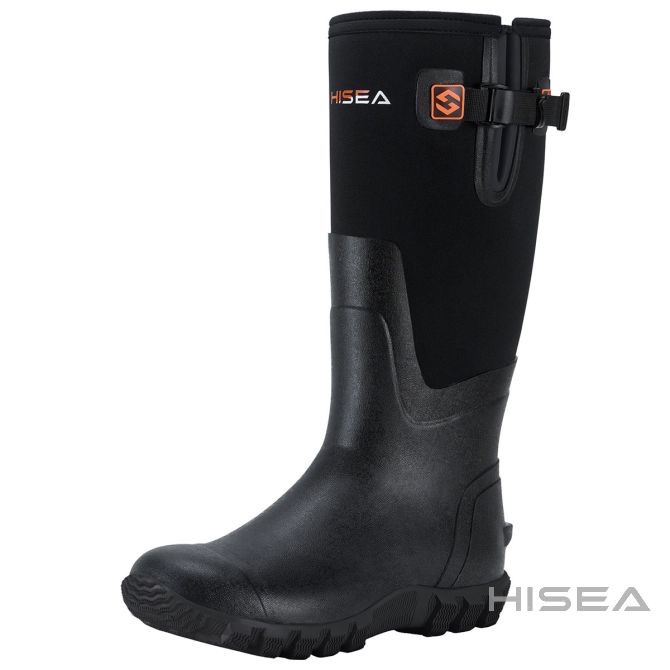 Introducing Women's Upgraded Rain Boots – the pinnacle of performance and comfort in wet and challenging environments. These boots are designed to provide you with unbeatable waterproof protection, insulation, stability, and breathability, ensuring that your feet stay dry, warm, and comfortable in any condition.
These boots are built to conquer the elements. With 5mm neoprene construction, they offer flexibility and shock absorption, all while being fully waterproof. This advanced design also boasts exceptional heat retention, ensuring that your feet stay warm, even in cold and wet conditions. Whether you're working, hunting, fishing, camping, or enjoying outdoor play, these boots have you covered.
Don't let uneven terrain deter you. These boots feature durable molded outsoles that provide outstanding stability, even on the most rugged landscapes. They are slip-resistant and self-clean, meaning you can confidently navigate through mud and slippery surfaces without missing a step.
Your comfort is paramount. The breathable mesh lining wicks away moisture and sweat, keeping your feet significantly drier than traditional boots. No more clammy discomfort – just all-day freshness and ease of wear.
These boots are designed with your comfort in mind. The lightweight and complete waterproof CR flex-foam booties feature four-way stretch nylon that not only seals out water but also provides a snug and personalized fit. The back gussets with cinch buckles allow for a secure custom fit, ensuring that your boots stay in place. The stretch-fit topline bindings snug your calves, keeping warmth in and cold out.
Women's Upgraded Rain Boots are the ultimate choice for those who demand the best in waterproof footwear. Whether you're facing the elements at work or embracing the great outdoors, these boots offer unbeatable protection and comfort. With advanced insulation, stability, breathability, and a secure fit, they are your reliable companions for staying warm, dry, and ready for adventure, no matter the weather. Step into confidence with Women's Upgraded Rain Boots.
Price: $59.99 at www.hisea.com.
Whether it's the waterproof prowess of the rain boots, the sturdy resilience of the garden boots, or the all-around performance of the others, HISEA boots are the trusted companions every outdoorsy woman needs. So, gear up, step out, and let your next adventure be defined by the unbeatable quality and style of HISEA footwear. It's time to explore, conquer, and revel in the beauty of the great outdoors, all while keeping your feet dry, comfortable, and oh-so-fashionable.