I love travelling, and I love buying new travel accessories! From luggage tags to passport holders, great accessories will put you in an amazing mood for the trip, and help you to identify which luggage is yours. I need to update my travel accessories before my next trip, and if you do too, here's some irresistible accessories...
---
1

Passport Covers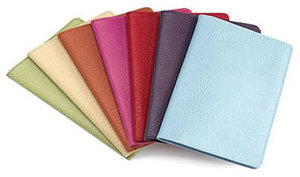 Price: $50 at pickett.co.uk
I love these bright coloured passport covers, which come in every colour you can think of, so you can easily co ordinate it with your other luggage. You can even have it embossed with your name or initials for just a small additional fee, meaning you can have a luxury and personalized cover for next to no cost. Brilliant!
---
2

Passport Hider and Luggage Tags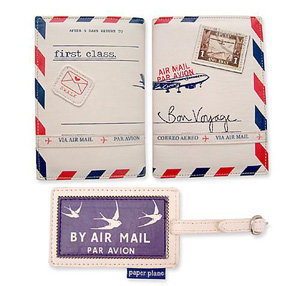 Price: $40 at notonthehighstreet.com
I love this Vintage inspired set, which reminds me of retro beach parties. The passport holder is styled like a letter, with embroidered detailing, and a hidey hole for credit cards and bank notes. The luggage tag is perfect for making sure you pick the right luggage up, with its super cute 'air mail' stylings. It's a simply stunning set!
3

Handmade Leather Luggage Tags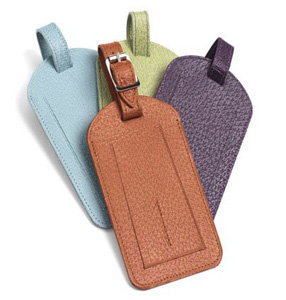 Price: $40 at pickett.co.uk
I love these distinctive tags, they are such high quality and the colours are stunning! The pink is my favourite, but they other colours are divine too, and you can easily match them with your luggage or your wardrobe. There is room on the side to put your contact details should your luggage be lost, and you'll definitely be travelling in style!
---
4

Duck Cosmetic Bag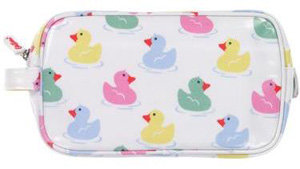 Price: $24 at cathkidston.co.uk
I wouldn't feel human without my cosmetics bag on the flight with me, and just any old bag just won't do. This Cath Kidston one will! The duck pattern is stunning, and I love all the pastel colours...it's bright enough to be stylish and unique without being overpowering. Perfect!
---
5

Tumi Special Edition Boarding Duffel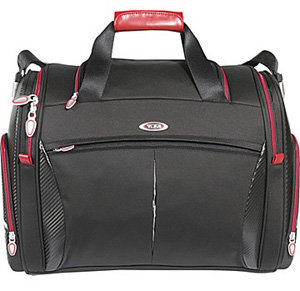 Price: $400 at uk.tumi.com
I love this racing style duffel, which its unique and eye catching black and red colour scheme. It has a very roomy main compartment, but several pockets and smaller sections too, meaning you can store everything in style without the risk of losing anything. I love the silver insides...it's easy to carry, lightweight and gorgeous. A must have boarding bag!
---
6

Leather Zip Pill Case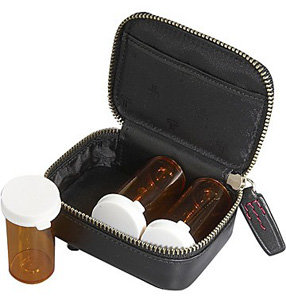 Price: $100 at uk.tumi.com
Unfortunately, I have to take a lot of tablets, which usually means faffing around with different bags at the airport. Not anymore! This stylish leather bag fits three pill pots snugly inside, which allows you to access your medication while staying inside airport rules, and not giving up your jet-setting stylish look. It's a dream come true!
---
7

Meridan Travel Organizers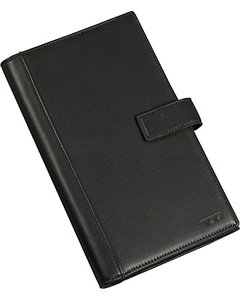 Price: $230 at uk.tumi.com
Okay, so my passport will have more outfits then me at this rate, but this organizer is a must have. Not only can it hold your passport, but it can also hold 17 cards, your ID, any tickets you have, coins and a pen. Meaning you have everything you need to carry around with you, safely inside an organizer.
---
8

Leather Document Holder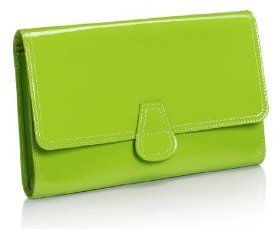 Price: $30 at marksandspencer.com
Another great buy for those who like to be organized (and who doesn't on holiday!), this patent leather document folder is available in black, cool blue or bright green, so you can make sure you won't lose it! It opens to reveal a zip up pocket, and a section for you to file away all of your travel documents, so you won't forget anything. It's relatively cheap, too, and really good quality!
I love buying travel accessories! I have different ones in all my holiday photos, and theres something very exciting about buying new ones before each holiday. It always helps me get excited! Have you found a travel accessory that you love? Please let me know!
Top Photo Credit: mendytexas
---
Comments
Popular
Related
Recent