I know I'm not the only grown adult out there that's still in love with Hello Kitty. When I was a pre-teen, all you could find with Hello Kitty on it were cute little crayon sets and a few stickers and pencil. Now she's everywhere! Here's my list of the ten cutest Hello Kitty goodies, for the not-so-young, but still completely young-at-heart (like me!)…
---
1

Hello Kitty Pave Diamond Pendant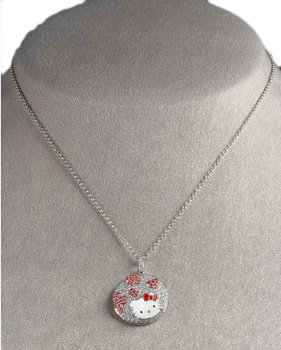 Price: $3,500.00 at neimanmarcus.com
If I had to choose any one Hello Kitty item to wear for the rest of my life, this would be it! Isn't it gorgeous? The pendant features an enamel Hello Kitty with pink sapphire hearts and flowers and sparkly pave diamonds on an 18" 18-karat white gold link-chain necklace.
---
2

Hello Kitty Large Black Patent Leather Handbag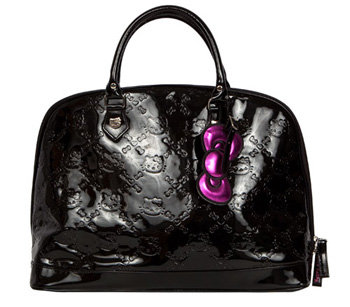 Price: $58.00 at thegiantpeach.com
What glamour puss doesn't want a new handbag, especially a shiny black patent leather one featuring the original fashion diva herself? This roomy bag is embossed with little Hello Kitty face in a very subtle pattern, and features her bright pink signature bow… so cute… but also so grown-up!
3

Hello Kitty Glam Headphones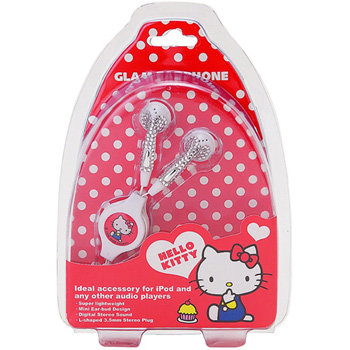 Price: $18.50 at thegiantpeach.com
I go through ear buds at an alarming rate. I just seem to break them constantly… but not these! They feature the classic Hello Kitty on the cord retractor, and tons of sparkle from rhinestones on the buds! They fit any iPod or iPhone (and all other MP3 player, for that matter)… I won't be losing or breaking these!
---
4

Hello Kitty Forever Tattoo V-Neck Tee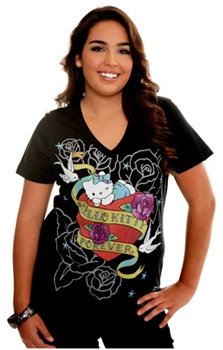 Price: $19.98 at torrid.com
Are you trying to keep your love of Hello Kitty something of a secret? Not sure your peers would approve? Then declare your love with subtlety in this very grown-up t-shirt! It's black, with a deep v-neck and a fitted shape, and it's made of a comfy cotton/poly blend that won't shrink or fade.
---
5

Hello Kitty Bandages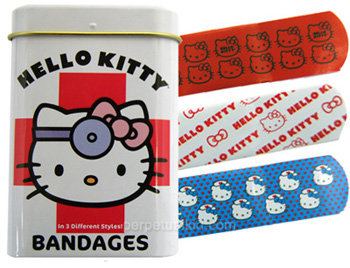 Price: $4.79 at perpetualkid.com
Even big girls get boo-boo's, and what better way to protect them than these super-cute Hello Kitty bandages? Each tin contains 15 bandages in three designs, all of them perfect for hiding, and keeping clean, all sorts of bumps, scrapes, and paper cuts. The empty tin is cute enough to re-use as a change holder, too!
---
6

Hello Kitty Teddy Bear USB Flash Drive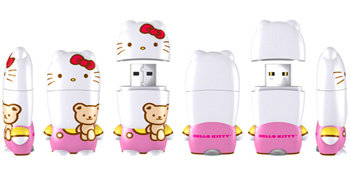 Price: $24.99 at girlzlyfe.com
Grown-ups who work in office shave very important documents to carry around with them, and to back-up from their computer hard drives. Yes very adult and business-like… but why not add a little cuteness to your boring adult office life? Store your files on this ultra-cute Hello Kitty USB jump drive! It DOES have 2GB of storage, plenty of room for storing those archives TPS reports…
---
7

Hello Kitty Business Card Holder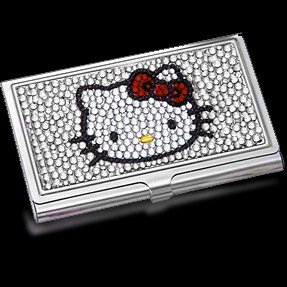 Price: $250.00 at shop.sanrio.com
Eee! This sis so cute! I love business card holders (I use them as wallets) and this one is the cutest one ever! It's got the iconic Hello Kitty face all done in sparkly Swarovski crystals, including her sweet little red bow! It measures 3.75" by 2.25" by .5", which is plenty of room for a sizeable stack of business cards or an ID and several charge or debit cards. I love it!
---
8

Hello Kitty on Safari Key Caps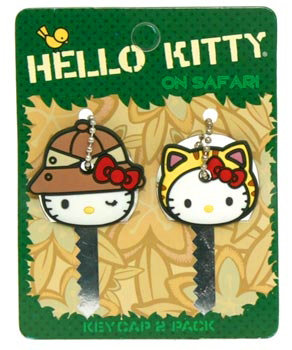 Price: $12.00 at girlzlyfe.com
It's a jungle out there, so why not go exploring? These cute little key caps are a great way to remember that every day is an adventure. One features a winking Hello Kitty in a sweet safari hat, and the other is Ms. Kitty in a little yellow tiger hood with ears, and of course, her signature red bow!
---
9

Hello Kitty Vanity Case with Bear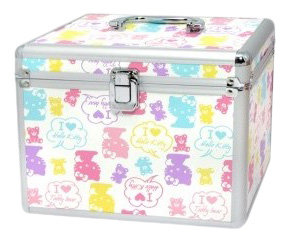 Price: $65.00 at shop.sanrio.com
So cute! And also very practical. Every girl needs a place to store her lip gloss and eye-shadow, right? Why not this adorable caddy, large enough to stash all of your goodies, with a handy little mirror? I love the pastel colors, but if you prefer brights, then there are two other patterns available, too!
---
10

Hello Kitty Diamond and Citrine Ring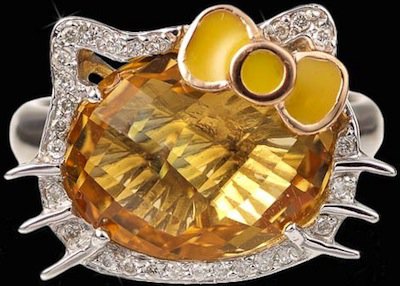 Price: $950.00 at shop.sanrio.com
Did you know Hello Kitty is celebrating her 35th birthday this year? What better birthday gift than this gorgeous citrine ring? It features a large check-faceted citrine surrounded by .16 ct of pave diamonds for added sparkle, set in 18k gold. Not a fan of citrine? No worries! The ring is also available with a deep-red garnet instead… stunning!
I can't believe Hello Kitty is 35 years old, or that I'm as old as I am and still so devoted! Are you a fan of the Kitty? Which of these items is your favorite? Or is there some other Hello kitty goodie you just have to have? Please share with me, on fan to another!
More
---
Comments
Popular
Recent