Being a girl often means keeping up with the latest fashion trends, or at least being able to start up a new one. Guys have it too easy. They can simply throw on a pair of jeans with any old t-shirt and look completely presentable. On the other hand, we girls need to put a little more thought into what we are going to wear. I've listed 8 style tips every girl should know to help you out.
---
8

Try Not to Wait until the Very Last Minute to Choose an Outfit
Photo Credit: ToniVC
Sure, there will always be spur-of-the moment parties, dinner engagements, or other events that involve dressing up. Some girls might be able to pull off a great outfit at the last second, but I find that this is often disastrous. The best way I've found to get around this dilemma is by organizing at least three outfits on hangers ahead of time, complete with accessories. This then provides me with a few outfits to choose from at any given moment, without worrying if I match!
---
7

You Don't Have to Keep Every Piece of Clothing You've Ever Worn
Photo Credit: Holland Fabric House
There are times when you just cannot part with a favorite pair of jeans, despite the holes that keep multiplying in numbers. I try to follow the rule that says clothes need to be gotten rid of if they've sat in a closet for multiple years without any use at all. I do have a favorite pair of jeans that I continue to patch on a regular basis, but I have finally parted with many shirts I wore in high school. It doesn't hurt to update your wardrobe from time to time.
6

Be Wary of Color Combinations

Just because you like every color of the rainbow, this doesn't mean you have to wear them all at once. It's cute on little kids, but dressing like Rainbow Bright looks a bit odd on older girls. It's also best to avoid monochrome dressing as well. The only time this might be acceptable is if the outfit involves a suit jacket with a matching skirt or pair of slacks. These can easily be accessorized with shoes, jewelry, and a purse to liven up the style a bit.
---
5

Keep Patterns to a Minimum

Fashion models might be able to get away with some truly interesting pattern combinations, but they are getting paid to wear it. Sure, plaid, stripes, and polka dots are all cool, but not when they are all worn at the same time. It's also best to combine a pattern with a solid. I think the monochrome idea should be kept up with patterns as well. Covering yourself from head to toe in plaid will definitely draw attention, but not usually in the way you would like.
---
4

Wear Clothes That Actually Fit

Having a comfy sweatshirt or pair of baggy shorts to wear are perfect for staying home or heading to the gym. If these items become a daily wardrobe, then it might be time to change things up a bit. Keeping a closet full of clothing that doesn't fit properly can also be frustrating. I don't know how many times I pulled out a shirt that I like the pattern or color of, only to find that it didn't fit at all. When I come across one that seems to have shrunk without me knowing it, I put it into the give-away bag.
---
3

Have a Pair of Nude-colored Heels on Hand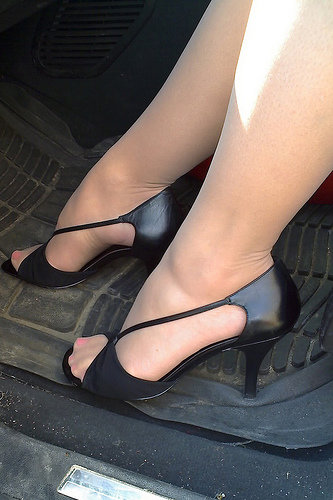 Photo Credit: pantyhosefootie
It's amazing at how many outfits nude-colored heels will go with. Actually, they can be worn with anything and are the perfect shoe to have in the closet. I don't wear dresses that often, but when I do, out come these babies! This speeds up the process of trying to find shoes that match my outfit when I'm in a hurry too.
---
2

Keep Accessories to a Minimum

Sometimes more isn't better, which is definitely the case when it comes to accessorizing. Multiple bracelets can be very trendy and usually look great together. However, donning a few necklaces at the same time or covering each finger with a ring can be a bit tacky. You don't want to look like you're wearing every piece of jewelry you own!
---
1

Wearing Confidence and a Smile

It's amazing the number of outfits you can pull-off by just having a bit of confidence and a smile to go with it! When I believe I look good, I feel others think the same thing. Be sure to stand up straight and walk with your head high. There's nothing that makes an outfit look better than a girl with a lot of confidence to go with it.

I hope these 8 tips are helpful to you the next time you are deciding on what to wear. Choosing outfits doesn't have to be a stressful event. Do you have other style tips you'd like to share? What is the best tip you have for yourself?

Top Photo Credit: ThePinkLadyJ
---
Comments
Popular
Related
Recent