Call me crazy, but I love the preppy look. There's nothing at all preppy about me as a person, but I think my love for the style is a holdover of my high school days, when all the cool kids were resplendent in clothes from Abercrombie & Fitch and Ralph Lauren, and spent all their hot Friday nights at The Gap or something. I may not love the whole stereotypically preppy attitude, but I just love the clothes and had to go looking for eight essential pieces to get the look.
---
1

Polo Shirts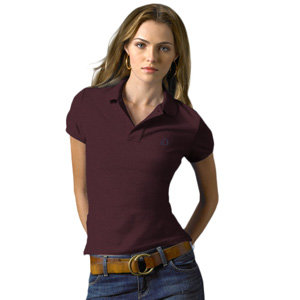 ralphlauren.com
The polo shirt is essential. Apparently if it has an alligator, a horse, or some other animal appliqued anywhere on it, then it is definitely the real deal. Bold colors are now acceptable and classic white is a good color for prep appeal, but pastels and sorbet shades are great as well -- and anything pink is a plus. For boys or for girls, as a matter of fact.
---
2

Cable Knit Sweaters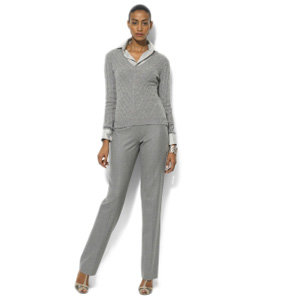 ralphlauren.com
Because you have to stay warm out there on the tennis courts and at the country club. No, really, I think cable knit sweaters are darling (and warm), and if you get the right cut, they can be extremely flattering. Clearly, white and navy is a color scheme of choice. Quite often with the preppy look, any kind of sailor theme is a must-have.
---
3

Oxford Shirts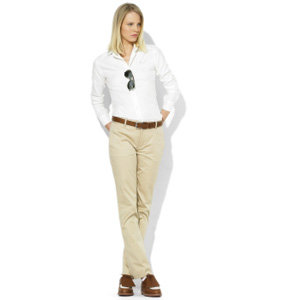 ralphlauren.com
I have always loved Oxford shirts. Get it crisp, white, slightly fitted, it looks great under cardigans and sweaters, with the cuffs, tails, and collar peeking out. Honestly, that is my favorite combination. The Oxford is extremely versatile. If you pair it with the right pieces, it can be casual, professional, or even dressy.
---
4

Khakis or Chinos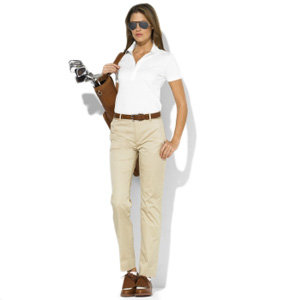 ralphlauren.com
No preppy look is complete without khakis, which these days also seem to fall under the heading of chinos, so it's a two-for-one! I kind of commit a fashion faux pas under this category though, because I like carpenter khakis, and I am terribly afraid that wearing big, baggy pants probably doesn't make me very preppy. Or very stylish … ahem.
---
5

Linen Skirts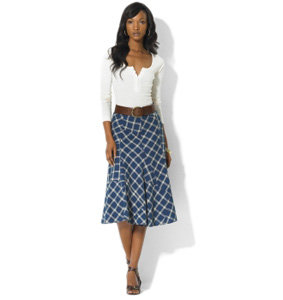 ralphlauren.com
Actually, a linen skirt isn't the very last word in preppy. What I mean is, it is preppy, but khaki skirts, plaid skirts, skirts with a nice, prep-friendly print, will all work as well. Pencil skirts and ruffle skirts are making a splash in this particular style as well, and since they don't have to be super short, they are actually quite fall friendly.
---
6

Cardigan Sweaters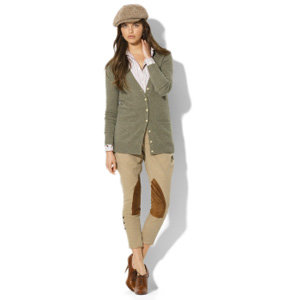 ralphlauren.com
I remember (sort of) when cardigan sweaters were simple, and now they have cardigans for every occasion. But you know, that's all right, because I love cardigans. They're versatile as well, and you don't have to be going for a preppy style to wear them. In addition to being warm and cuddly, they are actually ideal for several different fashions. I prefer basic black myself, because it can be worn in so many different ways, with so many different things, but considering all the choices out there now, you can easily collect a rainbow's worth of cardigan sweaters.
---
7

Jackets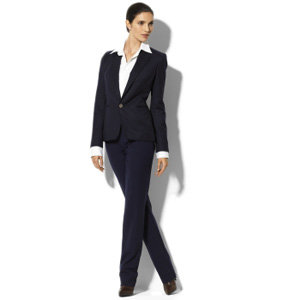 ralphlauren.com
By this I mean a suit jacket, of course. Navy is the staple color here. Call me quirky, but I prefer black. In fact, I prefer black with pinstripes. Probably I don't have a chance at really pulling off the total preppy style, but that's okay. Anyway, a jacket is essential, whether you choose one in navy, a lovely, neutral camel or khaki shade, or in basic, classic black. Here, though, it is important to make sure the piece fits you well, since that best compliments the style.
---
8

Floral Dress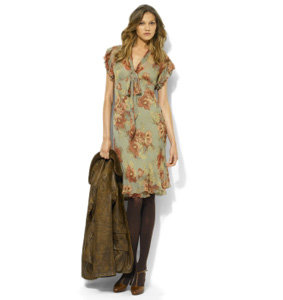 ralphlauren.com
To wear a dress while pulling off the preppy look, it has to be perfect. Floral dresses, A-line, linen, halter dresses are all acceptable pieces, but so too are those sleek little tailored dresses with cuffs and collars. The margin is wide here, it's basically a case of knowing the right dress when you see it. Basically, you want to keep it subtle and sophisticated, and you're good to go.
So what do you think about these preppy staples? If there is anything you'd like to add, please let me know -- I'm on a preppy quest!
More
Comments
Popular
Recent