1

Persa-Gel 10, Maximum Strength by Clean & Clear ...

**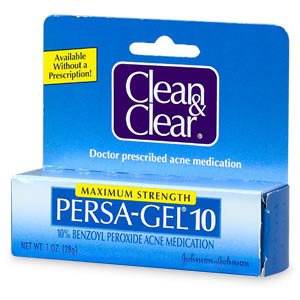 Price:$ 5.89** at drugstore.com
This is the same type of prescription formula that has been prescribed by doctors for many years now. As I was dealing with acne, I thought there was no way out. I mean, here I was, being faced with the fact that I would have to deal with acne for a very long time. Then out of nowhere, I came across a webpage telling me about this product. I couldn't help myself but to give it a try and I must say, I am really glad I tried it out. This is a very potent disinfectant that is perfect for blemishes. As the title states, it has 10% benzoyl peroxide in it, which just so happens the maximum amount that is approved for you to get over the counter. Sure, this amount can dry out your skin and can be irritating, I have found, but it is perfect for those stubborn cases of acne.
---
2

Vanishing Acne Treatment Cream by Clearasil ...

**


Price: $10.49** at Walgreens.com
I know that excess oil does not help acne out, not one bit. If you want something that heals acne, then I highly recommend you looking into this product. I have found that this can be used with daytime makeup. Also, when you use this much benzoyl perozide, you should use it last for those blemishes that have not been responsive to lower doses. Overall, if you have acne that is hard to deal with, like I had, then I recommend this product.
---
3

Acne Solutions Emergency Gel Lotion by Clinique ...

**


Price: $13.50** at nordstrom.com
Almost everyone needs a little bit of acne medication at least once in their life, right? I know I sure did, which is why I chose this product. When I chose this product, I immediately started to use it. After a couple of weeks, I began to see those results. I must say, I truly was amazed by those results. It is an outstanding topical disinfectant that is perfect for those blemishes that you could never get rid of. This product only has 5% benzoyl peroxide in it. I don't think I could complain so much about this product, even if I tried to. After all, would you complain about something that saved your face?
4

Oil-Free Acne Stress Control 3-in-1 Hydrating Acne Treatment by Neutrogena ...

**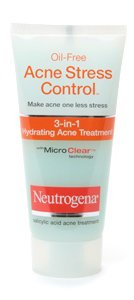 Price: $7.19** at drugstore.com
I didn't ask for much, I only asked for help to get rid of my acne and that is exactly what I got. This is the oil-free stress control I have always been looking for. When I tried this product out, I found that it does not make my face red and it does not irritate me at all. In the past, I have had problems with face irritation and redness whenever I use acne products, but not this one. This is the non pore clogging formula I have always wanted. It has natural skin-soothers in it. Including cucumber and green tea. For those of you that do not know, cucumber and green tea helps to reduce the irritation and redness. If you want to get rid of that stress and have soft skin, then this product is recommended.
---
5

Oxy Lotion, Vanishing Acne Medication by Oxy ...

**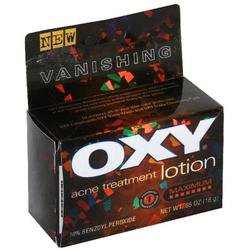 Price: $6.99** at discountcosmeticoutlet.com
Now, this is a popular skin product that has been around for awhile now. Not only did oxy help me with the acne I had, but it also controlled that oil build up. That's right, when I use this acne product, that means I will not have any breakouts in the future. Basically, the day I took this product in my home was the day I kissed my acne goodbye. With this product, it almost seems like I got to watch the acne vanish right before my eyes. This product comes in three different strengths, but all of them are fragrance free. When you look at the tinted version, it will appear to have some color to it in the bottle, but it will go on quiet sheer.
---
6

Repairing Lotion by ProActiv Solution ...

**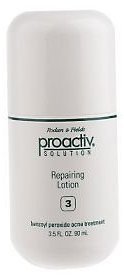 Price: $18.75** at amazon.com
Preventing and clearing up blemishes is something that I have always wanted. You know, I didn't have any self confidence in myself when I had acne, yet, I still wanted to be a model. I hoped that one day my acne would clear up. I tried so many different products and none of them seemed to work. However, this product really did the job. The active ingredient in this product is 2.5% benzoyl peroxide. When I first put this on my face, I found that it was a very silky lotion and it didn't even irritate my skin. Nearly every acne product I tried irritated my skin in some form or another. If you do not have a plan for any blemishes in your future, then I highly recommend you trying this product. Get rid of your acne and be on with your life, just like I am.
---
7

Step 3: Unblemish Acne Benzoyl Peroxide Treatment by Rodan + Fields ...

**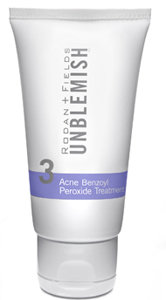 Price: $47.00** at rodanandfields.com
I set out to find that acne-fighting medication and I sure did find it. When I first tried this product, it did not hurt my skin at all. This product has speeded up my skin recovery and it will also prevent acne in the future. That's right, it clears the skin and calms it as well. This only has 2.5% benzoyl peroxide in it, but it sure does do miracles to acne. Yes, the price on this acne product is a bit high stung, but hey, I could not turn it down. I have tried everything, even the less expensive products and none of them seemed to work as good as this one.
---
8

10% Benzoyl Peroxide Acne Treatment Gel by Zapzyt ...

**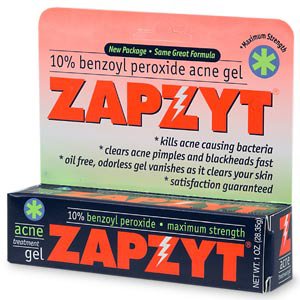 Price: $5.20** at drugstore.com
I want the formula that has the maximum strength. You know, something that is recommended by dermatologists. Those reasons are why I chose this acne product as my next acne medication. I have to admit, when I first got this product, I didn't think it was going to do as good as it did. After all, none of the other produces worked in the past. It killed bacteria just like it said it would, obviously. If you are looking for the fastest possible results, then this acne product is definitely the one you should choose.
More
---
Comments
Popular
Recent