I'm not Goth or Emo, but I love Edward Gorey! If you've never seen any of his art, or read any of his books, you're in for a treat. He's got a wickedly sharp sense of humor, with a very dark twist and a Victorian feel. His books are hilarious, but when you laugh, you'll feel slightly guilty. Not sure what I mean? Here's a list of 7 twisted books by Edward Gorey… read a couple of them, and you'll know exactly what I'm talking about!
---
1

The Gashleycrumb Tinies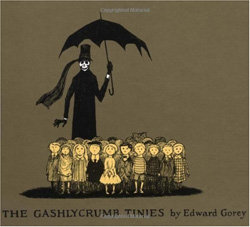 Price: $9.00 at amazon.com
This book begins: A is for Amy, who fell down the stairs; B is for Basil, assaulted by bears; C is for Clara, who wasted away, D is for Desmond, thrown out of a sleigh. That's right. This book is a primer that uses children who've met an unfortunate end as an illustration for each letter. If you love the book, you'll love the poster…
2

The Hapless Child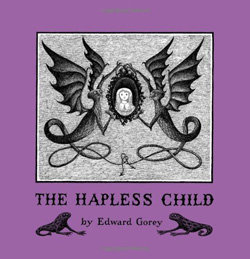 Price: $10.17 at amazon.com
Poor Charlotte Sophia leads a short and cruel little life, orphaned then continually picked on at the orphanage. When her father sets out to find her (he's not dead after all), he finds her… but is it too late? Will he even recognize the poor child when he finds her?
---
3

The Doubtful Guest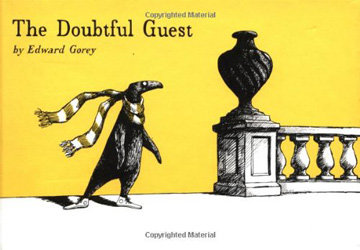 Price: $8.00 at amazon.com
This is my very favorite Gorey story, about an odd tennis-shoe and scarf wearing guest who simply won't leave. It's clever, and the illustrations are a riot. I love it! This would make a marvelous gift for the person on your list who already has everything.
---
4

The Recently Deflowered Girl: the Right Thing to Say on Every Dubious Occasion
Price: $9.60 at amazon.com
What does one say when upon the disgraceful deflowering of a young lady? If you've ever struggled to come up with something appropriate in such a situation (and who hasn't), you must add this go-to book to your library.
---
5

Old Possum's Book of Practical Cats
Price: $10.88 at amazon.com
Gorey lends his particular illustrating style to this book of poems by T.S. Eliot, the inspiration for the wildly successful Broadway play, CATS. It's wonderful, and again, would make such a lovely gift, especially for a book lover!
---
6

The Haunted Tea-Cosy: a Dispirited and Distasteful Diversion for Christmas

Price: $10.88 at amazon.com
This isn't your average holiday story. As the name implies, it's about a tea cosy that's been possessed. The book itself would make a lovely Christmas gift, though such a tea cosy would not.
---
7

The Curious Sofa: a Pornographic Work by Ogdred Weary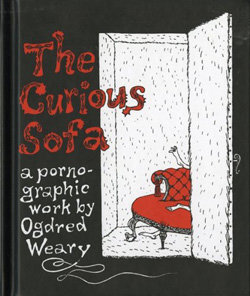 Price: $8.00 at amazon.com
Pornography? However did porn make it onto my list of Gorey's books? This is, oddly enough, the tale of a young woman (and several others) who discover the carnal joys of a… sofa? It's illustrated very cunningly, with nothing untoward, yet adults will still sneer and snicker…
Those are only a handful of the delightful, amusing, and twisted books by the wonderful Edward Gorey. There are so many more in his impressive library! Give a few of these a try, though, and see which you like best before you look for more. Or are you already a fan? Which of these Gorey books do you like best, and why? Or is there another one you like more? Please share!
---
Popular
Related
Recent