While ponytails are often considered the "go-to" hairstyle for many women on a bad hair day, ponytail can be a very versatile style that will suit a wide variety of occasions and events - from a Backyard BBQ on the weekends to the Red Carpet!
From sporty to elegant – there's a ponytail for you! Here are seven secrets that will take your every day pony to perfection…
Secret 1
Wash and shampoo your hair. Unlike other updoes, a perfect ponytail requires perfectly clean hair. Also, slightly damp hair holds tighter around the side trapping shorter layers in as it dries.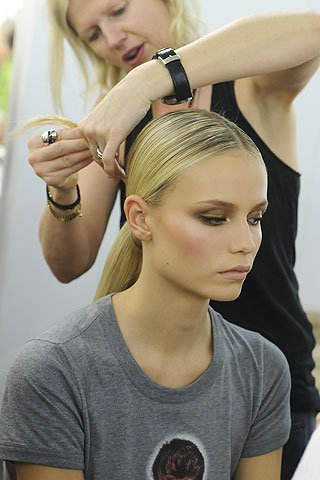 Secret 2
Straight hair works best for ponytail, so blow dry your hair straight with a blow dryer that comes with a concentrator attachment. For naturally wavy or curly hair, apply straitening balm to damp strands.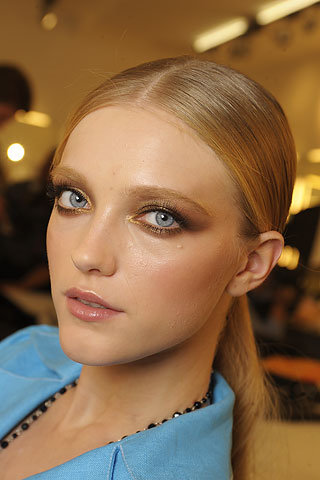 Secret 3
Left, right and center… decide on whether you want to part your hair in the middle or if you'd rather wear side ponies. Badgley Mischka designers prefer to style their models with a side ponies with side-swept bangs; while Jill Sanders, Ralph Lauren and Versace prefers ponytail with middle part for their runway models.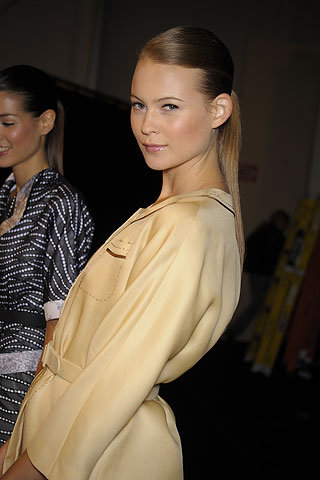 Secret 4
High or low ponies. Try experimenting with higher or lower ponytails to achieve different looks. High ponies are famous for providing women with "mini" facelifts by putting tension on the face and emphasizing on the cheekbones while low phonies tend to be more sophisticated, modern and sleeker style.
For High Ponytail:
• Put your fingers at the crown of your head
• Gather up a large section of hair (about 3 inches wide by 2 inches deep)
• Tease it on the underneath to give it volume
• Run your hairbrush over this section lightly
• Pull hair into a ponytail just above the middle point at the back of your head
• Secure with a hair-covered elastic or wrap a strand of your hair around the elastic itself
• Pin the end of the strand underneath the ponytail with a bobby pin
• Finish with some hairspray on the sides and back of the hair
For Low Ponytail:
• Part your hair deeply on one side (or in the middle)
• Brush it smoothly over across your forehead
• Tuck any stray pieces behind your year or mist with hairspray
• Keep the hair sleek and close to your head
• Pull it back
• Secure the ponytail at the nape of your neck
• Use some hairspray all over your head
- Nadine Haobsh (author of Beauty Confidential)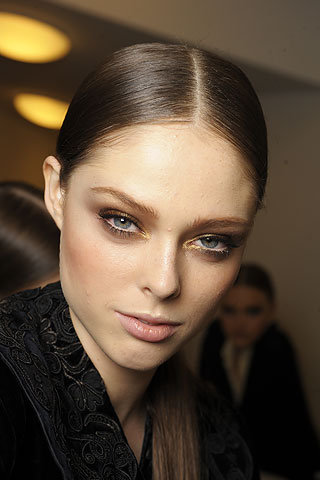 Secret 5
Choose hair friendly elastic to secure your ponytail. Never use rubber bands with no special coating that will protect your hair from pulling and ripping. Celebrity hairdressers love to use Blax Bands or Bungee Cords which are designed especially for ponytail creation. Opt for elastics that allow for easy removal yet hold very tightly and sleekly.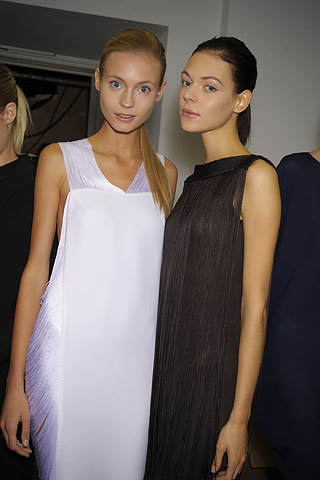 Secret 6
To achieve some more volume, place your palms on the top of your head and slowly slide them up, pulling the back of your hair ever so slightly up while keeping it secured in the elastic.
In order to fix the tease at the crown, use a pencil - put it through your hair in the area that needs fixing and pull it up slightly until the hair is fixed.
To avoid an annoying " hair bag" underneath
your ponytail, hold your head back when pulling your hair up and fixing the elastic.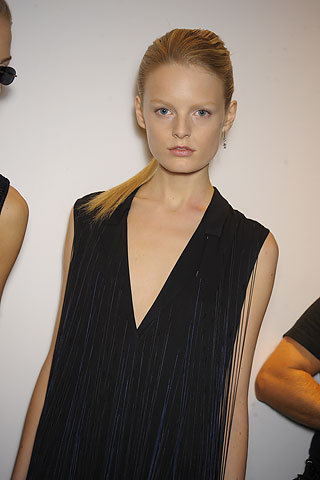 Secret 7
Keep on conditioning. By mid day, your hair might be dry and frisky – some even rebel and try to stand out. Well, tame that wild hair with leave-on conditioner. Smoothen strands to maintain clean and stylish ponies.
And here is a video tutorial where a professional hair stylist creates a perfect ponytail in no time:
Video from Videojug.com
Whether you choose to wear it high or low, with side or middle part… for me, ponytail is the ultimate hair doctor.
And how do you like to do your own ponytail? Do you have any ponytail tips of your own?